Without device drivers, your computer's internal or external hardware (such as the graphics card or hard drive) won't function properly. When you connect new devices to your computer, Windows can check to see whether there are drivers available. In this post, we offer suggestions that should help you resolve the issue of a Bluescreen after installing Drivers in Windows 11/10.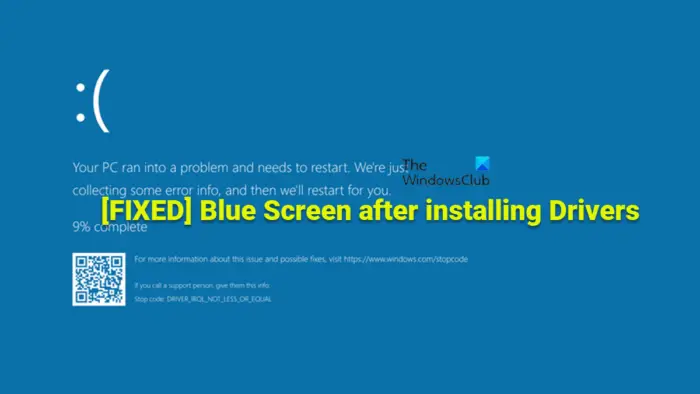 Our investigations reveal that the following are the general reasons you may encounter this issue on your computer:
Pending Windows Updates.
Overclocked hardware.
Faulty RAM.
Problematic Bandwidth Control Filter driver.
System File Corruption.
Unverified or unsigned driver.
Recent software change.
Partially incompatible GPU drivers.
Fix Bluescreen after installing Drivers on Windows 11/10
Device drivers are essential and carry out a basic function that enables a computer to connect to and communicate with particular devices. The messages and processes by which the computer (OS and applications) can access the device or issue commands for the device to carry out are defined by these pieces of software. If the correct driver is not installed, the device might not function at all, or it might work with limited features in some cases. So, if you get a Bluescreen after installing Drivers on your Windows 11/10 computer, our suggestions outlined below should help you resolve the issue.
Make sure the driver is signed
Run Driver Verifier
Run the Blue Screen Troubleshooter
Rollback or install an earlier version of the driver
Review the BSOD log files
Run Hardware and Devices Troubleshooter
Stop overclocking
Run Memory Test
Uninstall Bandwidth Control Filter Driver (if applicable)
Troubleshoot in Clean Boot state
Perform System Restore
Reset PC, In-place Upgrade Repair, or Clean Install Windows 11/10
Let's now briefly discuss the aforementioned suggestions. Before you proceed, make sure Windows is updated and see if the issue reoccurs. Also, it's a good idea to run the DISM scan, then afterward, run the SFC scan. Both scans will restore any corrupted system file that can potentially cause Bluescreen errors.
Read: Troubleshoot Windows Blue Screen of Death or Stop Errors
1] Make sure the driver is signed
Unsigned drivers can cause problems such as system crashes and odd behavior — you're less likely to encounter driver issues on your Windows 11/10 computer if the drivers are digitally signed by Microsoft. Although driver signing is not required on 32-bit versions of Windows, all drivers running on 64-bit versions of Windows must be signed before Windows will load them. So, it could be the Bluescreen after installing Drivers on your computer is the symptom of an unsigned driver that Windows is unable to load. In this case, you can easily check if a driver is digitally signed using either the File Signature Verification (SigVerif.exe) or DirectX Diagnostic (DxDiag.exe) tool. If the drivers you have installed are signed, you may disable Driver Signature Enforcement and see if that resolves the issue at hand. Otherwise, you can check if an updated and compatible driver is available at the driver OEM website or via Windows Optional Update.
Read: How to find which Driver is causing the Blue Screen on Windows?
2] Run Driver Verifier
As the name suggests, Driver Verifier is a utility that helps in figuring out which driver is malfunctioning on your computer. The utility monitors drivers to detect illegal function calls or actions that might corrupt the system by subjecting Windows drivers to a variety of stresses and tests to find improper behavior.
Since the issue in view might not necessarily be the particular driver you installed, but rather a conflict with another device driver already installed on your system, you can run Driver Verifier which can identify the installed driver(s) causing the Bluescreen error so that you can take the necessary actions to resolve the issue.
Read: Fix DRIVER VERIFIER DETECTED VIOLATION Blue Screen error
3] Run the Blue Screen Troubleshooter
Generally, several factors can cause BSODs on a Windows 11/10 PC which is usually hardware issues, software issues, and user errors. As basic troubleshooting for Bluescreen errors that don't require technical expertise, affected PC users can run the Blue Screen Online Troubleshooter from Microsoft. This is an automated wizard designed to help you troubleshoot and resolve BSOD by making recommendations on possible solutions you can apply based on your answer to the question on how you encountered the error.
Read: Black Screen Troubleshooter will fix Black or Blank screen errors
4] Rollback or install an earlier version of the driver
You can roll back the driver if after updating the driver the Bluescreen issue started. You can also download and install an earlier version of a driver if the newer version is triggering a Bluescreen during or after the driver installation. The issue here could be due to compatibility issues with a newer version/build of Windows especially if you know the driver worked well with previous versions of the Windows OS. In this case, you can run the Program Compatibility Troubleshooter, or you can simply install the driver in compatibility mode and see if the Bluescreen issue goes away.
Read: AMD driver keeps crashing when playing games on PC
5] Review the BSOD log files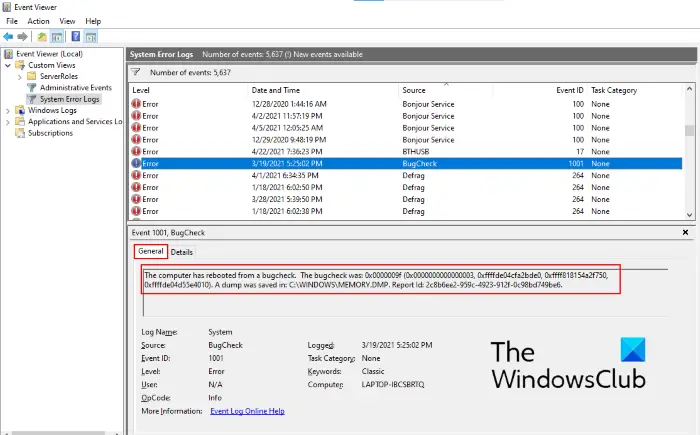 If you have configured Windows to create Crash Dump Files on Blue Screen, when a Bluescreen error occurs on your Windows 11/10 computer, a BSOD log file is generated and saved in Event Viewer. You can find and review the BSOD log file which contains a wealth of information to an experienced eye that can point you in the right steps to take in troubleshooting the issue you're currently facing. Also, a Bluescreen usually outputs an error code or message which you can use to further diagnose the problem and apply the most suitable solution to that particular BSOD error. And you can use Windbg to troubleshoot Blue Screen stop errors.
Read: How to open and read Small Memory Dump (DMP) files
6] Run Hardware and Devices Troubleshooter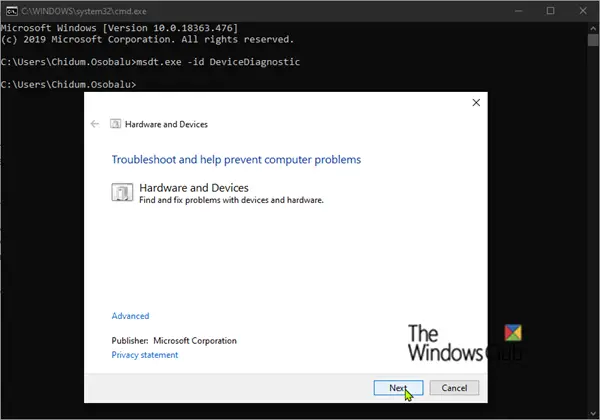 Essentially, a device driver also called a software driver is a particular form of software application that allows one hardware device (such as a personal computer) to interact with another hardware device (such as a printer). So, one of the possible reasons you may encounter Bluescreen after installing a device driver is that the device itself might be faulty. To rule out this possibility, you can run the Hardware and Devices Troubleshooter. If issues are detected, you can apply the recommended fixes by the troubleshooter which may be to manually update drivers on your system or replace the faulty hardware.
Read: Code 21, Windows is removing this device
7] Stop overclocking (if applicable)
If you have overclocked your PC CPU or GPU, chances are you may experience Bluescreen errors at random not just necessarily after you have installed a driver. These significant system crashes could be due to your system operating at unsupported voltages and frequencies which will likely happen if your GPU frequencies are too high, and your voltages cannot keep up because your PC cannot produce adequate power due to overclocking.
If this scenario applies to you, you can get your system to function properly again by decreasing the overclocking frequencies for both your CPU and GPU or stopping or restoring to the original settings for the overclocked hardware depending on the overclocking software in use. Generally, launch the software and look for the option to stop overclocking. Once done, restart your computer. This will help you determine whether the issue is caused by overclocking.
Read: How to underclock GPU? Is it safe to do so?
8] Run Memory Test
A known major contributing factor to most BSOD errors is defective RAM which can cause memory leaks and lead to serious system crashes. To rule out this possibility, you can run a memory test using Windows Memory Diagnostics Tool or preferably run Advanced Memory Diagnostic with Memtest86+ to check the integrity of your RAM stick(s) to ensure this isn't the culprit – if any abnormalities are detected, you may need to replace the affected RAM. If you have dual-channel RAM installed, remove just one stick at a time or if you recently added a new RAM stick, remove it and check if that is causing the error.
Read: Memory Error Code 2000-0122, 2000-0123, or 2000-0251
9] Uninstall Bandwidth Control Filter Driver (if applicable)
This solution applies if you have the Qualcomm Atheros Killer network adapter installed on your computer. The Bandwidth Control Filter Driver's primary purpose is to allow users to restrict the amount of data flowing for each data type. Unless you are a developer or QA, you have no use for this driver, and you can easily remove this driver by following the instructions in this guide to uninstall the Bandwidth Control Filter Driver in the network adapter section in Device Manager.
Read: Network Adapter missing or not showing
10] Troubleshoot in Clean Boot state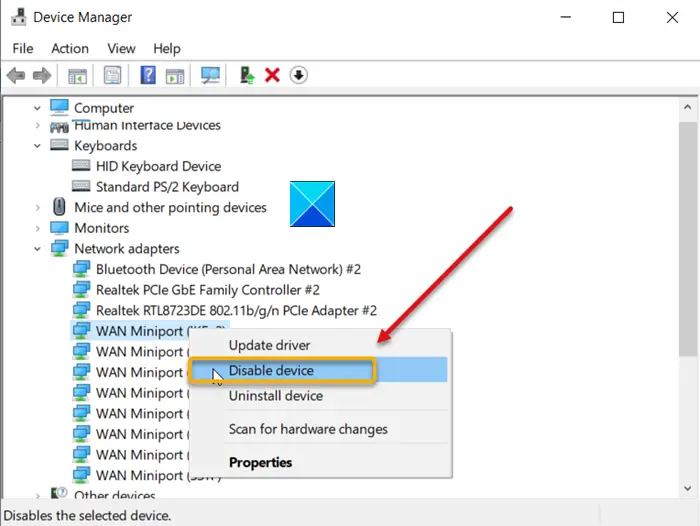 Device driver conflicts on your Windows 11/10 computer can potentially trigger Bluescreen errors as could be the case here. So, to resolve the issue, you can troubleshoot in Clean Boot (Hardware) state. This process, which is distinct from the well-known Software Clean Boot, requires you to disable each piece of hardware that is not required for a system to function in Device Manager. To identify the hardware or devices that are probably the cause of the problem, you then re-enable each device one at a time until you isolate the device causing the issue and then take the necessary action to resolve the issue at hand.
11] Perform System Restore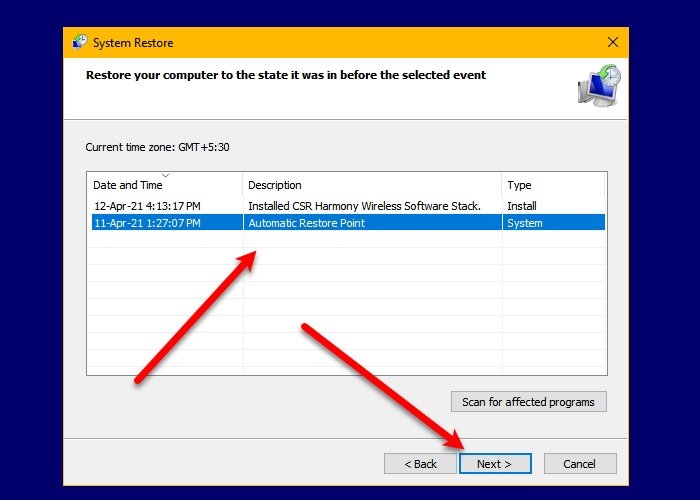 System Restore is a viable solution to BSOD errors especially if there was a recent system update after which installing drivers started crashing the system. In this case, it could be there are inconsistencies between the driver version and the new OS version/build. To resolve the issue, you can revert your system to an earlier point in time before the system update. Alternatively, you can uninstall the update or check if there is an available updated version of your driver that is compatible with the new OS build/version.
Read: Blue Screen after Windows Updates
12] Reset PC, In-place Upgrade Repair, or Clean Install Windows 11/10
You can, in the following order Reset the PC, In-place Upgrade Repair, or Clean Install Windows 11/10 in likely cases of BSOD errors caused by severe system corruption that cannot be resolved conventionally.
Read: FixWin 11 is the best Windows repair tool to fix Windows 11
I hope you find this post helpful enough!
Also read:
Can drivers cause Blue Screen?
Typically, BSODs result from driver software or hardware issues. Apps that crash sometimes cause blue screens of death if they're broken or flawed. Windows creates what's known as a minidump file when a BSOD happens. To fix Blue Screen caused by drivers, you can apply the following general solutions:
Remove Any External Device.
Remove Any Newly Installed Hardware or Software.
Check for any Microsoft Windows Updates.
Perform a System Restore.
Does updating drivers fix Blue Screen?
In some cases, update hardware drivers can fix Blue Screen errors in Windows 11/10. Most Blue Screens of Death are hardware or driver-related, so updated drivers could fix the cause of the STOP error. You can check the System and Application logs in Event Viewer for errors or warnings that might provide more clues on the cause of the BSOD. If need be, you can update your drivers via Device Manager.
Read: Error 39, Windows cannot load the device driver; Corrupted or missing.