Many Windows users while connecting a scanner, printer, or some other device to their Windows computer are receiving the following error:
You need a WIA driver to use this device. Please install it from the installation CD or manufacturer's website and try again.
This error stops your computer from installing the required driver of a device that you have plugged into it. In this article, we are going to see some of the solutions to fix the error effortlessly.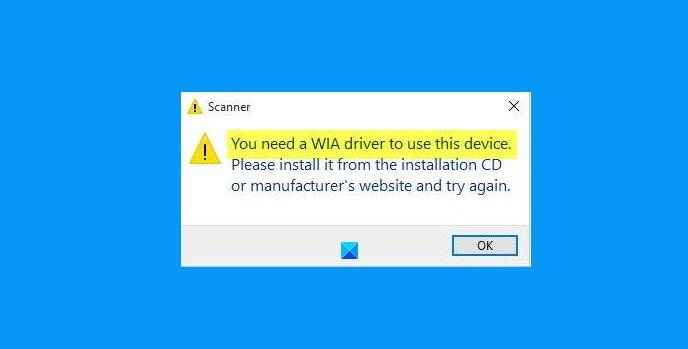 What is a WIA driver?
Windows Image Acquisition (WIA) driver is used by your Operating System to make graphics applications such as Photoshop to communicate with imaging devices such as Printer and Scanner.
If you are getting this WIA driver error message then there must be something wrong with this diver. It can either be outdated, corrupted, or missing.
Fix You need a WIA driver to use this device
If you see "You need a WIA driver to use this device" error message, then the following solutions will help you fix the problem:
Start WIA Service
Update WIA driver
Reinstall WIA driver
Let us talk about them in detail.
1] Start WIA Service
Before concluding that there's something wrong with the hardware, we should check if the Windows Image Acquisition Service is enabled. To do that, you need to follow these steps.
Launch Services from the Start Menu.
Look for Windows Image Acquisition and double-click on it.
Now, change the Startup type to Automatic and click Start (if it's stopped).
And click Apply > Ok.
Even if it's startes, you can restart it and check if that helps.
Now, reboot your computer and check if the issue is fixed.
2] Update WIA driver
If the WIA service on your computer is working fine, try updating WIA and see if it fixes the issue. You can visit your Scanner or Printer manufacturer's website and download and install the latest driver software from there. Install it and check if the WIA driver issue is fixed.
3] Reinstall WIA driver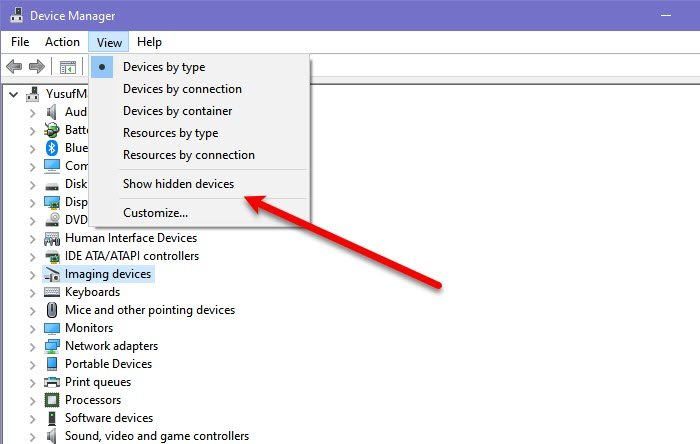 If updating didn't help, try reinstalling WIA driver. This will help if your driver software is corrupted. To uninstall the WIA driver, you can follow the given steps.
Launch Device Manager by Win + X > Device Manager
Click View > Show hidden devices.
Expand Imaging devices, right-click on your Scanner's driver, and select Uninstall device.
Once your driver is uninstall, detach and attach Scanner from the peripherals and check as it will automatically install the required driver.
To do that and check if the issue is fixed.
Some users have asked questions that need to be addressed regarding this error. So, let us answer them.
How do I get WIA driver?
You can easily download WIA Software from the CD/DVD that you get with your Scanner. If for some reason, you don't have the disk, you can look for the driver for your particular model from the manufacturer's website.
What is the difference between TWAIN and WIA scanning?
WIA only works on Windows, whereas, TWAIN is built as a universal driver, meant to work on all OS. So, if an imaging device is built for Windows, then only it will use WIA.
They have a different way of doing things, such as WIA uses a common dialog box, whereas, TWAIN uses the one created by the manufacturer.
If you are scanning in Duplux Mode, TWAIN restricts you from using the same setting for both sides, whereas, WIA has no such restrictions.
So, now you know the difference between these two imaging drivers.
Read Next: Scanner is not working.