If your HP, Canon, Epson, or any other Scanner is not working on Windows 10, this post will show you how to troubleshoot and fix Scanner errors problems & issues. At such times, you may see a Problem connecting to scanner message box. Upgrading to Windows 10 can also cause many devices to cease from working, and this also includes your scanner. You shouldn't fret because you're not the only one who is currently in this situation. What's important, is the fact that there are ways to fix the problem and get your scanner back to working form.

If you're having problems with your Scanner, in particular, there is a way to set things straight.
Scanner is not working on Windows 10
If it is your Epson Scanner that is not working, click on the Start button, the locate the Epson folder, open the folder and select Epson Scan Settings. From here, click on Network, then click on Add, and watch as it searches for an IP address.
You now need to double click on the IP address that comes up, choose Edit, rename it, and finally, click OK.
Apart from the above tip meant especially for Epson scanners, the following suggestions should help you fix problems with scanners of any make.
Problem connecting to scanner
1] Check the Compatibility Mode
The first order of action is to make sure your scanner is not set in Compatibility Mode. This can be a big problem if it is, so follow the instructions below to determine if Compatibility Mode is connected with your scanner.
Right-click on your scanner's icon then select Properties from the menu list. Click on the tab that says Compatibility, then look for the option that says Run this program in compatibility mode for. You'll need to uncheck it, then click on OK to activate.
2] Check Windows Services

You'll need to check the status of some required Windows Services. Launch the Run dialog box, so do this by pressing the Windows Key + R, then type services.msc into the box and click on OK.
The next step, then, is to locate Windows Image Acquisition (WIA) Service, right-click on it, and then select Properties. From here, it's important to make sure that Startup Type is set to Automatic and Service Status is set to Running.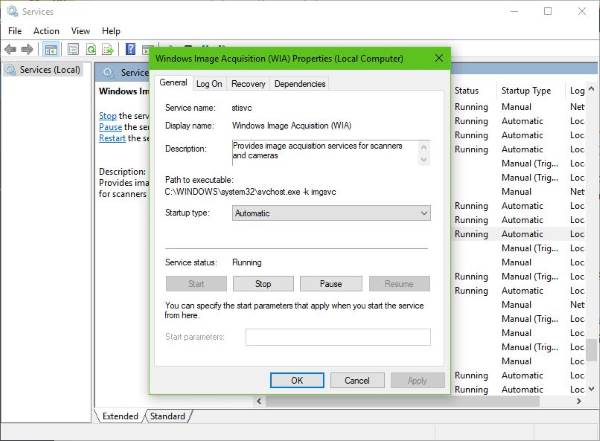 Finally, click the Apply button then move along and check if your scanner is working.
While there, you should also ensure that the DCOM Server Process Launcher, Shell Hardware Detection, Remote Procedure Call, and RPC Endpoint Mapper Services are Started and set to Automatic, as well.
3] Run Hardware Troubleshooter
Run the Hardware and Devices Troubleshooter and see if that helps you. To run it, in the Start Search box, type the following and hit Enter:
msdt.exe /id DeviceDiagnostic
4] Update drivers for your scanner
Windows 10, at times, is known for removing third-party drivers with its generic drivers after an update from a previous operating system. Chances are, this might be the reason your scanner is no longer working.
To manually update the Scanner driver, you should visit the official website of your Scanner's brand, and seek out the driver download section. There you should find the drivers for your particular brand of scanner, a task that should be quite easy to accomplish.
TIP: Suggestions to resolve Scanner problems, troubleshooting tips and solutions here.
There are several free driver updater software out on the web today designed to update drivers automatically. You may want to check them out too.
See this post if your Printer is not working on Windows 10.