If you have installed Windows 11, you might want to see how the different components of your computer are working. If you have Windows 10 and Windows 11 side by side on different machines, you may install these best free benchmark programs to see which operating system is better. Windows has an inbuilt Memory Diagnostic Tool. But if you are looking for more feature-rich software, these may interest you.
Benchmark Software for Windows 11/10
Here is a list of some of the best free benchmarking software for Windows 11/10 PC:
SiSoft Sandra Lite
Unigine Game Benchmark – Heaven
Unigine Game Benchmark – Valley
Novabench
FurMark
PC-Wizard
CrystalDisk.
1] SiSoft Sandra Lite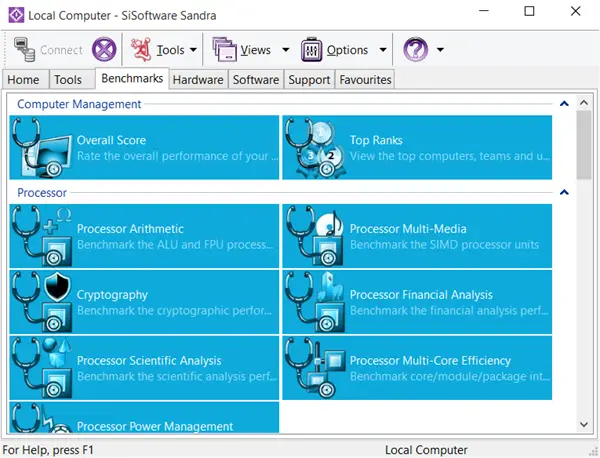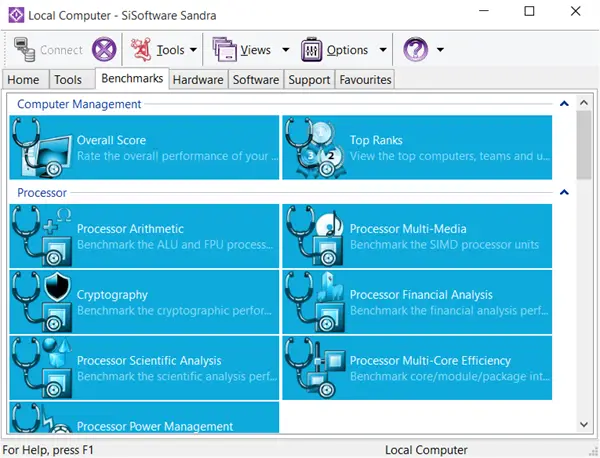 SiSoft Sandra has always been a favorite program to test computers since Windows XP was released. The SiSoft Sandra is a paid program as such, but there is a lite version that is free. Though the lite version does not offer all the features of the paid version, it still offers too many features to be neglected. Some of the main features of SiSoft Sandra Lite for Windows 10 are GPU cryptography testing, Media Transcoding testing, and Blue Ray testing.
Benchmarking not only tells you what components are doing good, but they also hint which computer parts have to be worked upon. For example, if the GPU card marks are too low, you may consider changing it for better performance. Thus, benchmarking is not only for reviewers. Anyone can use the SiSoft Sandra Free Lite for Windows 10 easily as the interface is self-explanatory.
Media Transcoding benchmarking is a good asset to have. It tells you how fast and easily your computer programs convert videos or audio from one format to another. Based on the performance test, you can change the program and again run the benchmark. Play around a bit and pick up the program that converts without problems and takes up the least time in conversion.
Likewise, the GPU benchmark helps you consider if the current card is good enough for games or if you need to change the card for a better gaming experience.
One of the best things about SiSoft Sandra Lite is that you have access to a huge database of different hardware benchmarks. You can compare your benchmark results with other hardware manually and go for better computer components if the need arises.
During installation, this tool will download and install DirectX if required – which in turn offers to install the Bing Bar. This is a 90MB download, and if your computer does not have it, it will be required.
TIP: You can test your processor using Intel Processor Diagnostics Tool.
2] Unigine Game Benchmark – Heaven
The program is actually a game engine. Heaven offers you a benchmark system that tells you the state of your computer. You can compare it with other computers of other players and check if you need to upgrade your computer. This offers a fun way of benchmarking your Windows 11/10 computer. You can also chat with others while the benchmark programs start printing the results on the screen of your monitor. Go take a look at it here.
Read: What does PC Benchmark mean?
3] Unigine Game Benchmark – Valley
The Unigine game engine also contains Valley, a benchmark for testing the GPU stress. It pushes the state of the art technology to push video cards to their limits and sees how they handle the stress. This test helps you check how your video card works when you are playing games: does it crash, does it slow down or can it handle the stress well. Again, you can compare it with the huge database of other results to see if there are better video cards and if you wish, you can upgrade to them. More on this here.
There are many other benchmark programs out there, but not all are compatible with Windows 10 yet. They might take a month or two to upgrade themselves. Meanwhile, you can use the above three benchmarks. If you ask me, I would highly recommend SiSoft Sandra Lite as it is not only free but does a great job. Who knows you might even find out more features than I could. Give it a try and let us know your experiences.
Here are some more PC benchmarking software:
Some of you might want to take a look at these PC Stress Test freeware too.
Read next: