Do you think your computer is running a little slow lately? Or there is some problem with the processing speed. You might want to take it to a service center to get it checked, but before doing that, we suggest running some smoke tests right at your home. In this post, we've covered a utility called Intel Processor Diagnostics Tool. The tool comes right from the leading processor manufacturer and is the best option if you want to test your processor without tech support.
Intel Processor Diagnostics Tool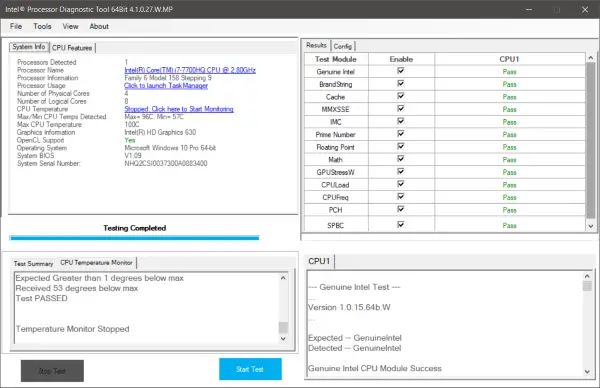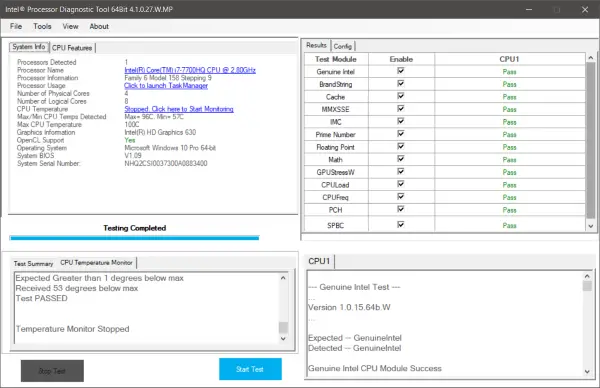 The tool comes with official support from Intel, and it supports all Intel processors. There is a separate download for 32-bit and 64-bit architecture so make sure you download the correct variant. The tool is completely free and does the job quite well. It is recommended to run this diagnostic test often to test the performance and reliability of your Intel processor.
Intel Processor Diagnostics Tool is quite easy to setup and use. Once installed, you can run the program to start execution of the tests. It is recommended to keep the device on a flat surface while the test is running. Also, it is recommended not to use the computer while the tests are running.
Once the test has started, you will see some unusual graphics on your screen but nothing to worry as they are a part of the tests. Also, the laptop might heat a little bit as I observed. The test might take a while to complete. And once it is done, you can view which tests did your processor pass or fail.
Intel Processor Diagnostics Tool will put your computer's processors under various CPU and GPU-intensive tests. You can view all these test modules and their corresponding pass or fail status in the final report. Test Modules include Genuine Intel, BrandString, Cache, MMXSSE, IMC, Prime Number, Floating Point, GPU Stress, CPU Load, CPU Freq, and other tests.
Apart from the test results, the tool will also display some essential information about the CPU in your computer. The information ranges from general information as CPU's name to some technical information such as the number of physical and logical cores.
Also, the program lets you measure the temperature of the CPU in real time. You can enable temperature monitoring to see the temperature on which the CPU is currently operating. Also, the tool will display the maximum and minimum temperature recorded while monitoring.
Usually, in the case of a healthy processor, all the tests should pass. If any of the tests fail, you need to get your computer checked, or you can search the internet to know more about the failing test module.
Other than that, you can also have a look at your CPU's features. You can see what features are supported and what is not.
The tool also comes with some inbuilt export options as well. You can export the test results as a text file, and you can also view all historical test results as well. Apart from that, it offers some advanced test module configurations as well. It is recommended not to edit it until unless you are completely sure about it.
Intel Processor Diagnostics Tool is a great product by the processor manufacturer. It is a great utility that might help you diagnose your processor before reaching out to tech-support. Running this tool does not overclock or void your CPUs warranty, it will merely run some pressure tests on it. Also, the tool is compatible with all Intel's desktop and laptop CPUs. It is a must-have tool if you happen to own a Windows device with an Intel CPU.
Visit intel.com to download Intel Processor Diagnostics Tool.
Read next: Free Benchmarking software for Windows.