Windows 10 has a Memory Diagnostic Tool which you can use to check for possible memory problems, including testing of the Random Access Memory (RAM) on your computer.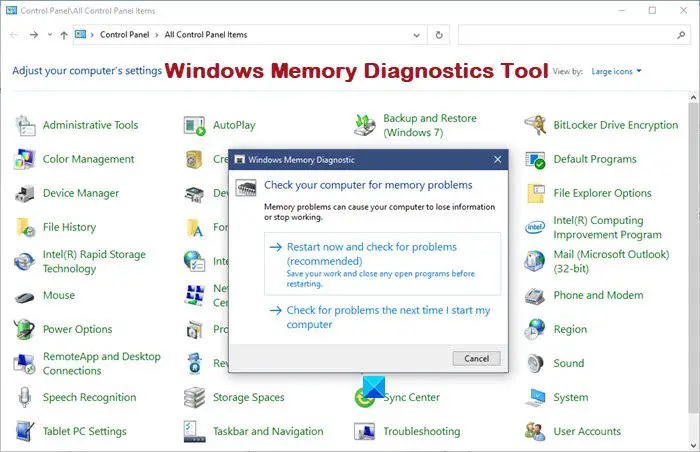 Windows Memory Diagnostics Tool
If Windows 10/8/7/Vista detects a possible memory problem, you will receive a notification. Click the notification to open it. If you wish to run Windows Memory Diagnostics Tool on-demand, do the following:
Open Control Panel and type 'memory' in the search bar. Click on 'Diagnose computer memory problems' to open it.
Alternatively, you can also type '

mdsched

' in Start search and hit Enter to open it.
Choose between two options for when to run the Memory Diagnostics Tool.
You can Restart now and check for problems
Or you can select Check for problems the next time I start my computer.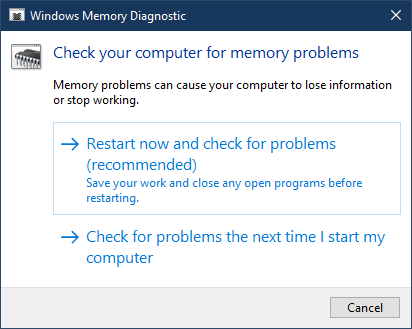 If you choose to restart your computer and run the tool immediately, make sure that you save your work and close all of your running programs. The Memory Diagnostics Tool will run automatically when you restart Windows.
There are two Test Passes that will be run.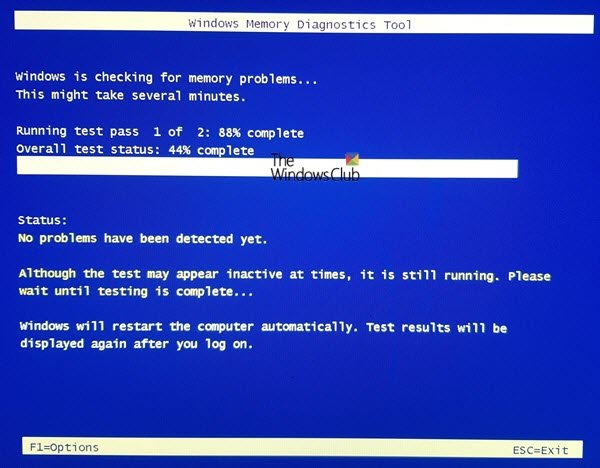 Advanced options for running the Memory Diagnostics Tool:
For most users, letting the Memory Diagnostics Tool run automatically is the recommended option. However, advanced users might want to adjust the tool's settings. When the Memory Diagnostics Tool starts, press F1.
You can adjust the following settings:
Test mix. Choose what type of test you want to run: Basic, Standard, or Extended. The choices are described in the tool.
Cache. Choose the cache setting you want for each test: Default, On, or Off.

Pass

count. Type the number of times you want to repeat the test.
The default is Standard and it includes all the Basic tests, plus LRAND, Stride6, WMATS+, WINVC, etc.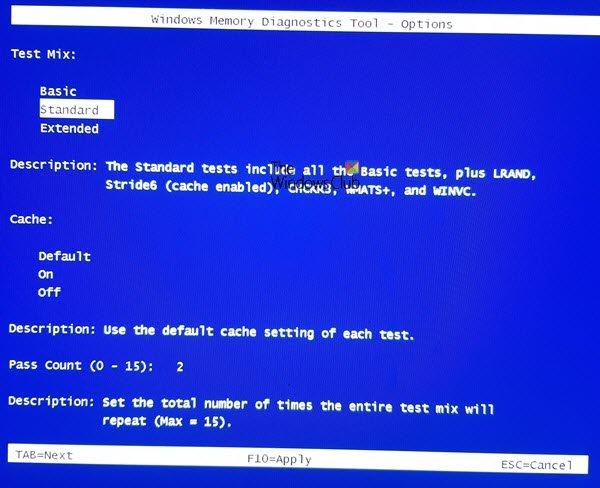 The Basic test covers MATS+, INVC and SCHCKR.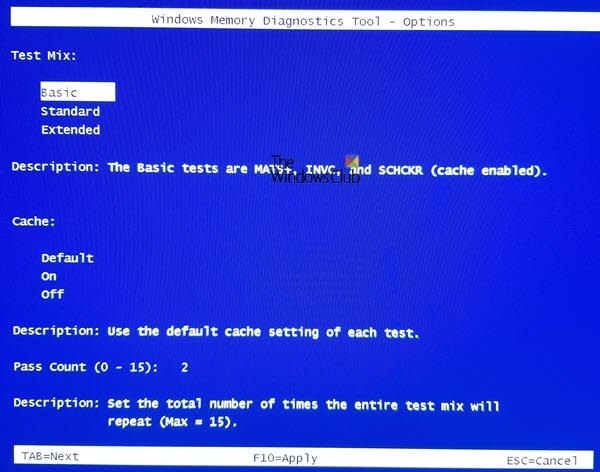 The Advanced test includes all of the Basic and Standard tests plus Stride38, WSCHKA, WStride-6, CHCKR4, WCHCKR3, ERAND, Stride6, CHCKR8, etc.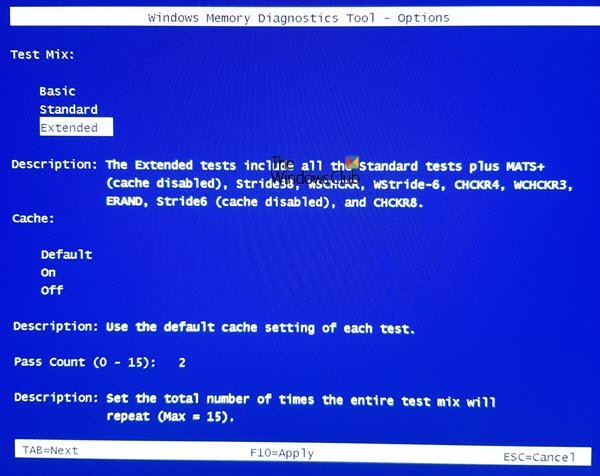 If you change your options, press F10 to save and start the test.
Else you may press Esc to continue running the default test.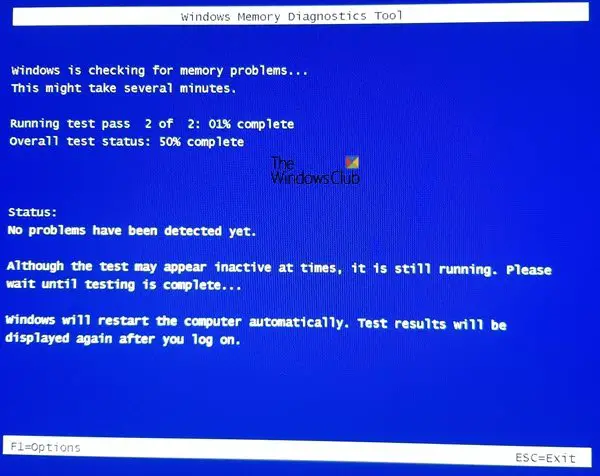 It might take several minutes for the tool to finish checking your computer's memory.
Read: Windows Memory Diagnostic Tool stuck?
Once the test is completed, Windows will restart automatically. If the tool detects errors, you should contact your computer manufacturer for information about fixing them, since memory errors usually indicate a problem with the memory chips in your computer or other hardware problem.
You may also want to try some Advanced Memory Diagnostic on Windows, with Memtest86+, and maybe check out some more PC Stress Test free software.
TIP: See this post if you receive Only part of a ReadProcessMemory or WriteProcessMemory request was completed message.