Microsoft has included a lot of tools to help you identify potential issues that may be affecting your Windows computer. One such tool is System Information Tool. With the help of this tool, you can find information about your system hardware. A little-known feature of this tool is that it also lets you run System Diagnostics, which generates a health report about your Windows 11/10 computer.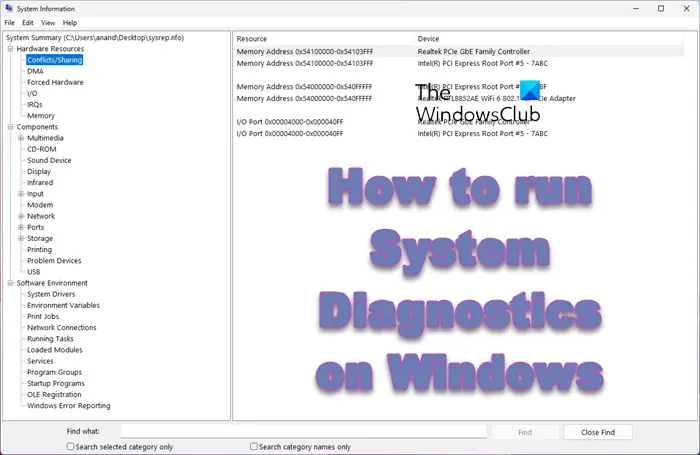 What is a System Diagnostics Report?
When we run System Diagnostics, it creates a report that contains specifications as well as information related to your computer. It contains information related to the hardware and software. Also, you can probe what's wrong with your system with the help of this report. It is also useful when you plan to report an issue to your OEM, Microsoft, or any expert. You can attach the report and they will study and tell you what's wrong and how you can troubleshoot it.
Read: How to check Computer Health in Windows 11
How to run System Diagnostics on Windows 11
To run a System Diagnostics report using System Information Tool on your Windows 11/10 computer to generate a health report, take these steps:
Launch System Information either by searching it using the Start Menu or by entering "msinfo" in the Run box.
Once the application is launched, just click on File > Save. You can also hit the keyboard shortcut Ctrl + S.
Your computer will start creating a snapshot of its configurations.
You can easily access the report by going to the location where you have stored it.
Also read: How to generate System Health Report in Windows with Perfmon.
How to analyze the System Diagnostic Report in Windows 11/10?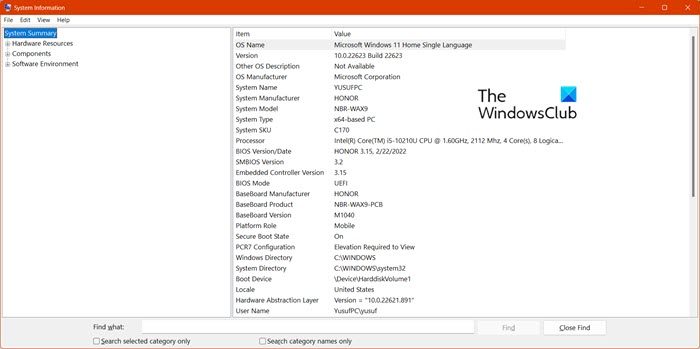 Now that we have created the report using the System Diagnostic tool, let us understand it a little. Most users tend to find themselves confused by all the labels mentioned in the report. That is why, we will explain the report generated in detail. For that, open File Explorer, navigate to the location where your report is saved, and launch it.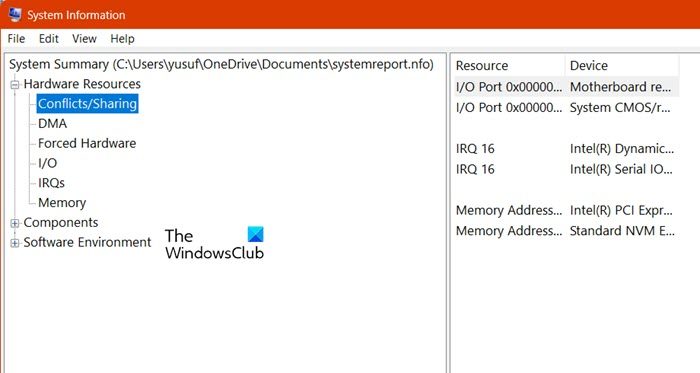 On the right-hand side of the report, you will see System Summary, under which you will find sections you need to access. Right now, let us analyze the System Summary. As you are on the System Summary screen, you will find all the specifications of your system including the operating system it is running, the system type, and more.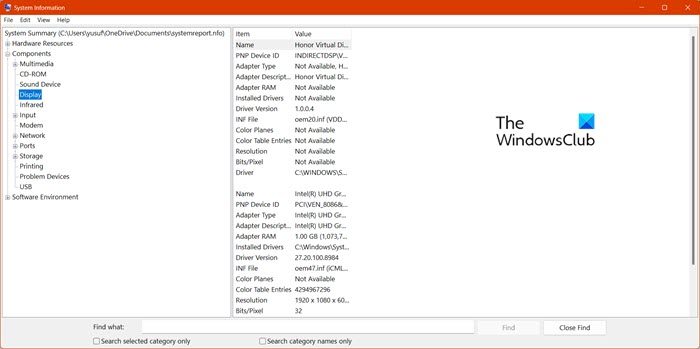 Now, go to Hardware Resources expand to find a list of hardware whose resources you have to access. Since we are looking for issues with your computer, go to Conflict/Sharing. This section allows you to have a look at hardware conflict, which means, you will be able to see hardware installed on your computer competing for the same resources. Similarly, you can navigate to other sections to investigate.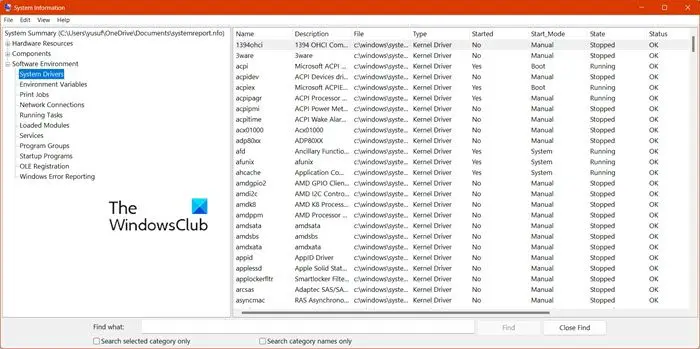 Under the System Summary, you will find the Components section. It will have all the devices attached to your computer. For example, there will be a section for monitor called Multimedia > Display, which has information related to the monitor attached to your computer.
Finally, we have Software Environment which has everything you want to know about drives and other programs installed on your computer. There are multiple sections under Software Environment, you can go through them to learn more.
If all this sound too troublesome to you and want to know how navigate to the issue quickly, just search it out. For that, go to Find what, enter what you need to search, and hit Enter.
That's it!
Also read: How to use HP PC Hardware Diagnostics UEFI on Windows
How do I run hardware diagnostics in Windows 11 using CMD?
Hardware Diagnostics or Hardware and Device troubleshooter will look for what's wrong with your computer and resolve it for you. In order to run it, open Command Prompt as an administrator and execute msdt.exe -id DeviceDiagnostic. This will bring up a prompt, just follow the on-screen instructions and you will be good to go.
Read: 
How do I check my specs on Windows 11?
On a Windows 11/10 computer, in order to check your computer's specifications, go to Settings > System > About. Here you will find everything there is to know about your system. If you want a more detailed report, check this post to create a System Diagnostic Report.
Read: Microsoft Surface Diagnostic Toolkit helps you run Hardware Diagnostics.