If you do not remember the model number of your motherboard, processor capacity, etc. or you want to find the hardware specifications of your computer, you can do not need to use any third-party software to find this information while using Windows 11/10.
Where to find computer hardware specs
To find system information and computer hardware specs in Windows 11/10, you can use built-in system information tools or a free software:
Using the msinfo32 tool
Find system information using Command Prompt
Using free software to find hardware specs.
Let us see this in detail.
1] Using msinfo32 tool
Windows 10 comes with an in-built tool called System Information. As the name defines, you can find every kind of information related to the hardware configuration of your computer. From the graphics card to the motherboard to the processor, this is possible to get the information on your screen.
To open the msinfo32 tool using Run prompt, you need to press Win+R, and type the following command-
msinfo32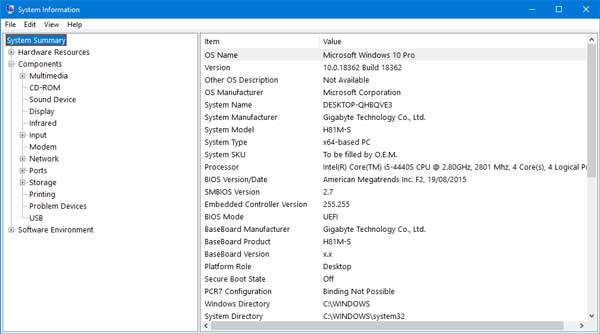 Now, you can find the necessary information on your screen.
If you want to know about the graphics card, or network adapter, or anything specific, you can navigate to that section from your left-hand side, and get that accordingly.
You can also open the System Information panel using the Taskbar search box. You need to search for "system information" in the search box and click on the correct tool in the search result.
Read: What are the main components of a Computer system?
2] Find system information using Command Prompt
You can use Command Prompt to use the systeminfo tool.
Open Command Prompt with administrator privilege and execute this command-
systeminfo
It takes a couple of seconds to show some basic information in the Command Prompt window.
Read: How to find out Processor Brand and Model on a Windows Laptop?
3] Using free software to find hardware specs
The best free software to find hardware specs in Windows 11/10 are:
BGInfo
CPU-Z
Free PC Audit.
BGInfo shows the computer configuration in the background of your Desktop. That means the hardware information is always visible unless you close the app manually. Thus, you can always keep an eye on the hardware, and some software information if you want to do that.
CPU-Z is capable of giving information on the processor, process, cache levels, mainboard, chipset, and much more.
Free PC Audit is a desktop software that lets you find the hardware as well as software system information of your personal computer.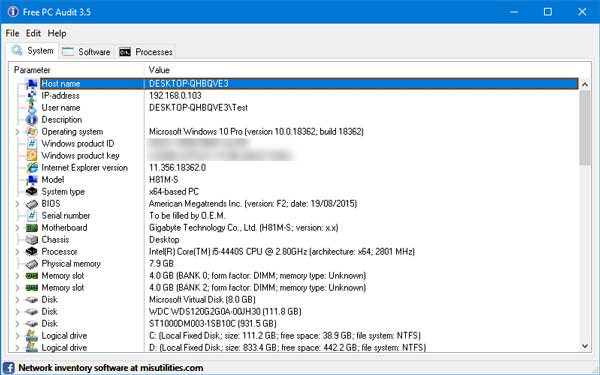 Using it on your PC is very easy as it doesn't come with any complicated settings. After opening this tool, you can find some basic information, and that expands if you click on a particular hardware type such as motherboard, RAM, etc. You can download it from the official website.
Read: How to check Intel processor generation in Windows
How do I find out how big my Hard Drive is in Windows 11/10?
The easiest way to find the size of your Hard Drive is to open File Explorer, and see the figures mentioned for each of the partitions and add them. You will get to know how big your Hard Drive is.
Other tools that can provide the provides hardware configuration information about your computer easily:
Sandra Lite | MiTeC System Information X | HiBit System Information | Speccy | Hardware Identify.
Read next: How much Computer RAM does my PC have?