MiTeC System Information X is a free portable tool that can help you check the system information & hardware configuration of your Windows 10 computer. If you have an old computer, and you do not know the configuration, and you want to check the hardware configuration before installing any software or updates, then this tool can be useful. Let's take a look at the software and how it displays the information.
How to get detailed computer system information
If you want to know about the details it displays, you can check out this list-
Central processors: It shows each and every detail about the processor you are using. You can check cache memory information, power consumption details, etc.
Memory/RAM: You can find how many memory slots your motherboard has and how much RAM you currently have installed. More specifically, you can find the size, speed, data width, manufacturer, serial number, part number, etc.
Motherboard
Video: If you want to check everything about your graphics card or in-built graphics, here is what you should check.
Monitor: Whether you have a single or multi-monitor setup, you can find their details in this section.
Storage: This is where you can find information about your hard disk – whether you have HDD, SSD or both.
Audio: In case you want to check out your audio device/s, you can find them here.
Network: You can find if your computer has Wi-Fi components or not apart from the typical network port.
Printers: It shows all the available printing facilities installed on your computer.
Apart from this system or hardware information, you can find details about the Ports, Bus, USB, etc.
MiTeC System Information X Tool
The user interface of MiTeC System Information X is similar to the in-built Windows tool called System Information, and it does the job pretty well. Talking about the features, you may not find a lot of options, but the primary functionality is readily available. The tool lets you:
View system configuration
Save configuration file
Check installed software, operating system version, connected network, etc.
After downloading, extract the contents of the zip file, run the executable file with administrator privileges. To do that, right-click on the MSIX64.exe file, and select Run as administrator option from the context menu.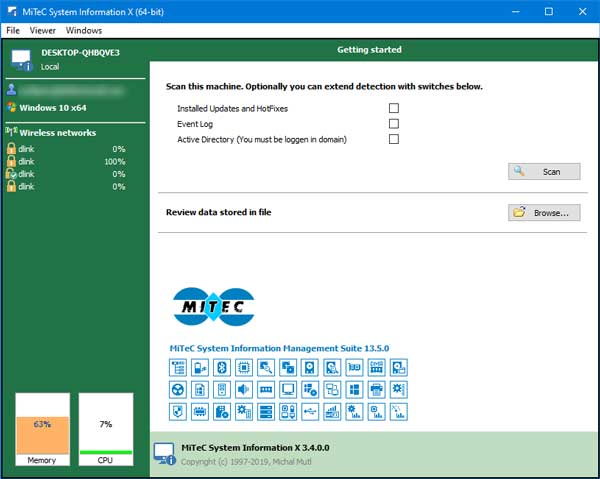 Now click the Scan button.
Once the scan is completetd, you will see the results displayed as follows.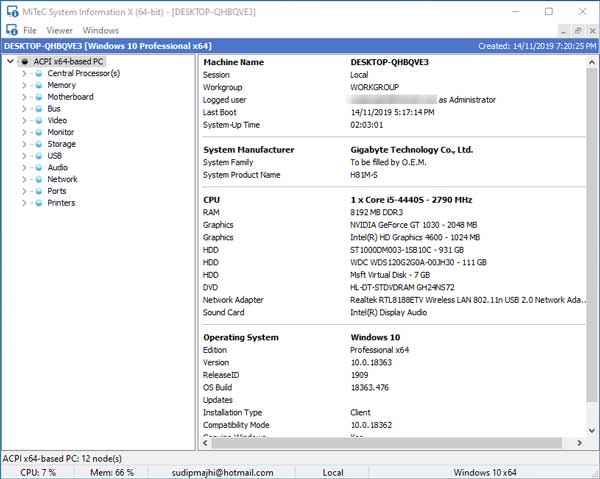 It shows a tree-view – and this lets you explore different sections for some specific information. For example, if you want to know about the motherboard, you can expand that option, and find everything about it on your screen.
You can save the system configuration. To do that, go to File > Save. Now enter a name and select a location where you want to save the file.
If you like, you can download MiTeC System Information X from the official website. It is compatible with 32-bit as well as the 64-bit machine.
These tools can also provide the provides hardware configuration information about your computer easily:
Sandra Lite | BGInfo | CPU-Z | HiBit System Information | Hardware Identify.