You may occasionally need to know a little more about your machine…details about your hardware, software, etc. There are four ways you can get such system information info in Windows 10, Windows 8, Windows 7, or Windows Vista, natively.
System Information Tools in Windows 10
There are 5 built-in tools in Windows 10 that can give you information about your system:
Control Panel
Computer Management
SystemInfo
MSInfo Utility
Windows Settings.
let us take a look at them in brief.
1] Control Panel System Properties
For knowing just the basics, about your operating system and computer, try the System Control Panel. You can open System Properties by simply pressing the Windows Logo+Break keys or by Right-clicking Computer and choose Properties.
Read: How to open System Properties in Windows 10 now.
2] Computer Management utility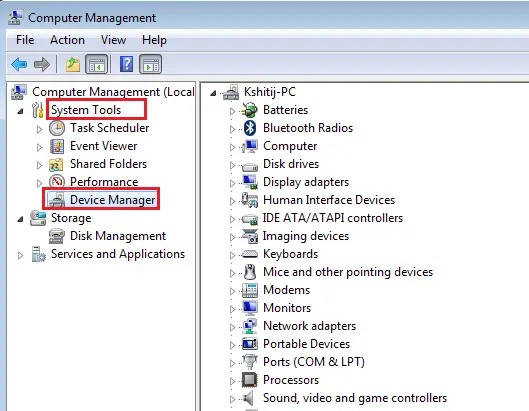 If you need more information, right-click on This PC or Computer and select Manage to open Computer Management Utility.
3] SystemInfo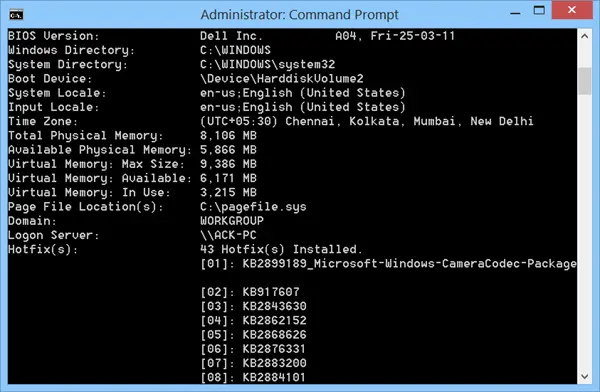 To dig a little deeper, Systeminfo.exe is a great tool! Systeminfo.exe is a command-line utility that displays information about your Windows version, BIOS, processor, memory, network configuration, and so on.
4] System Information or MSInfo Utility or msinfo32.exe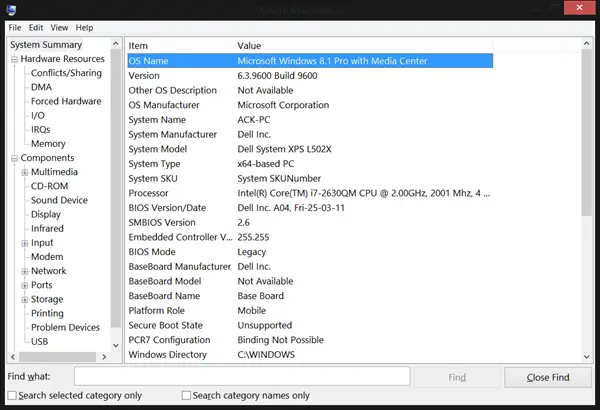 And finally, there is the System Information or MSInfo Utility or msinfo32.exe. It is truly a geek's Paradise! You can use this tool to gather information about your computer, to diagnose issues with your computer, or to access other tools.
To start this one, Run > type msinfo32 > hit Enter.
The wealth of information you will be presented with will be, to say the least, overwhelming! It's always a good idea to preserve your configuration information. It can turn out to be rather useful if you have problems. Comparing your machine's current configuration with an earlier good configuration can help you locate the problem areas.
The System Information or MSInfo Utility or msinfo32.exe provides the following:
The version of Windows
OEM System Information (manufacturer, model, and type)
The type of central processing unit (CPU)
The amount of memory and system resources
BIOS version
Locale
Time zone
User name in the format DOMAINNAME\USERNAME (only present if the computer is configured to log into a domain)
Boot device (if multiple devices are present on the computer)
The path to the Page file
Hardware Resources category
And many more things!
You can save it as an .nfo file, which can be opened with System Information or simply as a text file.
5] Using Windows 10 Settings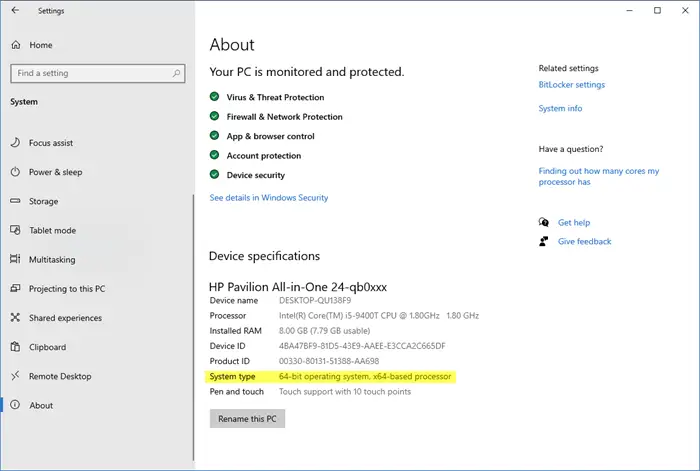 From the Windows 10 WinX Menu, open Settings > System > About.
Here you can get some basic details.
You might just want to also check out our Windows Event Viewer Plus.