It is very important to keep an eye on the system parameters on your Windows PC for its smooth functioning. However, you can get all the information about your system easily on your Windows PC, there are also some dedicated apps for this. Today, in this post, we will be talking about one such app, O&O DeskInfo.
O&O DeskInfo for Windows PC
O&O DeskInfo is a free tool that helps you view your system parameters right on your desktop in a very compact and easy way. It shows the entire information, right from memory usage to network information. You can also customize it to what piece of information you are actually interested in. Furthermore, it also warns you when an unknown USB device is connected to your PC.
How does O&O DeskInfo Work?
This is a simple tool and you don't even need to install it which is certainly a plus point. You can use the tool simply by downloading the executable file. Once downloaded, you will see its icon sitting on your system tray and you can start using it right away.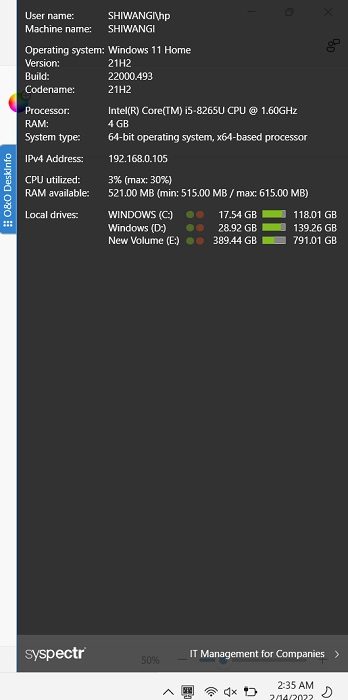 When you launch the tool, it first shows a welcome screen where you can choose if you want the tool to start automatically with Windows or not. Also, you can choose if you want to get warned about unknown USB devices or not. Click OK and you can see a black window on your desktop displaying all the key information about your system, both software, and hardware. The key information includes the machine name, model of the machine, the user logged in, your operating system, processor, version and build number, its a 32 or 64-bit system, and the RAM memory. You can toggle it back off by just clicking on the blue button O&O DesktopInfo on the side and toggle it back on by clicking it again.
You can also see the real-time CPU usage without even opening the entire window. Simply take your cursor to the icon sitting in your system tray and you can see the CPU usage, RAM, and the data packets sent and received, as shown in the screenshot below.
Overall, O&O DesktopInfo is a free and simple tool that helps you keep a glace on your system parameters without getting into the Settings. The detailed information is just a click away from this tool. It is displayed in a transparent window so it won't disrupt your work. You can download it from the home page of O&O DesktopInfo.
We have covered a few more such tools that provide the software and hardware configuration information about your computer in a single click:
Sandra Lite | MiTeC System Information X | CPU-Z | HiBit System Information | Hardware Identify | BGInfo | Speccy |  HWiNFO32 |  System Info.
How do I find System Information on my desktop?
Press Win+I to open Settings and go to the System tab, and you can see all the important System Information. Or else you can also use the tools like the one mentioned above.
TIP: Find out how you can display System Configuration Details on your Windows Desktop.
What is the System Information Tool?
A System Information Tool is a software program that collects all the important details about the software and hardware in your computer system.
Read next: 5 System Information Tools in Windows 11/10.