Our PC should be in the best possible state to perform better. There are PC health checkup tools that can help you find problems and fix them easily to better your PC's performance. In this guide, we show you different ways to check Computer Health in Windows 11/10.
How to check the Health of your Windows PC or Laptop
You can check Computer Health in Windows 11/10 in the following ways:
Using the PC Health Check app
Using Windows Security
Generate a WiFi History or WLAN Report
Using Performance Monitor
 Using SleepStudy tool
Let's get into the details of each one.
1] Using the PC Health Check app
Microsoft introduced the PC Health Check app when it announced the Windows 11. It is installed through updates automatically. If not, you can download it from Microsoft. It was introduced to check if your Windows 10 PC is compatible to run Windows 11 or not. Along with the compatibility check, it provides the data on your PC health. If already installed search for PC Health Check up in the Start menu and run it.
Read: How to test Hard Drive speed or check up Hard Disk Health on a Windows computer.
2] Using Windows Security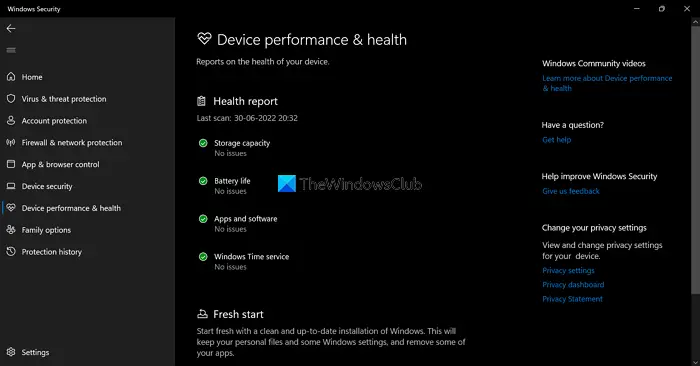 The other way to check the health of your PC is through the Windows Security app on your PC. It has a 'Device performance and health' option to do so.
To check your Windows PC health using Windows Security,
Search for Windows Security in the Start menu and launch it.
Click on the Device performance and health tab on the left side.
Then, it will check the health of your PC and show the status.
The health report it shows covers Storage Capacity which shows the status of disk space for important tasks such as Windows updates, Battery life, Apps and software, and Windows Time service.
Read: What is Windows Device Performance & Health section?
3] Check WiFi Network Health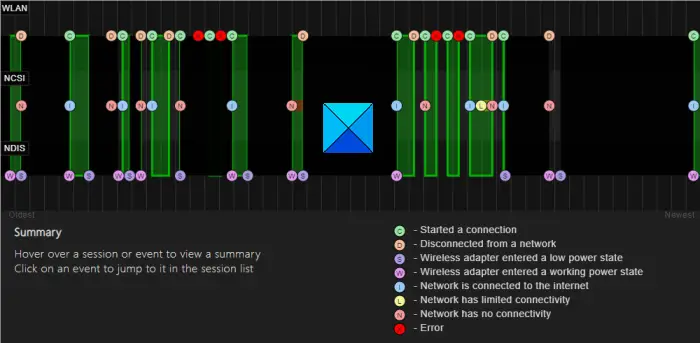 To generate a WiFi History or WLAN Report, you will first need to launch a Command Prompt, to begin with. Search for 'cmd' and then right-click on what appears. Choose "Run as Administrator". Now, you need to enter the following command:
netsh wlan show wlanreport
Press Enter and the system will generate the report in an HTML format.
You will be able to view the report here in File Explorer:
%ProgramData%\Microsoft\Windows\WlanReport\wlan-report-latest.html
The ProgramData folder is a hidden folder, and if you want to access it, you will have to click on the 'View' tab and click to tick mark on "Hidden items".
Clicking on the HTML report file will make it open in your browser.
You can now see the connectivity details of the last three days of your WiFi usage. The red circle indicates an error. Selecting it gives you more info about the error. It is an interactive report and moving the mouse cursor will give you more information about the item.
Read: Free software to monitor System Performance & Resources
4] Using Performance Monitor
The Performance Monitor comes built-in on Windows. It lets you monitor and study how applications are running on your PC. Using this Performance Monitor, you can check the health of your PC.
To check the health of your PC by using the Performance Monitor:
Click on the Start menu and type Performance Monitor.
 On the Performance Monitor window, expand Data Collector Sets and then System
Right-click on System Diagnostics as well as System Performance and select Start
It will generate the reports that you can access in the Reports section of the Performance Monitor under the dates on which they are generated.
Read: How to Run Computer Performance Benchmark Test on Windows?
 5] Using SleepStudy tool
The SleepStudy tool provides first-level information about the causes of the activities that occur during the modern standby session. Each SleepStudy report concludes with the information on system battery configuration along with the name and manufacturer.
To run SleepStudy-
Open Command Prompt as an administrator from the Start menu
Type powercfg.exe /SleepStudy and press Enter
The built-in powercfg.exe command-line tool will run and creates an HTML file named Sleepstudy-report.html.
You can check your PC health on that HTML page.
These are the different methods using which you can check the health of your Windows PC or laptop.
Now read: Tips to maintain Windows in good running condition
How can I check the condition of my laptop?
You can check the condition of your laptop using Microsoft's PC Health Checkup tool, Performance Monitor, Windows Security, or the SleepStudy. Any of these tools can give you information regarding your PC status, battery health, storage status, etc.
Read:
How do I open Health check in Windows 11/10?
On the Microsoft Windows 11 web page, there is a PC Health Checkup tool available to download and check the compatibility of your PC with Windows 11. You need to download and run it to check your PC's health on Windows 11/10.
Also read: Things that can damage your Computer and shorten its life.