Windows 11 is said to be a much-improved version of Windows 10 that will be available as a free upgrade! With all the new features and tools, it is obvious the system requirements for Windows 11 would be a bit different. Microsoft has released a tool that allows you to check if your PC will be able to run Windows 11.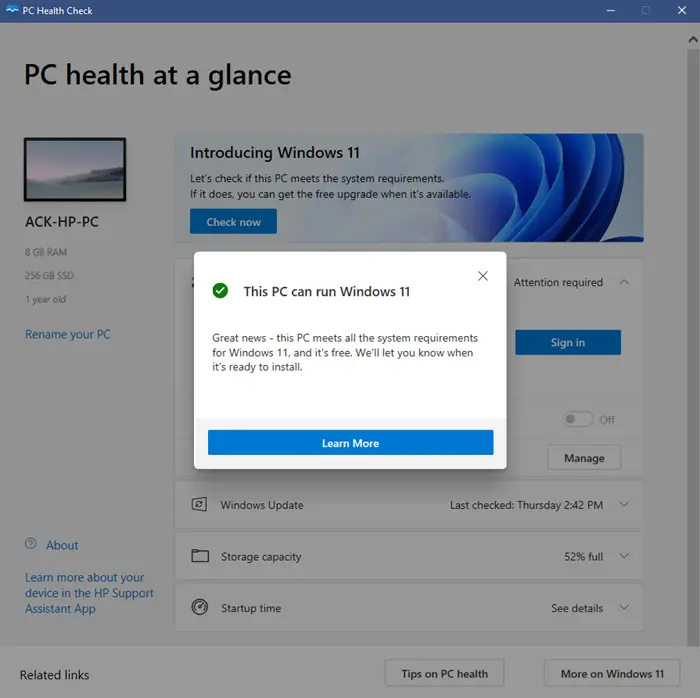 How to check if your PC can run Windows 11
The easiest method to check if your PC will run Windows 11 is to run the system requirements checker as follows:
Download the PC Health Check tool from Microsoft and run it on your PC.
When your download the tool, it will check for PC health status.
Thereafter, under the Introducing Windows 11 option, click on Check now.
If you get the reply This PC can run Windows 11, you will be able to install Windows 11 on your system.
Else, you would have to upgrade your system.
Once you get the approval message to install Windows 11, this means that your PC meets the Windows 11 System Requirements. The tool will also mention that you will be further notified when Windows 11 is ready to be installed. In case you install this tool after the launch of Windows 11, possibly, you might get an option to install the operating system on your system for free.
You can download the PC Health Check tool here from Microsoft.com.
Does it help? Please let us know in the comments.
NOTES:
Microsoft will be shipping Windows 11 this fall
However, just like with Windows 10, the minimum requirements are not sufficient to run an operating system smoothly. Most users upgraded to 4GB RAM when they understood that the minimum 2GB RAM for a 64-bit system was barely sufficient for the installation. Now with requirements like a 64-bit processor with 2 cores, running Windows 11 need quite an upgrade from Windows 10 capable systems.
It should also be noted that while the minimum system requirements would allow you the installation of Windows 11, yet all features wouldn't since the new operating system has feature-specific requirements too.
Read: How to bypass TPM requirement and install Windows 11?