Windows 11 is soon upon us, but unlike the transition from Windows 8.1 to Windows 10, where things went relatively smoothly, there are a few hiccups this time around. You see, at the time of writing, Microsoft has released special system requirements for users to update from Windows 10 to Windows 11, and so far, most computer users are confused.
The software giant was thinking ahead when it made it possible for users to PC Health Check tool to find out if their computers will be able to run Windows 11 at launch. However, this tool has caused more confusion than ever before.
You see, if your computer is not compatible, the tool sends out a rudimentary message that states, "This PC can't run Windows 11." You may be wondering what the deeper reasons behind the message areas to why your computer won't run the new operating system. The PC Health Check app does not answer that question, unfortunately. But fret not because a new third-party tool has stepped on the scene to solve all of your problems.
Check if your PC supports Windows 11
The tool in question is called WiseCleaner Checkit, and it is designed to let you know if your computer has all the bells and whistles to run the new OS. Not only does it give an answer, but it details the reason behind said answer.
Download and install Checkit Compatibility Check Tool
OK, so the first thing you want to do here is to download the app directly from the official page. Unzip the archive, then open Checkit as soon as possible. There is nothing to install, seeing as it is a portable tool.
Check if your PC meets the minimum Windows 11 requirements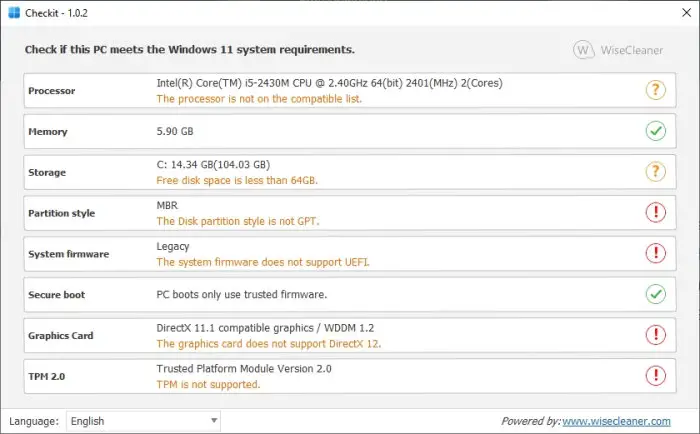 After launching, WiseCleaner Checkit will automatically check to see if your computer is capable of running Windows 11. It doesn't matter if the outcome is a yes or a no; the app will detail why.
As you can see, our test computer does not fall under the support list, and this has much to do with the old processor, out-of-date firmware, SSD drive partitioned with MBR instead of GPT, no DirectX 12 and Trusted Platform Module support.
With this data at your fingertip, you can make the necessary changes in order to meet the requirements.
Visit the tools home page and click on the green button that reads Free Download.
TIPS:
WhyNotWin11 system requirements and compatibility checker will scan your hardware and tell WHY your PC is not compatible with Windows 11.
Windows 11 Compatibility Check Tool is another similar tool that suggests fixes too.