If your PC ran Windows 10 but after running the PC Health Check tool from Microsoft, you see a message This PC can't run Windows 11 – even when it meets Windows 11 System Requirements, then this post may help you.
My PC runs Windows 10 but can't run Windows 11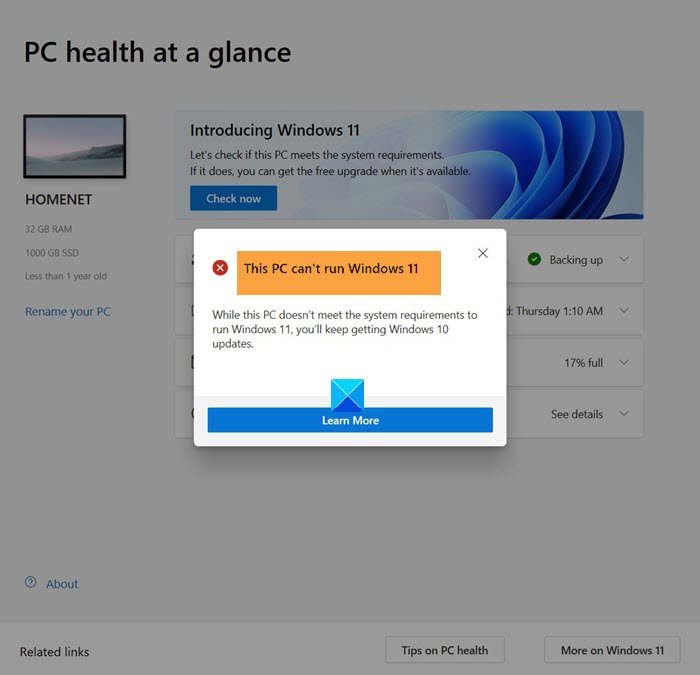 You need a TPM 2.0 chip and to have Secure Boot enabled in the UEFI (BIOS). Most mobos offer fTPM 1.2 at a minimum, which will also work with Windows 11 according to Microsoft docs. fTPM is a type of TPM that's implemented in system firmware instead of using a dedicated chip. AMD Ryzen BIOS code (AGESA) offers fTPM 2.0.
If Secure Boot and TPM are disabled then you may see this error message. You can use TPM Diagnostics Tool in Windows 11 to find out the Trusted Platform Module chip information of your system.
This PC cant run Windows 11
To fix this message, you will need TPM and Secure Boot enabled in the UEFI/BIOS. So to enable TPM and Secure Boot in UEFI in Windows 11:
Restart your PC
During boot time, you need to press the designated Key, to be able to enter your BIOS/UEFI settings
Go to Security, Boot or Authentication Tab, depending on your OEM
Locate the setting for Secure Boot and Enable it
Next, locate the setting for TPM State and Enable it
Save and exit.
Your PC will reboot.
Detailed instructions follow if you need them.
You need to go to the UEFI/BIOS of your PC.
Read: How to check if your PC uses UEFI or BIOS.
While you can identify and pressed the OEM-designated Key (eg. F12) during boot-time, you may find this way easier.
Go to Settings > Update & Security > Recovery > Advanced Startup options.
Then you click on Restart Now, which will reboot your PC, and offer you some advanced options.
Select Troubleshoot > Advanced Options.
This screen offers further options which include System Restore, Startup repair, Go back to the previous version, Command Prompt, System Image Recovery, and UEFI Firmware Settings.
Select UEFI Firmware Settings, and it will take to the UEFI/BIOS.
Every OEM has its own way of implementing the options. Secure Boot is usually available under Security, Boot, System Configuration or the Authentication Tab.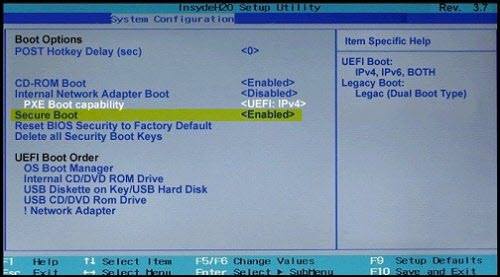 Locate Secure Boot and set it to Enabled.
Read: How to check if you have a TPM chip?
Next, you will have to locate Change TPM State, which will be available under one of these tabs only, depending on your OEM.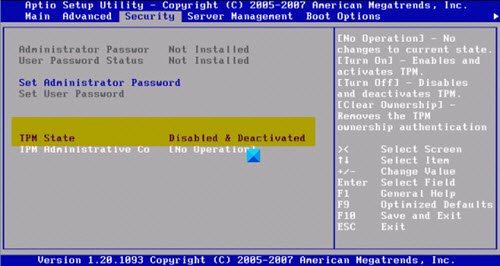 Set it to Enabled.
If you see an entry for AMD CPU fTPM or Intel Platform Trust Technology (IPTT) you should also ensure this is Enabled in UEFI-BIOS.
Save changes and exit (F10). The PC will reboot.
Now see if it has helped.
TIPS:
WhyNotWin11 is a system requirement and compatibility checker tool that will scan your hardware and tell WHY your PC is not compatible with Windows 11.
Checkit is another tool that will tell you in detail why your PC does not support Windows 11.
NOTE: Microsoft confirms that the Windows 11 PC Check Tool needs more work.