Microsoft has introduced Windows 11 with a bang with a lot of new features including a new startup sound that is extremely delicate and light in a way that seems too perfect to perceive. This feature was disabled by default on Windows 10 to make OS suitable for people working in private. However, the startup sound can disturb the decorum of places like a meeting hall, conferences, seminars, etc. Therefore, if you are a Windows 10 lover and would like a new Windows 11 to be silent like it, then this post will explain how you can turn off the startup sound on Windows 11.
The glimpse of a new menu and user interface along with a musical startup feature is not new to Microsoft OS. Earlier it was found in Windows 95, XP, and Windows 7. The Windows Startup sound has been introduced again in an improved way with disabling option for the users' convenience. This has made OS friendly for people working at night or in libraries etc.
How to Disable the Startup Sound on Windows 11
If you prefer your device to be silent while booting, you can turn off the Windows 11  Startup Sound. For this, do the following:
Right-click on the Start menu and select Settings.
Select the Personalization category.
Click on the Themes tab.
Go to the right and click on the Sounds option.
On the Sound tab, uncheck the box next to the Play Windows Startup sound option. This will disable the startup sound.
To enable it back, check the Play Windows Startup sound checkbox.
Click on Apply > OK button to save the changes you made.
If you need, you can see the above steps in detail:
To get it started, you first open the Windows 11 Settings. For this, right-click on the Start menu and select Settings. You can also use the Windows+I keyboard shortcut to open the same.
Read: How to open old Sound settings panel in Windows 11.
Now click on the Personalization category then select the Themes tab that is present on the left pane of the page.
On the right, you will see some options that are related to the Themes changes.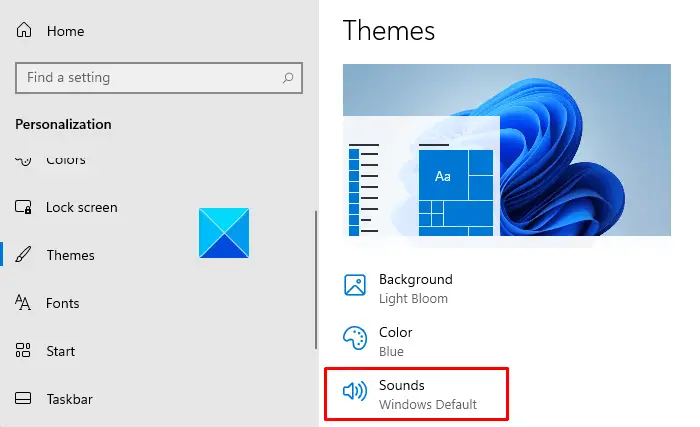 Click on the Sounds option to open the Properties window.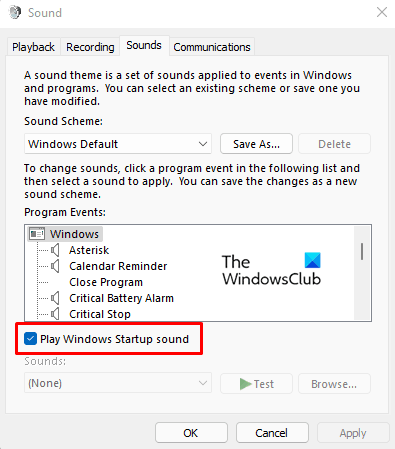 On the Sounds tab, you will see a checkbox stating Play Windows Startup sound that comes enabled by default.
So, if you want to disable the Startup Sound on your device, simply uncheck the corresponding box and save the changes.
You can enable it back clicking on the same option.
This way you can enable and disable the Startup Sound on your Windows 11 computer system.
That's it. Hope it helps.
Related: How to enable or disable Snap Layouts on Windows 11.