In this guide, we show you how to reclaim space after upgrading to Windows 11. Whether you have upgraded from Windows 11 to Windows 11 2022 Update Version 22H2 or from Windows 10 to Windows 11, this post will help you. Windows 11 has been available for an upgrade since the last year. If you are running your PC on Windows 10, you can update it to Windows 11 for free if all the system requirements are met. It is common that when we upgrade to Windows 11 from Windows 10. it will take up a lot of storage space on your drive. The good news is that you can free most of the space occupied by Windows 11 after the upgrade in easy ways. As most of the space is occupied by files from previous Windows versions, and log files, you can remove them safely using the built-in features of Windows 11.
How to reclaim space after upgrading Windows 11
If you have just upgraded your Windows 11 to Windows 11 2022 Update Version 22H2 or Windows 10 to Windows 11, you will find a lot of storage space occupied by the files. You can free the space and reclaim it using the following ways.
Using Storage options in the Settings app
Using Disk Cleanup
Let's get into the details of each method and clear files that occupy large space after upgrading to Windows 11.
1] Using Storage options in the Settings app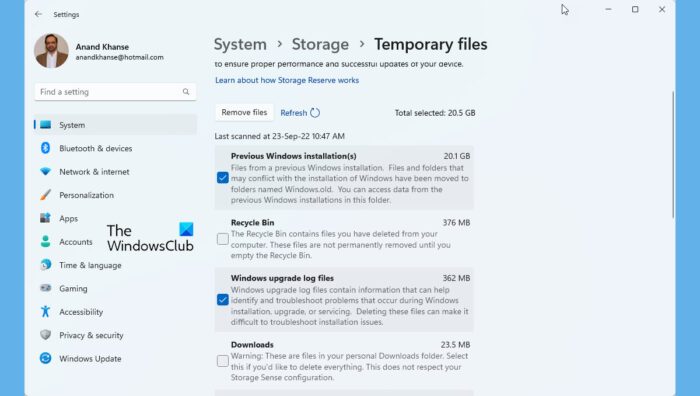 It is a general thing that Windows creates a copy of a previous Windows installation as a part of recovery options. It takes up a lot of space along with Windows upgrade log files and temporary files. You can clear them all and reclaim the space without fear of losing important files. Clearing the previous windows installation files and temporary files from the Settings app is the safest method as it never interferes with the important files needed by Windows 11 for its smooth functionality.
To reclaim space after upgrading Windows 11 using Storage options in Windows Settings app:
Open the Settings app from the Start menu or use the Win+I shortcut on your keyboard.
In the System menu, click on the Storage tab.
It opens the Storage settings. Wait a few seconds for the setting to scan and show all the storage details.
After the scan is complete you will see the Temporary files section and the space it occupies. Click on it.
You can see various kinds of Temporary files like Previous Windows installations, Windows upgrade log files, Delivery Optimization files, etc. Their functionality is also written there in a detailed way. As the files are selected by default, you can uncheck them if you don't want to delete some kind of files by unchecking the box beside them.
After that, click on the Remove files button on top of them. It will take a few seconds or minutes according to the size of the files.
That's it, you have reclaimed the space after completing this process.
Read: Can I delete $Windows.~BT & $Windows.~WS folders after Windows Uupgrade?
2] Using Disk Cleanup
The other way to reclaim the storage space occupied by temporary files and other Windows installation files is to use the Disk Cleanup utility. You don't need to download anything to use it. It is already available on your Windows.
To clear temporary files and reclaim disk space after Windows 11 Upgrade using Disk Cleanup Tool:
Click on the Start menu and type Disk Cleanup.
Right-click on the result and select Run as administrator.
It will open a tiny Disk Cleanup: Drive Selection window asking you to Select the drive you want to clean up.
You can select the C drive using the drop-down button. Since all the Windows and related files are stored on the C drive, you need to select it and click OK.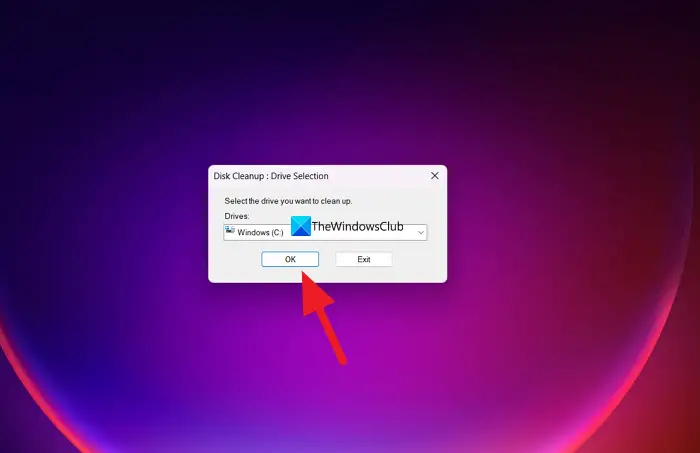 It will then scan the drive in a fraction of a second and open the Disk Cleanup for Windows (C:) window. Then, click on the Clean up System files button and select drive.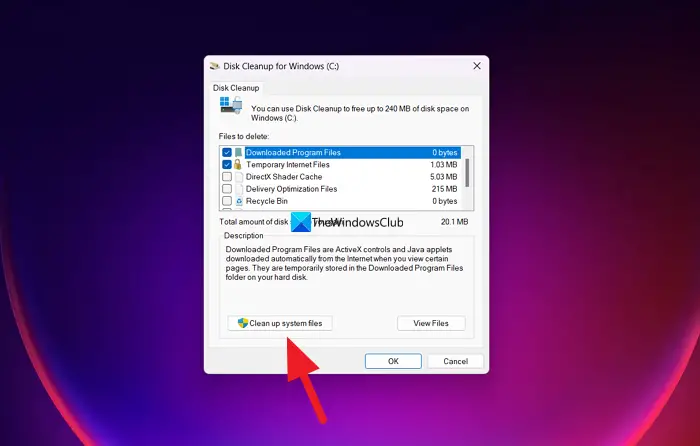 It will then scan for a few seconds and show you various kinds of files that can be deleted. You can check or uncheck the button beside to select or deselect them.
Make sure you select:
Delivery Optimization Files. These are files that are used to get updates from or send updates to neighboring computers
Previous Windows installations. This will remove the Windows.old folder.
Windows upgrade log files. These files contain information that may help you troubleshoot the upgrade & installation process. If your process has gone smoothly,  you may delete these files.
Windows ESD installation files. If you do not need to reset or refresh your PC, you may delete these files.
Temporary Windows installation files. These installation files are used by Windows setup and can be safely deleted.
You may select other options too.
After you are done with the selection click OK to clear them.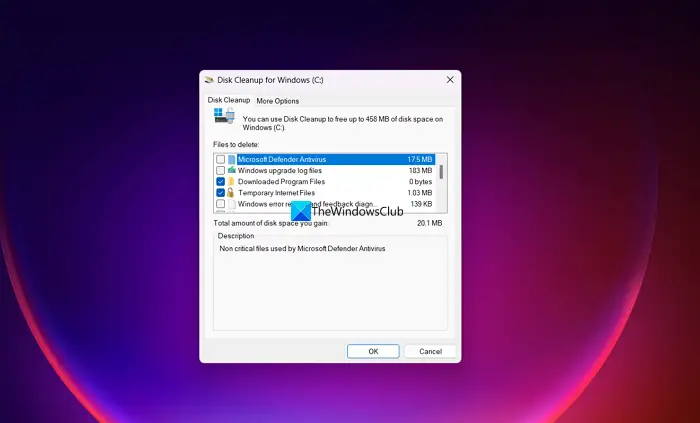 You will then see a confirmation window asking you to confirm deleting them permanently. Click on the Delete Files button to proceed with deleting them. It will then start clearing files which may take some time to complete the process and close the windows automatically. You won't see any confirmation of completing the process.
These are the two ways you can delete unnecessary windows files that occupy large space after upgrading to Windows 11.
Read: How to recover deleted User data folders after Windows 11 Feature Update
Does upgrading to Windows 11 take up space?
Yes, upgrading to Windows 11 definitely takes up space. The minimum requirement laid out by Microsoft for your PC to be able to run Windows 11 is 64GB of larger storage. It is only 16GB for 32-bit and 32GB for 64-bit on Windows 10. The difference in the minimum requirements is a clear indication that Windows 11 requires and takes up more space than Windows 10.
Related read: Deleted files from Hard Drive, but it is still full
When I install Windows 11 will I lose everything?
No, you do not lose anything when you install Windows 11. If you clean install Windows 11 and choose to delete everything on drives while installation, you will lose everything. Other than that, there is no scope for losing anything.