Can I delete Delivery Optimization Files? If you have this question, read on, as this post will show you how to delete Windows Update Delivery Optimization Files & reclaim lost disk space on Windows 11/10 PC.
Windows 11/10 introduces the Windows Update Delivery Optimization feature, wherein your computer may get updates from or send updates to neighboring computers or computers on your network. Although this would mean that you get updates much faster, it would also mean that you are left with more significant bandwidth bills and lost disk space in saving these Windows Update Delivery Optimization Files.
We have already seen how to turn off Windows Update Delivery Optimization. Now let us see how to delete or remove the residual Delivery Optimization Files, if any, from your computer and reclaim disk space.
Delete Delivery Optimization Files
Run the built-in Disk Cleanup Tool. Type Disk Cleanup in the search box. Then click on the result to open it.
When you run this tool, if any Delivery Optimization Files are found on your computer, they will be displayed in the results.
Select the check box against Delivery Optimization Files to delete them.  These Delivery Optimization Files are files that were previously downloaded to your computer. They can be deleted if they are currently unused by the Delivery Optimization service.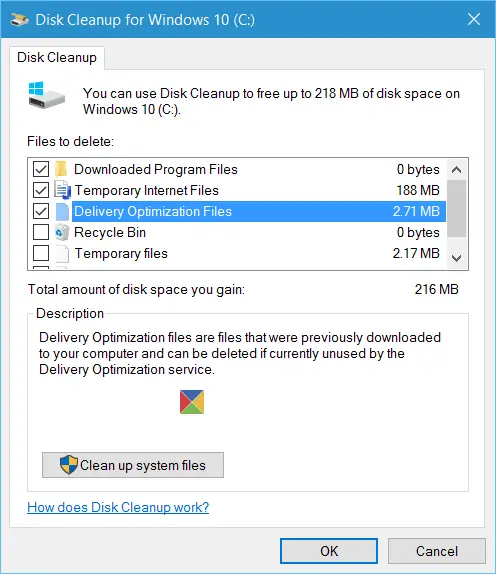 Since you have already disabled the Windows Delivery Optimization feature, you can safely delete these files.
The files could be just a couple of MB's or even much larger in size, and thus deleting them can help you further reclaim disk space.
I have noticed one thing on my Windows 11/10 computer. Even when I have disabled Windows Update Delivery Optimization, I see it turned on back every once in a while! Maybe it happens after some Windows Updates.
So you need to check this setting on and off and check that the setting has not reverted from Off to On. You may consequently also need to delete the Delivery Optimization Files regularly.
Did you see these files on your system? What was their size?
What is the Delivery Optimization service? Should I Cleanup delivery Optimization files?
According to Microsoft, you can safely delete these files if you need space. These are used to download up[dates from Microsoft./ They are stored in a dedicated cache to be uploaded to other devices on your local network (if the settings are turned on). So if you have a lot of Windows PC at home, you may want to keep them for faster delivery.
What will happens if I delete Delivery Optimization files?
They will reappear after some time if you have not turned off the setting which allows updates to be delivered locally once they are downloaded on a PC. Unless the file size is in terms of GBs and you are running out of space on your system drive, these can be left untouched.
What is the Delivery Optimization service?
It's a peer-to-peer client update service for both local and nonlocal devices. Windows delivery can also be received and send updates from PCs that are close to you. It can download both from Microsoft and from a peer PC, and them delivers updates a lot faster compared to downloading everything from Microsoft which takes longer.
When Is It Safe to Delete Delivery Optimization Files?
If all the connected PCs on the local network are updated, then it's safe to delete the file. However, it will get recreated again. But keeping it for a while, especially during feature updates or any major update, will only help you get the update.
If you still need to keep it, you can set up the maximum cache size so the occupied space is restricted.
I am on Metered Data. Should I use this feature?
When you have set the connected network as metered, then Windows will not use this feature. However, if you still want to be sure, then you can turn off delivery optimization.