Windows 10 is getting updated every now and done, and keeping a track of all the Windows Updates can be difficult. If you are looking for ways to look up the Windows Updates for your Windows 10 or Windows Server 2019 operating system, then here are ways you can do it.
Windows 10 Update History
How do you see which Windows Updates you have? If you wish to view the update history on your Windows 10 computer, from the Start Menu, open Settings > Update & security> Windows Update. In the right side, you will see a small Update history link in blue.
Click on that link to open the following window.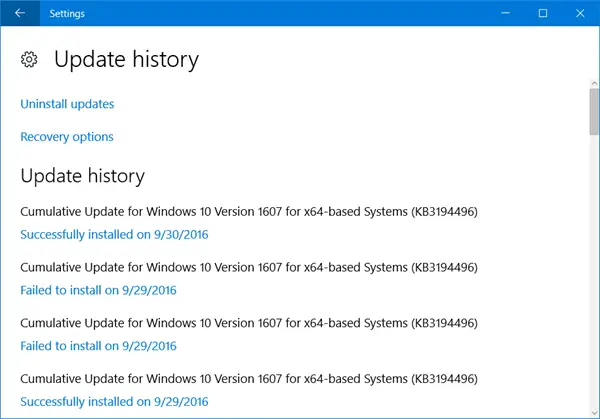 Here you will be able to see the complete update history for your Windows 10 computer. You will see some which may have been Successfully installed and a few maybe, which may have Failed to install.
Clicking on the Successfully installed on link will show you more details about the Windows Update. Clicking on More info will take you to the KB article for the update.
You will be able to also view the update history for your computer in the Control Panel.
From the WinX Menu, open Control Panel > Programs & Features > Installed Updates.
It gives a few more details.
Read: What is the latest Windows 10 version that is available for download.
Windows 10 Update History page
Microsoft.com also has a Windows 10 Update History site where you will be able to see the complete list of Build numbers and the OS versions.
The web page gives the list of all the issues that were fixed and the new features that were introduced.
Microsoft says:
The Windows Update history documentation exists in 36 languages & garners extensive use.
On average, Microsoft releases 58 new or updated articles a month for the Windows platforms. Microsoft says Windows employees coordinate with other Microsoft teams to share best practices to make information accurate and consistent.
Users can provide feedback on the update history pages, and Microsoft will take action on that feedback.
On this page you can:
See the latest improvements and fixes included in the update.
The issue that the update resolves
Understand why your device isn't receiving the latest update.
Find out about the known issues associated with an update along with the workaround.
The update history for Windows 10 as well as Windows Server 2019, Windows 10 Mobile is included here.
For those who want to know, here is the Surface Update History Page.

This post will show you how to find out which edition, version & build of Windows 10 you have installed on your PC.