We have already seen what Temporary Files are in Windows. Temporary Files in Windows are those junk files whose use is only temporary and become redundant once the task is completed. These Temporary Files should get deleted once the program exits. But this is not always the case, leading to wasted disk space.
While the presence of these Temporary Files will not affect the performance of your operating system, deleting them from time to time is just a matter of good housekeeping practice, and one should do so regularly. How frequently you should do it depends on how aggressively you use your computer. But for most users, I believe deleting such Temporary Files once a month should be good enough.
TIP: You can Free Up Disk Space using Storage Sense as well now.
Disk Cleanup Tool in Windows 11/10
Today, I will write about the steps to delete the temporary files in Windows 11/10/8 using the built-in Disk Cleanup Tool. This post has been written keeping in mind the beginners, who may not know how to use the tool.
Let me describe it step by step:
Steps to Delete Temporary Files in Windows 11/10
Step 1 – Take your cursor to the top right of your screen and click on 'Search'. Go to settings and type Disk Cleanup in the search box. Then click on 'Free up disk space by cleaning unnecessary files' or 'Disk Cleanup Desktop app' as the case may be.
Step 2 – You will then come up with a box saying 'Disk Cleanup- Drive selection'. Select the drive you want to delete the temporary files from. Usually, the temporary files are saved in Drive C, which affects the system performance.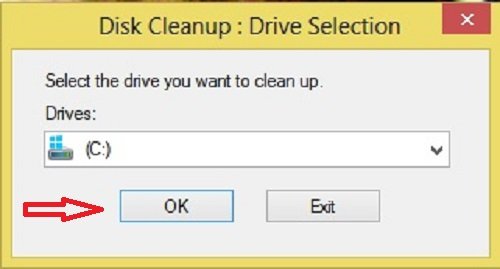 Step 3 – Now, you will see a box asking for the files you want to delete. Select the files you want to delete from your system and click OK. As my system is just a few weeks old, my temporary files occupy just 52.2 MB.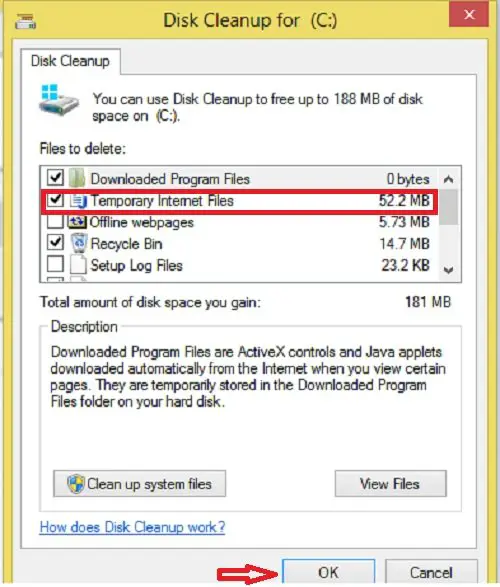 Step 4 – The Disk Cleanup system will now ask for confirmation. Click on Delete Files to proceed. Do note that if you click on Clean up system files, you will see more options. Using this option, you can delete all but the latest system restore points, Windows Update Cleanup, Previous Windows installations, etc.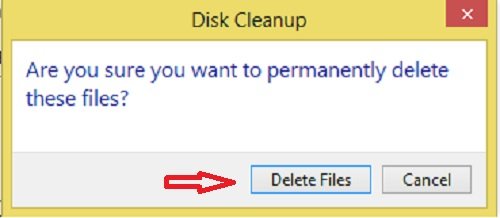 Step 5 – You are done with your job, and the Disk Cleanup utility will do the rest.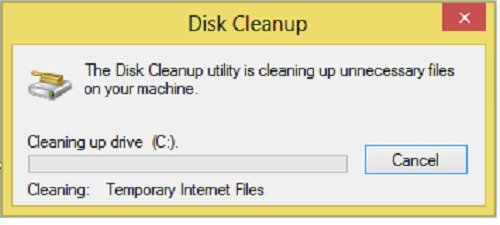 The Disk Cleanup utility in Windows 11/10/8 is almost similar to that we used to get in Windows 7. The options to delete include:
Downloaded program files
Temporary Internet files
Offline web pages
Recycle Bin
Temporary files
Delivery Optimization files
DirectX Shades Cache
Thumbnails
Windows Update Cleanup
Windows Error Reporting files
You can also access the Disk Cleanup Utility by going into the properties of Drive C directly.
TIP: You can create a shortcut to open Disk Cleanup with All Items Selected
Step 1 – Go to My Computer and right-click on Drive C. Then click on the Properties menu.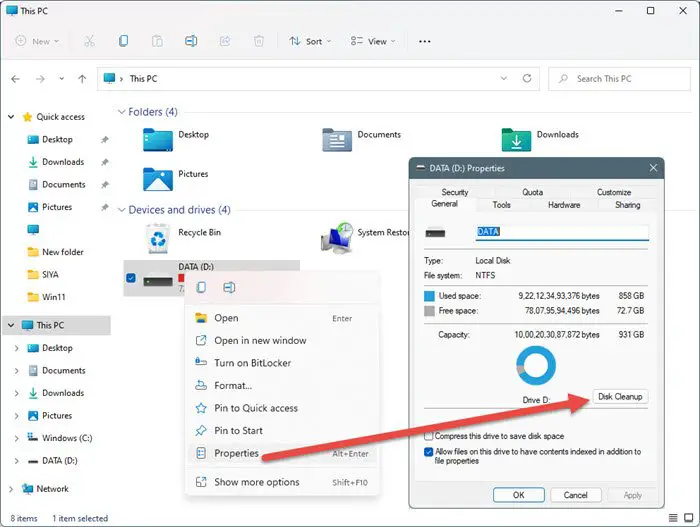 Step 2 – You will come up with a box showing Local Disk C Properties. Click on 'Disk Cleanup'.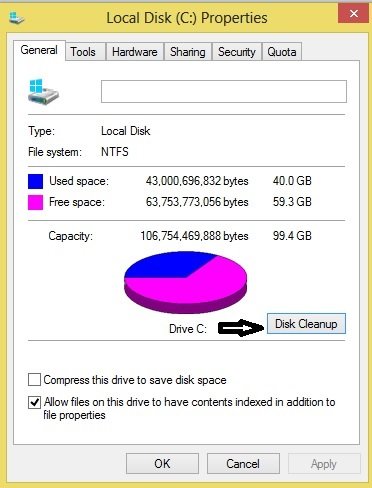 The rest is the same as Step 3, Step 4, and Step 5 mentioned above.
If you wish, you can add Disk Cleanup to the context menu of hard drives.
Need to clean more?
Go here to find out more ways to free up & increase hard disk space on Windows computers. You can also use freeware junk file cleaners like CCleaner or Quick Clean to quickly delete the Cache Files in Windows.
See this post if the Disk Cleanup button is missing. And this one is if Disk Cleanup is not working correctly.
Is Disk Cleanup a Disk Management tool?
Disk Cleanup is a maintenance utility to remove junk files, while Disk Management helps you organize, delete, merge, and create new hard disk partitions. While the former is similar to the Storage Sense feature of Windows 11/10, the latter is a storage tool that should be used carefully else it will result in permanent data loss. It may not sound evident because both are related to disk or storage.
How long does Disk Cleanup usually take?
It depends on the number of junk files you plan to remove and the speed of the storage device. When you use Disk Cleanup on an SSD, it is faster than HDD because of high read-write rates. In either case, it should not be more than few minutes.
What happens if I cancel Disk Cleanup?
If you interrupt the process of disk cleanup in between, then you will still have few files left. When the final execution of Disk Cleanup starts, all the files are lined up and then removed one by one. Any interruption will leave the files and delete whatever was in the list before you cancel it. If you are worried about data corruption, then don't be.
This post will help you if Disk Cleanup is stuck on Windows Update Cleanup.