We have already seen the nature of some temporary files like Temporary Internet Files, Index.dat file, Cookies, and Prefetch Files. In this article, we shall have a look at a few aspects of the Windows Temporary Files, which your computer creates, during the course of its normal running.
Windows Temporary Files
What are Temporary Files in Windows 11/10
Temporary Files in Windows are those junk files whose use is only temporary and become redundant once the task in hand is completed. Such temporary files are created to hold data temporarily while a file is being created or processed or used.
Why are Temporary Files created
Windows Temporary files are created by the operating system during the normal course of its running when there may not be enough memory allocated for the task.
Software that uses large amounts of data like Graphics, Video, or Media editing software also creates temporary files. Such created temporary files are more often than not, left behind even when the task is over, leading to their wasting disk space.
Temporary Files are also created for backup purposes, by programs. For instance, Microsoft Office saves a Temporary File of the open document every few minutes. If you save the document and exit, the Temporary File gets deleted. If the program crashes unexpectedly, the Temporary File is not deleted. They can thus be useful to help recover lost data if the program or the system crashes.
Ideally, the Temporary Files should get deleted once the program exits. But this is not always the case, leading to wasted disk space.
Temporary Files Location
The Temporary Files in Windows are typically found located in two locations – but they can be found elsewhere too:
%systemdrive%\Windows\Temp
%userprofile%\AppData\Local\Temp
If you click on C:\Windows\Temp you will receive a message You don't currently have permission to access this folder. Click on Continue to do so. You will see that most of its contents are .tmp, .temp and .txt files.
The other folder typically located at C:\Users\username\AppData\Local\Temp, is created for each User. It's a hidden folder and you will have to first 'un-hide' System folders from the Folder Options before you can see it.
The Temporary files created by the Windows operating system are usually stored in the %system%\Windows\Temp folder, whereas the ones created by the User when running any software is stored in his user profile at %userprofiles%\AppData\Local\.
Temporary Files of a particular software may also be located in a sub-folder, inside the parent folder of the particular software.
On rare occasions, a temporary file or a temporary files folder may get created into the root directory of the C (System) drive. You may want to examine the folder in details, and then delete it if you are sure, if it indeed contains temporary files.
Change the location of the Temp folder
If you wish, you can change the location of the Temporary Files folder. To do so, open System Properties via the Control Panel > Environment Variables > Edit the System and/or the User variables as you wish.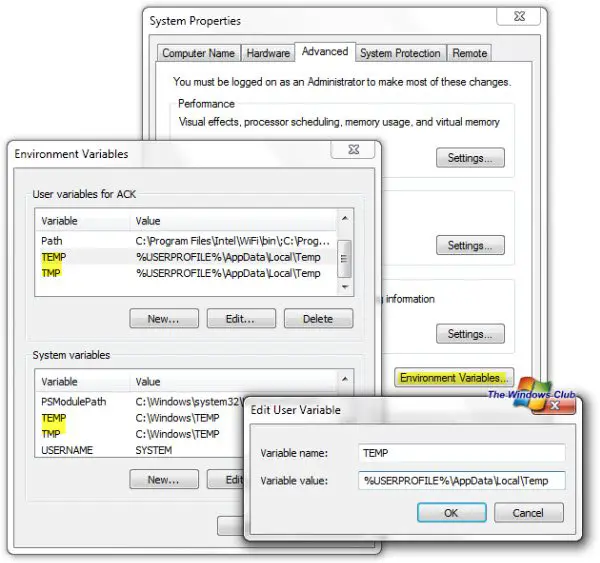 But do remember that it is never a good idea to combine the temporary directories together for all the user profiles, for security reasons, since there have been cases of security vulnerabilities with temporary files, due to a particular software's incorrect file permissions or race conditions.
Related: What are tw tmp folders in System32 folder and Can you delete them?
Empty Temporary Files folder
There are several different ways to delete Temporary Files. You can use freeware junk file cleaners or the in-built Disk Cleanup utility to easily empty the contents of the Temp folders.
Planning to empty the contents of your Windows Installer Folder or WinSxS directory due to its sheer large size!? Think again!