You are probably here because you want a free registry cleaner and optimizer for your Windows 11/10/8/7 computer. Before you proceed, you need to know a few other things. Long back, Microsoft discontinued its registry cleaners like RegClean, RegMaid with Windows XP onwards, and also its Windows Live OneCare registry cleaner. While the question of whether registry cleaners make a Windows PC run faster is hotly debated, the fact remains that registry cleaners are one of the most used Windows software.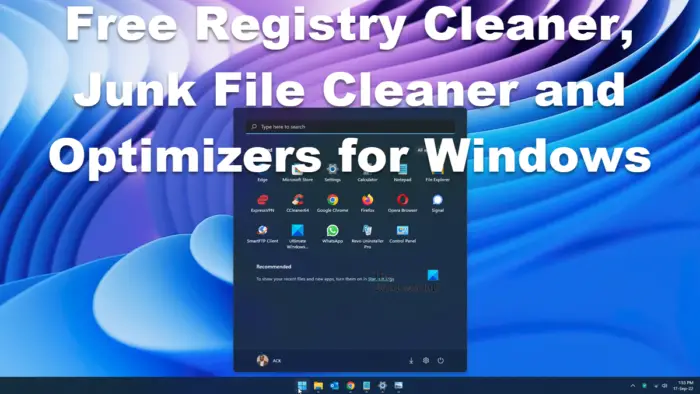 Besides registry cleaners, optimization suites are also very popular with Windows users. All of us want our Windows PCs to be running in top condition. While you can always use some tips to make Windows faster, many prefer to use a Registry Cleaner or a Windows optimization suite to keep their computer running smoothly.
This article will cover some free Registry Cleaners and Windows Optimizers that will help you tune-up your Windows PC and keep it running smoothly.
Free Registry Cleaner, Junk File Cleaner & Windows Optimizer
The free Windows optimizers we will take a look at are:
CCleaner
Glary Utilities Free
Rizone's Power Tools
TweakNow PowerPack
RegSeeker
Iobit Advanced SystemCare
Comodo System Utilities
And others.
1] CCleaner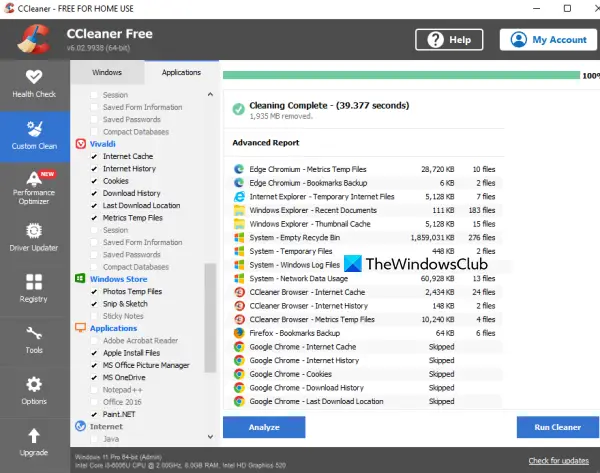 CCleaner is one of the most popular and probably the safest registry cleaners available. The tool allows you to clean up your Windows Registry, Junk files, History, Privacy data, etc. – and offers some tools to let you control your start-up programs.
CCleaner consists of many tools that can help you a lot, such as disk wipers, system restores and lots more.

Features:
Powerful registry cleaner
Uninstall programs option
Editing your startup programs
System Restore
Disk Wiper
Exporting some settings to .txt file
Cookies cleaner
Including and excluding additional folders that you wish Cleaner t remove
Saving all settings INI file
Browser history, cookies and browsing data cleaner
Advanced settings.
2] Glary Utilities Free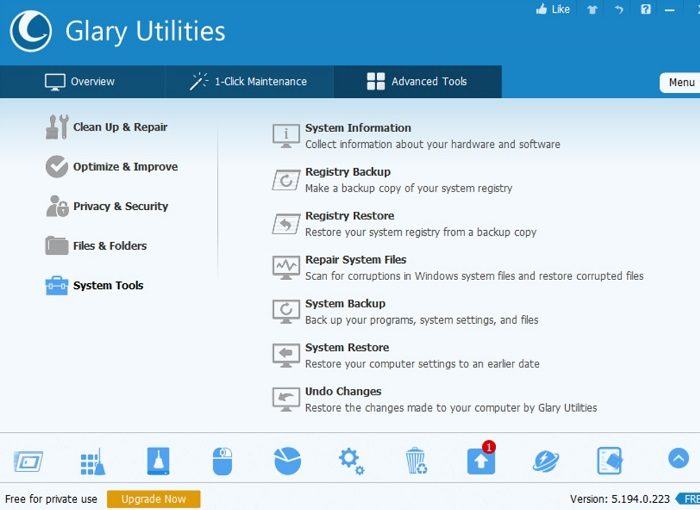 The first thing you notice about Glary Utilities Free is its compact yet user-friendly interface. The interface is intuitive and very easy to use. It offers various modules that promise to keep your Windows PC running in top condition.
3]
Rizone's Power Tools
With Rizone's Power Tools, you can clean and optimize your registry, launch hidden Windows tools, repair, optimize, backup important files and tweak the Windows OS, defrag, and do much more, to keep your Windows machine in proper condition.
It is a portable app that does not require an installation and works just fine on Windows 10/8/7 & Vista.
4] TweakNow PowerPack:
This fully integrated TweakNow PowerPack freeware suite of utilities lets you fine-tune every aspect of your computer's Windows operating system and Web browser, including cleaning your disk and registry.
Apart from its Registry cleanup modules, it also includes a Virtual Desktop module. Its other modules include Disk Cleaner, Disk Usage Analyzer, Miscellaneous Tools, Registry Cleaner, Registry Defragmenter, Startup Manager,  System Information, Track Cleaner, Uninstall Program, Windows Secret &  Restore Backup.
5] RegSeeker
RegSeeker is a free-for-personal-use registry cleaner and an optimization tool that can help you successfully optimize your Windows PC's speed and make it faster. It is a user-friendly tool designed perfectly so that your PC performs faster.
It has many features, some different from CCleaner such as registry cleaning, uninstalling applications option, some tweaks, backup option and lots more:
Features
Registry Cleaner
Program Uninstaller
Tweaks
Backup Option
Startup Entries
History
Favorites
Printing Option
Much more.
6]

IObit Advanced SystemCare
IObit Advanced SystemCare is like a Swiss army knife, with more than 20 computer tools in one place, including Disk Cleaner, Registry Cleaner, Privacy Sweeper, Uninstaller, Registry Defrag, etc., to diagnose and fix PC problems, and clean, optimize, repair, secure and fully control your Windows computer.
7] Comodo System Utilities
Comodo System Utilities is another fine system optimizing tool from the house of Comodo. This freeware suite includes a registry cleaner, privacy cleaner, disk cleaner, etc.
Its Force Delete module can cause force deletion of some undeletable files, folders, and registry keys. The Shredder module lets you permanently delete files from your hard disk.
The best part of this freeware that I like is that it allows you to set all these options and then use the 1-click maintenance to clean up your PC.
8] Other similar Windows optimizer software
Puran Utilities, Toolwiz Care, Iolo System Mechanic Free, Eusing Cleaner, PrivaZer, Anti Tracks, AppCleaner, Auslogics Registry Cleaner, Wise Care 365, Clean Master, BleachBit, Kaspersky Cleaner, AtomicCleaner, Registry Recycler Portable, Comet (Managed Disk Cleanup) are some more free Windows PC Optimizers, Junk file cleaners and Registry Cleaners you may want to have a look at.
Well, this was our list of some recommended free Windows registry cleaning and optimization system utilities. But I am sure there may be much more such! Before using such tools, it is always a good idea to quickly create a system restore point first or back up your Windows registry, just to be on the safe side.
You may be interested in knowing that, generally speaking, Microsoft does not support using Registry Cleaners in Windows.
Do share and let us know which one you use and recommend. We'd love to hear your views on them.
Is it worth using a registry cleaner?
While registry cleaners work, there are always limitations. Finding out what is not required and what has been left behind is a tedious job, and most of the software work is based on the data collected over time, as the registry or Windows never marks what can be removed from the database. So, it should be used as the last resort, and even then, you should always take a backup.
Does System Restore fix registry issues?
Yes, it does. System Restore takes backup of almost everything, including files and registry available on the system drive or where Windows is installed. So if, at any point in time, you have an issue with the registry, you can use use the system restore to fix the issue.