IObit Advanced SystemCare is a free all-in-one Windows optimizer software. The latest version of this flagship program comes with better performance and new features like FaceID. Here is everything you need to know about IObit Advanced SystemCare Free edition.
As our PC gets older, it gets clogged with junk files, registry entries, and many unwanted programs, which further affects its performance. This is where Advanced SystemCare can hep you. It is among the popular free PC cleaner, optimizer and registry cleaning software for your Windows PC.
Iobit Advanced SystemCare review
With a large database, advanced features, and powerful performance, the program not only cleans the junk files and registry entries from your PC but also speeds it up and optimize it completely. The program also scans your PC's startup items and helps you optimize it, which further boosts startup time.
Speed Up Your PC

You need to turn this feature ON to speed up your PC. Just click on the Speed Up tab and Turn On the Turbo Boost feature. The feature stops the unnecessary apps running on your PC, optimizes your PC deeply, and also checks if there are any obsolete drivers on your PC.
Furthermore, the program the new Startup Optimization module of Advanced SystemCare 10, also scans the startup items affecting your PC's boot time. In short, the Advanced System Care optimizes and gives you a cleaner and faster PC.
FaceID
Based on the face recognition technology and biometric data, this feature is added to protect your PC's privacy from intruders. With the help of face recognition technology, FaceID analyzes the user's facial features and detects the intruders, if any. This helps you avoid unauthorized access to your PC and maintain privacy. FaceID history encrypts and stores the photos of intruders on your PC so that you can check who secretly tried to access your PC.
Powerful Cleaner

Advanced SystemCare comes with a powerful cleaning feature that cleans the installed driver packages, remnants, and unused programs from your PC thereby giving you more disk space.
Read: Advanced SystemCare Pro review.
Resource Manager
It also includes a resource manager who monitors your Disk space, RAM and CPU. The performance monitor is displayed as a small tab on your desktop. Clicking it opens the detailed information about your PC's performance and CPU and Disk usage.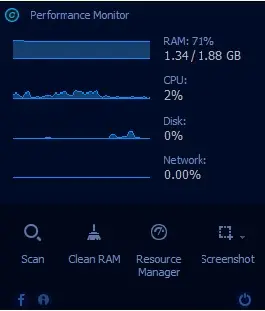 When multiple tasks are open on your PC, the resource manager can terminate them quickly, thereby making your PC work faster and smoother. Click on the Clean RAM button at the bottom, and it released some memory, thereby improving the performance.
Read: Do Memory Optimizers work?
Safe Browsing

The program comes with a Spyware Protection Database and System Reinforce, which provides better protection against malicious programs and other online threats. The feature is, however, supported only in the major web browsers like Google Chrome, Firefox, and Internet Explorer.
Is Advanced SystemCare Pro free?
No, Advanced SystemCare Pro is not free. It is priced at $29.99 for one year for one PC. However, they offer multiple prices for multiple computers. You can choose a plan as per your requirements. Nonetheless, if you want to give it a try without spending money, you can use the free edition.
Is Advanced SystemCare Free safe?
Yes, Advanced SystemCare Free is very safe to use/ You can rely on Advanced SystemCare to optimize your computer and improve overall performance. It is possible to speed up internet connection, PC performance, clear junk files, etc., with the help of this tool. Although there are many other options in the market, you can give this app a try.
Overall, Advanced System Care 10 is a nice freeware which optimizes, scans, and repairs your PC. It cleans the registry entries, junk files as well as the malicious files and folder from your PC, thereby giving you smoother and faster performance. Download Iobit Advanced SystemCare Free here and experience a faster, safer, and smoother PC.