Microsoft plans to deprecate the built-in Disk Cleanup Tool and moving the junk file removal capabilities to Settings. But if you like using the Disk Cleanup Tool, you may check out Comet (Managed Disk Cleanup), a new open-source program for Windows that aims to fill this void. The API of the Disk Cleanup Tool has barely changed since its debut, where this free open-source program offers many more options and has an identical UI.
Comet is an alternative for Windows Disk Cleanup Tool
The Comet program replicates the functionality of the trusted Disk Cleanup tool of Windows. The tool automates specific cleanup related tasks. To see the program in action, you'll need to take two steps.
Download and run the application
Clean up junk files.
1] Download and run the application
Simply visit the link given at the end of the article and choose the 'Latest Release' option visible on the page. After that, click on the 'Release.zip' to download the file.
Double-click the file to run the program. Select the drive you want to clean up as shown in the screenshot below.
2] Clean up junk files
When 'Manage Disk Cleanup for Windows' window opens, you may select items that you would like to delete. Every item is listed with its name, e.g., Delivery Optimization Files, alongside the disk space occupied by it.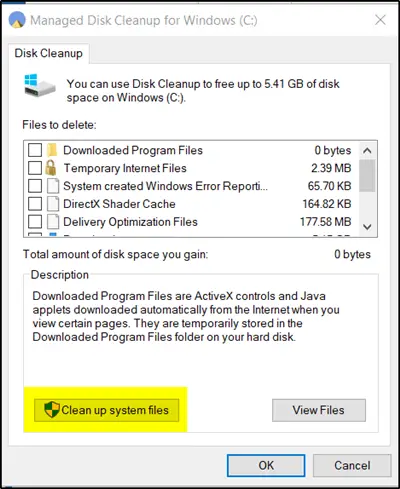 When selected, you can click the 'Clean up system files' button to clear the files. The action when confirmed will prompt the utility software to display a verification message. Accept it and proceed further with the deletion process.
Soon, you should see a progress window if the deletion takes longer than a split second. The tool closes immediately after that. The entire process is similar to how Disk Cleanup handles the cleaning.
To further make the program convenient for public use, the developers of Comet intend to add Command-line options.
The program is reminiscent of Disk Cleanup, the computer maintenance utility used earlier to free up disk space on a computer's hard drive.
You can download Comet (Managed Disk Cleanup) for Windows 10 from its GitHub page. It is portable and free for use.
We'd love to know what you think of this junk file remover tool.
Is Disk Cleanup safe to run on Windows PC?
Yes, it is safe to run the disk clean-up tool once in a while. It removes from the most common folders, which store temporary files or are known to store files such as Downloads. However, ensure you do not delete any important files using this tool. Hence a manual check is always recommended.
Does Disk Cleanup make computer faster?
No, it does not unless the computer slows down because of insufficient storage space. This tool only helps to reclaim space and has nothing to do with fine-tuning the performance factors. Any storage cleaner software claiming that the PC runs faster, ultimately helps for a day or so.