Windows 10 offers a built-in tool that will help you get rid of extra files that can be removed from your computer to free up space. That's what it's called, Free Up Space. The tool utilizes the Storage Sense feature on Windows 10 which can automate cleaning junk files from the system every 60, 30, 15, or every day. You can configure it to run automatically or at predefined intervals.
Windows 11 user? This post will show you how to use Storage Sense in Windows 11 to free up disk space.
How to free up Disk Space in Windows 10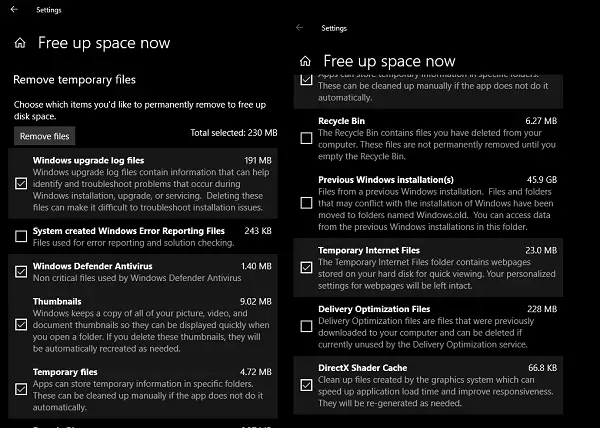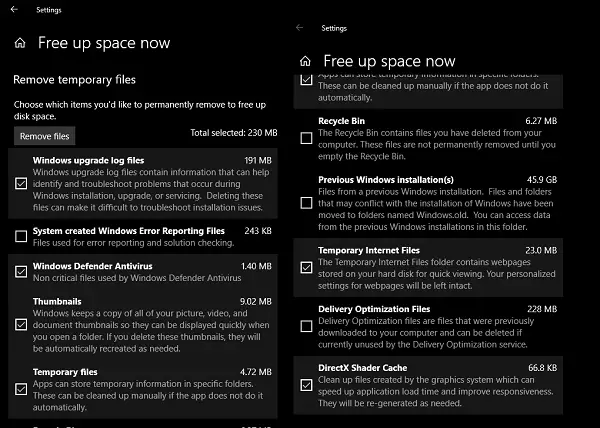 From the WinX Menu, open Setting > System > Storage.
This lists all the local and connected storage devices with details on the free space.
Make sure Storage Sense is turned On.
Next, look for a link that says "Free Up Space". Click to open.
The next screen is the built-in program of Windows 10 which scans for the following junk files and helps you free up Disk Space:
Temporary Internet Files.
Delivery Optimisation Files.
Thumbnails
Previous Windows Installation Files.
Windows Upgrade Log Files.
The system created Windows error Reporting Files.
Select the files you want to trash, and click on remove files. You will have an idea of the total size as you select.
Note that each of these folders offers detail so you can understand if you want to remove it. Say for example DirectX Shader Cache is useful to speed up application load time and improve responsiveness.
It is interesting to note that if you only wish to clean up the previous version of files, Storage Sense offers direct up under Free Up Space section. When inside Storage Sense, scroll to find "Free up Space now" section.  You can select the checkbox Delete Previous Windows versions of Windows and click on the button to execute it.
However, do note, that once you delete the file, you will not be able to roll back to the previous version of Windows. They are kept for 10 days by default and then deleted automatically.
That said, you should know a few things. Browser and Apps keep a lot of files cached. This makes the experience better as they don't have to re-download things which you have already seen. It makes the experience faster. When you remove files from there, everything needs to be re-downloaded again. So my suggestion would be only to do it when you really need space on your computer.
TIP: USBDriveFresher is a Junk file and folder cleaner for USB Drives.
How do you find this newly built tool from Windows 10, as compared to the Disk Cleanup Utility or third-party software to clear up junk files? Let us know in the comments.