It is no secret that Windows like most of the other operating systems becomes sluggish with usage. After prolonged usage, the machine usually takes forever to boot, and the overall performance of the machine decreases considerably. The reason for this to happen is the thousands of registry and temporary files that clog the system. This junk not only slows down the system but also takes up precious storage space. We have seen a slew of programs that are aimed at helping users take care of their Windows machine and this time around we will review the Eusing Cleaner.
Eusing Cleaner for Windows PC
Eusing Cleaner offers an array of features that allow users to tackle invalid registry entries, corrupted shortcuts, and other useless temporary files. The installation is pretty straightforward. Once installed, you will be greeted with the easy-to-use but somewhat dated user interface. The left side is reserved for Cleaner, Registry, Defrag, Tools, Options, and Help option.
Features and User Interface
As explained earlier the Eusing Cleaner comes with a simple easy-to-use UI. The navigation is also pretty easy, and the left side menu consists of Cleaner, Registry, Defrag Tools, Options and also a Help Section for FAQ's. With this menu in place, users can explicitly choose what they want the Eusing Cleaner to do.
The best part is that you can configure Eusing Cleaner to scan items within different web browsers including Chrome, Firefox, and others. That apart the Eusing Cleaner also clears up the Startup Folder at regular intervals.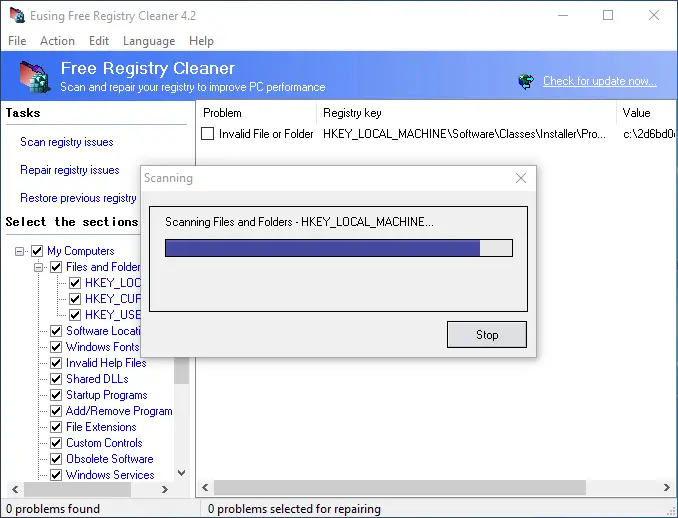 The tool can also be used to delete programs in the Startup folder. The first time I used the Eusing Cleaner, it took a great deal of time to finish the scan. On the brighter side, the program was capable of finding a ton of junk files and broken registry entries. Once the program fixes all the problems, it is best if you can restart the machine.
Here is a breakdown of all the features the Eusing Cleaner offers-
A comprehensive scan of your PC which includes registry
Simple and easy User Interface
Aims at improving the overall performance and stability of your PC
Offers Automatic backup of the repaired registry
Checks leftovers in the Add/Remove program list
Weeds out invalid Windows Service.
If you want to check it out, you can download Eusing from their homepage. Remember to create a system restore point first.
Go here to check out our list of free Registry Cleaners, Junk Cleaners, and Windows Optimizers.