There are many freeware available to delete junk files from your Windows computer, clean the Registry editor, uninstall software, check hard disks, encrypt files, and more. Today we will take a look at HDCleaner, which is an all-in-one free software for Windows to remove junk files and secure your PC within moments. Not only that, but it also comes with many other features to make it even better.
HDCleaner for Windows PC
HDCleaner looks like a very useful freeware tool to have on your Windows. It offers almost all the tools you'd need to maintain your computer in good working condition.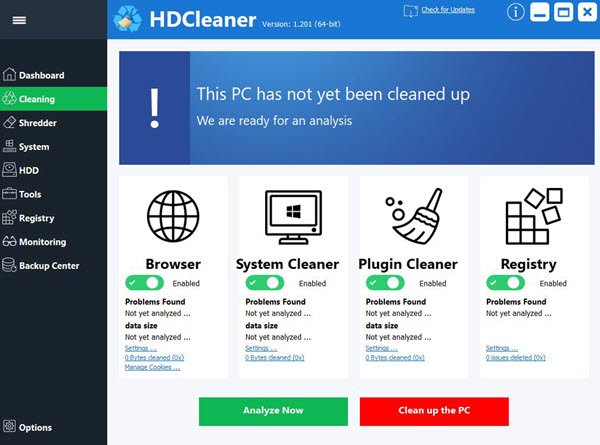 There are loads of features included in this tool, and almost all of them are useful. Let's take a look at some of the best options which come with HDCleaner.
The 1-Click Cleaner: options will help you analyze and remove unnecessary junk files, registry keys, etc.seperately, and more, this option would be helpful for you. This is a 1-click solution which cleans all! If you need to clean separately, the following modules can help:
Unnecessary Files: As the name says, you would be able to get rid of junk files with the help of this option.
Plugin Cleaner: It scans your plugins, shows you a detailed report, and lets you easily remove them, if necessary.
Registry Cleaner: If you want to analyze and remove unwanted Registry files, this option will be helpful.
Uninstall Manager: A simple uninstall manager is included in this tool that allows users to remove any software from the computer. However, the drawback is you cannot delete the leftovers after uninstalling any software.
Autorun Manager: This Startup Manager helps you to manage all the programs that run during startup.
Duplicate Files: If you think you have a lot of duplicate files on your hard disk, you can get rid of them using this functionality.
Broken Shortcut Fixer: We often get broken shortcuts in various places, and this option will let you get rid of them.
Folder Sizer: Although it looks like a File Manager, this module helps you to check the space that each folder consumes.
Disk Usage: If you want to check how much disk space you have used this is the module that you are looking for.
DIRToHTML: This uncommon option will let you make an HTML file out of your chosen directory.
System Information: As the name defines, you can check your system information from this panel.
System Programs: In case, you would like to check all the system programs and their .exe names, you can find them here.
File Splitter: Do you want to split a large file into two parts? If yes, this is what you need.
Defragment Disk: Although the inbuilt option of Windows does the job, if you do not want to use it, try this section.
Check Disk Integrity: In simple words, you can check the disk integrity using this option.
Defragment Registry: This module lets you defrag Registry.
Search the Registry: If you want to find a key, value, or anything in the Registry, you can take the help of this tool.
Disk Analyze: If you want to analyze how disk space is being used, here is the function that you need.
File Shredder: Using this tool, you can delete a file permanently.
Encrypt Files: If you want to password protect a file, this is what you are looking for.
AntiSpy: It comes with a ton of options for privacy and security. You can disable password reveal button, Wi-Fi Sense, Windows Defender, and much more.
Security Settings: You can check your current antivirus, antispyware, and Firewall details in this section.
Browser Plugins: This section shows all the plugins that you have installed on your various browsers.
Backups: This simple option will help you to backup any file or folder.
Backup Registry: Backup your Registry files using this option and within moments.
System Restore: Before installing or uninstalling or making any big change in your computer, you should create a system restore point. This option will let you do that job for you.
Recover Files: If you have deleted something mistakenly, you can recover that data using this feature.
Process Explorer: You can check the running processes, apps, etc. by making use of this feature.
HDCleaner download
If the tool looks interesting, you may download it from its home page and take it for a ride. Do let us know what you think of it.
What is the best PC optimizer software?
There are countless PC optimizer software available for Windows 11, Windows 10, and other versions. However, HDCleaner is one of the best apps in the market for this purpose. It comes with the option to delete unnecessary files, uninstall apps, clear the registry, and more.
How do I completely optimize my computer?
To completely optimize your computer, you need to use a third-party app. Although it is possible to get things done manually, it will be a time-consuming task for anybody. That is why you can use a third-party tool called HDCleaner, which is compatible with Windows 11, Windows 10, Windows 8.1, etc.
PS: Do read the comments first before you decide to download and use it.