There is no dearth of tools that we can use to optimize our Windows PCs. But a few do their work perfectly. Fortect Repair Tool & PC Optimizer is a program that can scan your PC for errors, fix them automatically and optimize your PC to make it run faster! In this guide, we review Fortect and explain its features to you.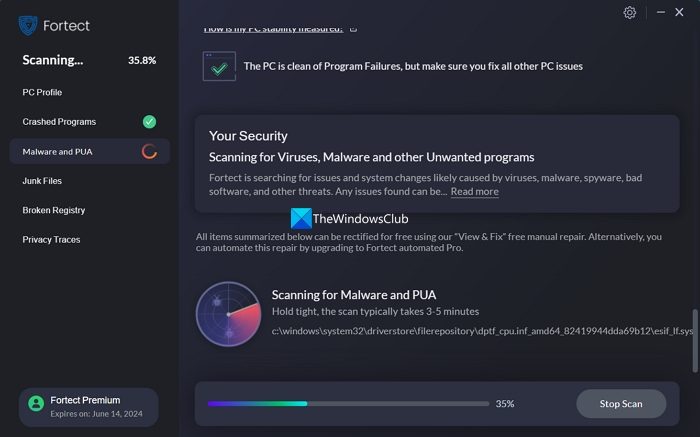 Fortect Review
Fortect Repair Tool and Windows Optimizer is a paid program that scans your PC and fixes the issues when you run it.
You need to download it from Fortect and install it on your PC to use it. When you install it, it runs automatically at the startup of your PC and scans it. You will see the results of the scan and the issues that need to be fixed on your PC. When you choose to repair the issues and optimize your PC, Fortect will automatically fix them, thereby optimizing your PC and making the use of system resources more efficiently.
Fortect Features
Fortect not only detects when Windows isn't running properly, but it also fixes the problem at its core. Any damaged or missing files are replaced by original copies from Windows System File Checker, while your system is optimized and secured based on the latest knowledge. Malware, Registry, Browser Cache, and Junk files modules can be accessed within the app.
The main features of Fortect, in short, are:
Detect & Repair Stability Issues
Browser Cleanup
Optimize Windows Registry
Junk Files and Privacy Traces Removal
Malware and PUA/PUP Removal
Real-Time Software monitoring
Is Fortect free to use?
All items scanned can be repaired individually, free of charge during the trial period, but for automated optimization, a purchase is required.
What does Fortect Repair tool & PC Optimizer do?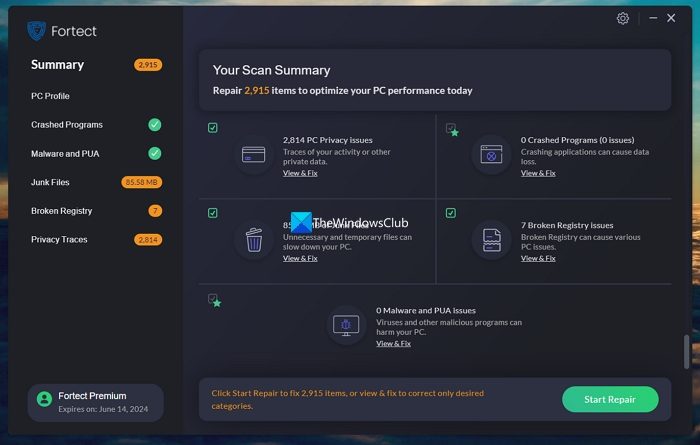 Before getting into how Fortect works, there are some great features on Fortect that can help you optimize as well as protect your PC.
Fortect Repair Tool can do the following things:
Fix Windows issues
Fix Virus Damage
Fix Computer Freezes and BSOD errors
Fix Damaged or Missing DLL Files
Restore the Windows OS
Fix Windows issues
We come across some Windows issues regularly and processes or programs may stop working due to damaged or corrupted files. Fortect can fix Windows issues by replacing damaged or corrupted files with new and legitimate files from its up-to-date database.
Fix Virus Damage
It is a known fact that viruses and malware damage our PCs and the data on them. Even after we get rid of malware, there might be some issues lingering on our PC that are caused by them. Fortect has the capability to find and repair virus damage to make your PC work more efficiently. 
Fix Computer Freezes and BSOD errors
We occasionally come across programs freezing or our PC crashing. They can happen due to a damaged registry, or missing or corrupted files. Also, we see the Blue screen of death errors where our PCs become unusable until we fix them, or else we regularly see BSOD errors. These two are the major issues everyone faces and Fortect is developed to fix them automatically without you doing anything except to run the program.
Fix Damaged or Missing DLL Files
DLL files are necessary components for the smooth functioning of our PC. We see issues like DLL files missing or getting damaged. In that case, Fortect can scan your PC to find such issues and fetch the original files from its up-to-date database and replace the corrupted or missing files to make your PC run smoothly. 
Restore OS
If you come across any issues with the Windows operating system on a whole on your PC, Fortect can restore the healthy version of your OS where there are no issues that hinder the performance and functioning of your PC. It does its tasks without harming your data.
So in short, Fortect performs a comprehensive scan of Windows system files, such as the registry, comparing them to our database of healthy configurations. It then verifies and preserves unaffected files and programs, while isolating and removing damaged or unnecessary files. Fortect's primary function is to ensure the integrity and optimal performance of Windows systems.
How to use Fortect Repair tool & PC Optimizer
To use Fortect on your PC, download it from Fortect and install it on your PC. Once you have installed the program, run it. It will automatically scan your PC and find the issues that hinder the performance of your PC. The scan will be completed within 5 minutes or less, and you will see the scan summary.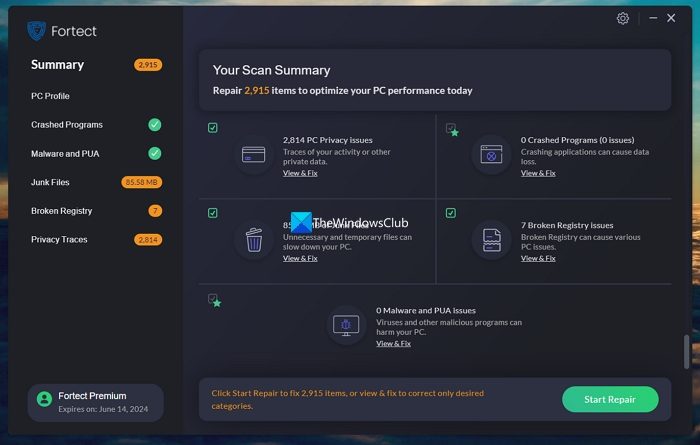 To fix all the issues and optimize the performance of your PC using Fortect, create a system restore point first and then click on the Start Repair button at the bottom of the Scan Summary. 
Note: To repair all the issues automatically with one click, you need to buy the Fortect by subscribing to one of its plans and activating Fortect Premium using the key you get after buying a plan. 
It will display a pop-up to Repair all issues. Click on Start Repair to proceed with the repair of issues on your PC.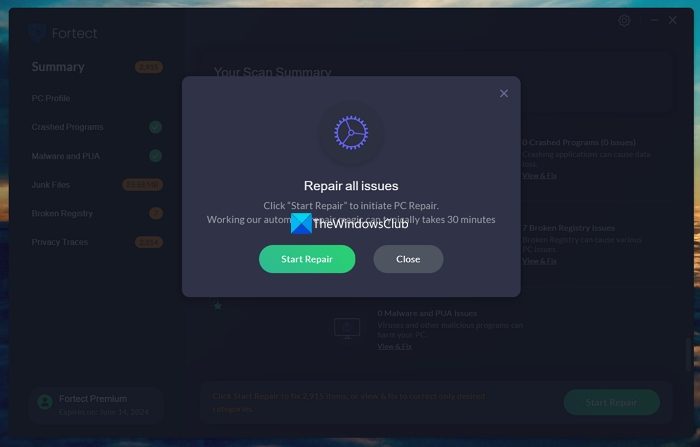 You will now see the progress of the repair along with the issues Fortect is fixing.
Once the repair is done, you will see repair results where you can see the data of all the issues fixed in the last scan and repair session on the Fortect software.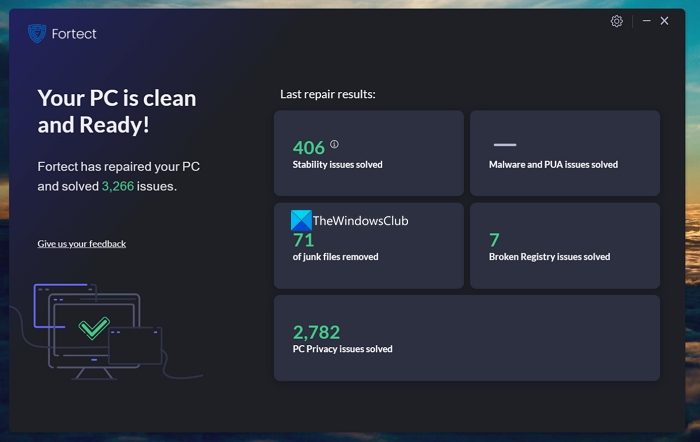 How much is Fortect?
Fortect has three PC Repair Plans for users. They are One Year Repair plan for 1 PC, One Year Repair plan for 3 PCs, One Year Repair Plan for 5 PCs. You can scan and repair PCs an unlimited number of times if you buy a plan. There is no limit on the number of repairs you can do. The pricing of each plan is as follows: 
One Year Unlimited repair for 1 PC: $69.95 (Available for a discount at $33.95)
One Year Unlimited repair for 3 PCs: $99.95 (Available for a discount at $41.95)
One Year Unlimited repair for 5 PCs: $129.95 (Available for a discount at $64.95)
Fortect is a great tool that can automatically scan and fix issues on your PC to optimize performance. The features Fortect offers are great for regular users. If you are looking for software to hardware issues, this program will not work for you. What Fortect does is fix the issues that happen at the Windows OS level and fix them automatically when you choose to repair them. 
Is Fortect Safe?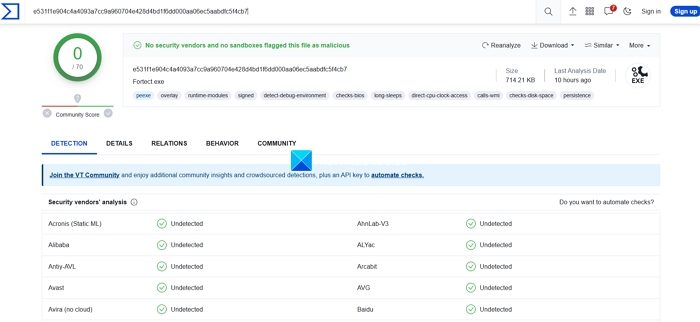 Fortect software is safe to install and use. I have tested the repair tool on my PC and found no issues. No security vendors and sandboxes have flagged the Fortect installer file as malicious. It is a legit tool to scan and repair your PC, and you can use it when you want just by installing and running it.
To be absolutely safe, you should always create a system restore point before installing and using it. 
It is AppEsteem certified, and you can read its reviews on TrustPilot.
Where do I get Support for Fortect?
If you wish to contact Fortect for support regarding services, repair, or any other reason, you can email them at support at fortect dot com or fill out their form here at fortect.com.
How do I remove Fortect?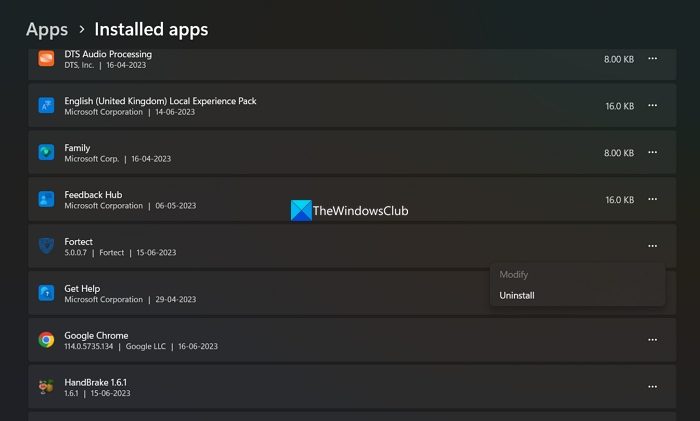 Fortect software can be easily removed or uninstalled from your PC as you do with any other program. Open the Settings app and select the Apps tab. Go to Installed Apps and find Fortect. Click on the three-dot button beside it and select Uninstall and follow the on-screen instructions to complete the process.
Read: Fortect Browsing Protection will secure your Browser free
What are the alternatives to Fortect?
There is no single software that can do all that Fortect can do. Among free software, you can use CCleaner, FixWin, Intel or AMD Driver Update Utilities, and the built-in Defender & SFC to perform the same tasks.