FixWin 11 is the ultimate PC Repair software or Windows repair tool to fix Windows 11/10 problems, annoyances & issues with a click! It has been updated to version 11 and is optimized to support Windows 11 and Windows 10 operating systems.
FixWin 11 for Windows 11/10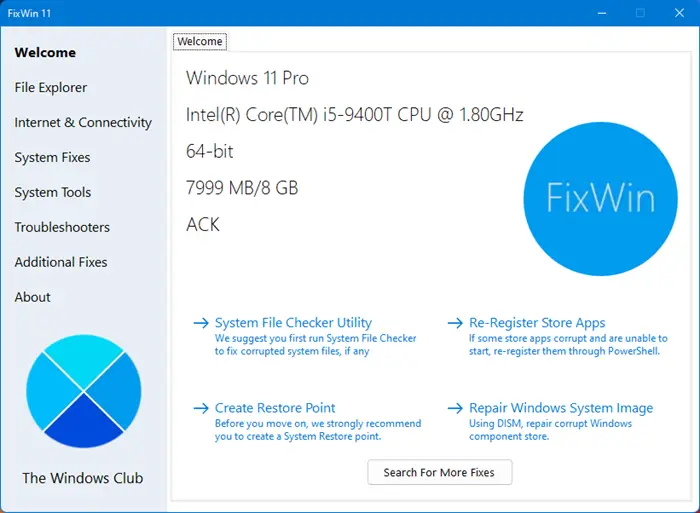 Best PC Repair software or Windows repair tool to fix Windows 11/10 problems
The fixes have been categorized under 6 tabs:
File Explorer: Offers fixes to resolve problems relating to Windows File Explorer.
Internet & Connectivity: Lets you fix Internet problems that you be facing after upgrading Windows OS
System fixes: Offers fixes to several common Windows problems and includes an option to reset thumbnail cache, re-register all system DLL files and fixes for Windows Activation issues
System Tools: Offers to fix built-in tools that may not be working properly. A new Advanced System Information tab displays some specific advanced information about your system, like the number of threads in the processor, number of logical processors, maximum display resolution, maximum refresh rate, etc.
Troubleshooters: This section provides direct links to bring up the built-in Windows Troubleshooters and download links to other Troubleshooters released by Microsoft.
Additional Fixes: Offers several other fixes for Windows 11 and Windows 10.
What is the FixWin Windows Repair Tool?
FixWin is the best free Windows Repair Tool that lets you fix Windows problems, issues, and annoyances with a click. It has been updated to version 11 and is optimized to support Windows 11 and Windows 10 operating systems.
How to repair Windows 11 problems using FixWin 11
We first suggest that you run the System File Checker. The button provided on the Welcome page will run sfc /scannow and will check for and replace any corrupted Windows system files. It is expected to take anywhere from 5-10 minutes. If asked to, reboot your computer.
If you are facing problems relating to the Microsoft or the Store apps, re-register the Store apps. A 1-click button has been provided on the Welcome page that lets you do so easily.
If you are facing major issues with Windows 11/10, running the DISM utility to repair your Windows System Image, might be a really good idea. A button for this too has been conveniently placed on the Welcome page.
Next, we insist that you create a System Restore Point. The provided button will create one. We always recommend that you create one before making any changes to your system. Should you wish or need to, you can always go back to this Restore Point.
Having done that, apply at most one fix at a time and restart your computer. Please check if things are to your satisfaction; and if not, you have the option of restoring back immediately.
If you want to know first, what each fix does, click on the '?' Help button next to the Fix button. A pop-out will tell you what exactly the fix does. Double-clicking on it will copy the command to your clipboard, which will be helpful if you want to run the fixes manually.
Some problems cannot be fixed with a click. So if you do not find your fix here, click on the Search For More Fixes button on FixWin's Welcome page, and search and see if you find what you want.
List of fixes to repair Windows 11/10 offered by FixWin 11
Here is the list of fixes offered by FixWin 11 for Windows 11 and Windows 10:
File Explorer
Recycle Bin icon is missing from the Desktop
WerMgr.exe or WerFault.exe Application Error
Folder or File Explorer Options is missing from Control Panel or has been disabled by an administrator or malware
Fix Recycle Bin when its icon doesn't refresh automatically
Explorer doesn't start on startup in Windows
Thumbnails not showing in File Explorer
Reset Recycle Bin. Recycle Bin is corrupted.
CD drive or DVD drive isn't recognized by Windows or other programs
"Class not registered" error in File Explorer or Internet Explorer
"Show hidden files, folders and drives" option isn't shown in Folder Options
Recycle Bin is grayed out in Desktop Icon Settings
Internet & Connectivity
Right-Click Context Menu of Internet Explorer is disabled
Cannot connect to the internet, There are some problems with Internet Protocol (TCP/IP)
Problem regarding DNS resolution. Fix it by clearing DNS resolver cache
Long list of failed and installed updates. Clear Windows Update History
Problem with Windows Firewall settings. Reset Windows Firewall Configuration
Reset IE To Default Configuration.
Runtime errors are appearing in Internet Explorer while surfing
Optimize Internet Options maximum connections per server to download more than two files at the same time
Internet Options are missing in Settings under "Advanced" tab of "Internet Options" dialog box
Repair Winsock (Reset Catalog)
Telnet is not recognized as an internal or external command
System Fixes

Windows Component Store is corrupt
Reset Settings app; Settings doesn't launch
Disable OneDrive; OneDrive runs in the background and syncs a huge amount of files
Start Menu doesn't work or doesn't open
Wi-fi doesn't work after upgrading
Windows Updates stuck downloading updates after upgrading
There are multiple entries of OneDrive in Explorer
Windows Sandbox failed to start
Windows Update Error
WslRegistrationDistribution failed with error
Battery remaining time not visible
Having problem downloading Apps from Store. Clear and reset Store cache
The Application wasn't installed from Windows Store. Error Code: 0x8024001e
Windows Store apps not opening. Re-register all apps
Reset thumbnail cache
Re-register all system DLL files
Fix Windows Activation issues
Fix Windows saving JPG or JPEG as JFIF
System Tools
"Task Manager has been disabled by your administrator" or Task Manager Option is disabled
"Command Prompt has been disabled by your administrator" and can't run any cmd or batch file
"Registry Editor has been disabled by your administrator"
Enable MMC Snap-ins. Some viruses disable Snap-ins which prevents Group Policy (gpedit.msc) and similar services to run
Reset Windows Search to defaults. This will fix issues related to Windows Search
"System Restore has been disabled by your administrator. Please contact your system administrator."
Device Manager isn't working properly and not showing any devices.
Repair Windows Defender. Reset all Windows Defender settings to default.
Action Center and Windows Security Center don't recognize installed AntiVirus or Firewall or still identify old AV as installed.
Reset Windows Security settings
Under a separate Advanced System Information tab, you can see specifications of your system like the number of threads in the processor, number of logical processors, maximum display resolution, maximum refresh rate, etc.
Troubleshooters
The following built-in Windows troubleshooters can be launched directly from FixWin:
Playing Audio
Recording Audio
Power
Printer
Shared Folders
Homegroup
Internet Performance
Internet Safety
Windows Media Player Settings
Windows Media Player Library
Windows Media Player DVD
Internet Connections
Hardware and Devices
Incoming Connections
System Maintenance
Network Adapter
Windows Update
Search & Indexing
Plus: Links to troubleshooters that fix:
Mail & Calendar apps crashes
Settings app does not launch
Windows Printer troubleshooter
Windows Store apps troubleshooter
Additional fixes:
Add rebuild icon cache support
Enable Hibernate. Hibernate option is missing from Shutdown options
Restore the Sticky Notes delete warning dialog box
Aero Snap, Aero Peek or Aero Shake isn't working
Fix Corrupted Desktop Icons. Fix and rebuild corrupted icon cache.
Taskbar jump list is missing or doesn't store MRU file list
Notifications have been disabled
Windows Script Host access is disabled on this machine
Office documents do not open after upgrading Windows OS
The recovery image cannot be written. Error code – 0x8004230c
Windows Media Player shows the following error: "An internal application error has occurred."
FixWin also lets you:

Reset Group Policy Settings
Reset catroot2 Folder
Reset Notepad to Defaults
Reset Data Usage
Reset WMI Repository
Reset Recycle Bin
Reset Winsock
Reset Windows Store cache
Reset DNS cache
Reset TCP/IP
Reset Windows Defender settings
Reset Windows Firewall settings
Reset Settings app
Reset Windows Update History
Reset SoftwareDistribution folder
Reset Touchpad Settings
Reset Windows Password Settings
Reset Keyboard Settings
Reset Edge Browser Settings
Reset WinHTTP Proxy Server Settings
Reset and Rebuild Font Cache, etc.
Is the FixWin Windows Repair tool free?
FixWin is absolutely free and what's more, it is a portable Windows Repair tool that does not need to be installed. Just download it and start using it.

FixWin 11.1 for Windows 11 and Windows 10, has been developed Paras Sidhu, for The Windows Club. FixWin may, however, fail to run if you have modified Windows Image using third-party tools, as it may miss some core components required for FixWin to run and thus be the cause of failure.
NOTE: If your Defender or 3rd-party antivirus does not let you download it, add it to its Exception List.
Is FixWin for Windows safe?
Yes, absolutely! Some security software may give out false positives because the tool may need to access and repair system files. But rest assured that FixWin for Windows 11 and Windows 10 is safe and clean.
Other FixWin versions:
Windows 10 users may use FixWin 10 or the better-optimized FixWin 11.
Windows 8.1 and Windows 8 users should continue to use FixWin 2.2.
Windows 7 and Windows Vista users should use FixWin v1.2.
Feel the need to tweak Windows OS?
Which is the best PC Repair software?
Without a doubt, FixWin is a legit and very popular PC Repair software that can you repair and fix Windows problems, issues, and annoyances with a click. It has been acclaimed and recognized by many websites. All its features are completely free to use!
FixWin 11 Screenshot Gallery
I hope you find FixWin useful.
Where do I find the FixWin Windows Repair tool?
It is best to download the FixWin Windows Repair tool from TheWindowsClub.com as you are sure to get not just the latest version but also a clean download.
Related: How to repair Windows 11 without losing data or programs
Can I download the FixWin Windows Repair tool?
You can download the FixWin Windows Repair tool free of cost from its home page on TheWindowsClub.com. Get the latest version and you can be sure that it's a clean download!