FixWin was launched at a time when there was no Microsoft Fix It's or ATS and Windows Troubleshooters, and the only way for the user to fix their Windows problems was to follow tutorials and manually edit the Windows Registry or download registry fixes or bat files and run them to fix their problems. FixWin v1 for Windows 7 and Windows Vista, was a first-of-its-kind tool that changed all that. Users could now fix their problems with a single click.
NOTE: FixWin 11 is the best PC Repair software or Windows repair tool! It has been updated to version 11 and is optimized to support Windows 11 and Windows 10 operating systems.
As a result, like our Ultimate Windows Tweaker, this small tool too became very popular. In fact, it was even covered on Fox8Live News TV! Sure many other repair tools did enter the market, but FixWin continued to hold sway and its downloads kept increasing.
Continuing this tradition, we are now releasing FixWin 2 for Windows 8 and Windows 8.1, to repair & fix common Windows annoyances & issues.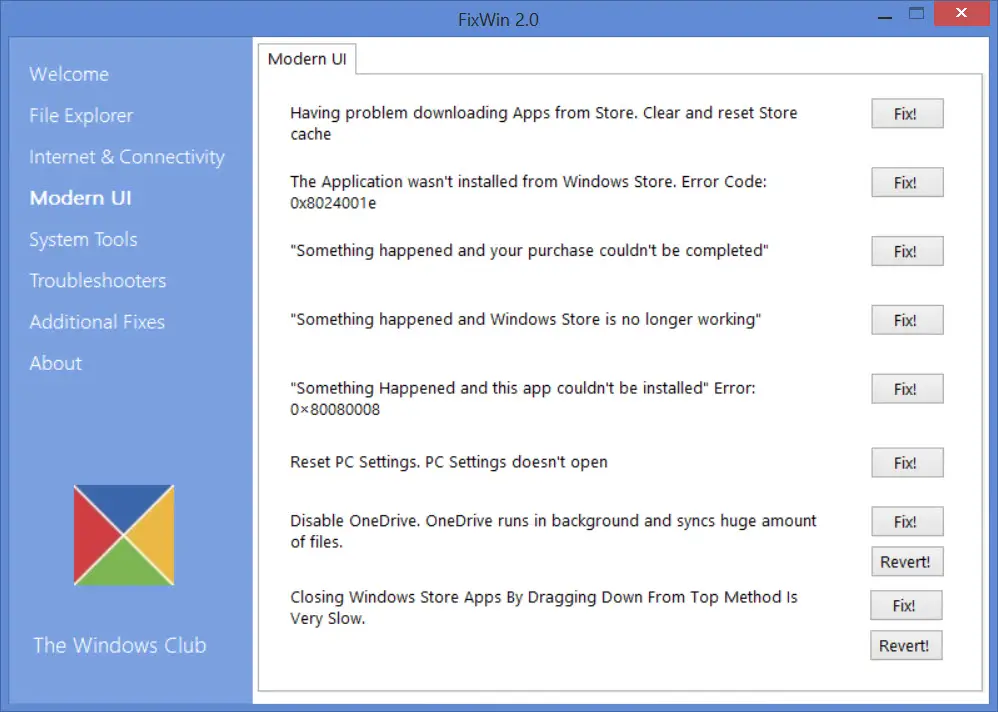 FixWin for Windows 8
50 problems … 1 solution … FixWin is the Windows Doctor all you must have ready on your computer!
Need to clear your Windows Store cache and reset it? Windows Store not working? Is your right click context menu disabled? Maybe your File Explorer does not start at startup. Or you get the Class not registered error…! All these and more, can be fixed with a single click of your mouse or a tap.
FixWin 2 for Windows 8 is a portable tool that offers to repair and fix over 50 common Windows annoyances, issues & problems. They have been categorized under 6 tabs, viz: File Explorer, Internet & Connectivity, Modern UI, System Tools, Troubleshooters, and Additional Fixes. The best part of using the tools is that it provides direct links to bring up the built-in 16 Windows Troubleshooters. No need to open your control panel and search from them! Simply open the Troubleshooters tab of FixWin and open any one of the troubleshooters. It's so simple!
Useful links:
There are over 50 fixes. To see the list of fixes FixWin 2 offers, click here.
A small but novel feature of this program is that its side panel color changes, according to the hue of your wallpaper. To see all the screenshots, click here.
To download the document that explains the actions taken by each Fix button, click here. This 17 page PDF document will show you the registry value, etc which the free software changes so that you can help troubleshoot the problem further if need be.
How to use FixWin v2
1. We first suggest that you run the System File Checker. The button provided on the Welcome page, will 'run sfc /scannow' and will check for and replace any corrupted Windows system files. It is expected to take anywhere from 5-10 minutes. If asked to, reboot your computer.
2. Next, we insist that you create a System Restore Point. The provided button will create one. We always recommend that you create one before making any changes to your system. Should you wish or need too, you can always go back to this Restore Point.
3. Having done that, apply at most one fix at a time and restart your computer. Please check if things are to your satisfaction; and if not, you have the option of restoring back immediately.
4. You may use the Scan system for issues button on the home page. But you don't have to follow all recommendations, just the ones you think may need to be fixed. It is only meant to be indicative.
UPDATES:
1st March 2015: FixWin 2.2 adds a Scanning feature. It can scan for problems and list possible problems with fixes. You don't have to follow all recommendations, just the ones you think may need to be fixed. A description box appears before every fix.
11th Oct 2014: FixWin 2.1 adds the option to Repair Windows Component Store.
NOTE: If your security software throws up a warning, rest assured that it is a false positive.

FixWin Utility v 2.2 for Windows 8, has been developed Paras Sidhu, for The Windows Club. It has been tested on Windows 8 & Windows 8.1, 32-bit, and 64-bit versions. FixWin may, however, fail to run if you have modified Windows Image using third-party tools, as it may miss some core components required for FixWin to run and thus cause of failure.
Some security software may give out false positives, but, rest assured that it is clean. Windows 7 and Windows Vista users should use FixWin v1.2.