Windows Defender can scan and monitor almost all the folders in Windows 11/10. In case you have a folder that may have files that could send an alarm to Windows Security, then it is best to Add an exclusion to Windows Security. It is fine to do that if you are sure that the contents of the folder are safe and Windows Defender is only throwing out false-positive warnings. That way, it will not scan those folders in the future. Again, there are some Windows files and folders you may exclude from Antivirus scans – and you may want to do that to save your scan time.
Follow the step-by-step guide to exclude a file, folder, process or file type from Windows Security scan.
Exclude a folder from Windows Defender Security scan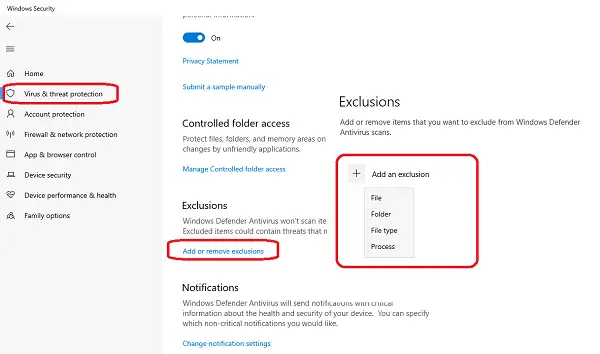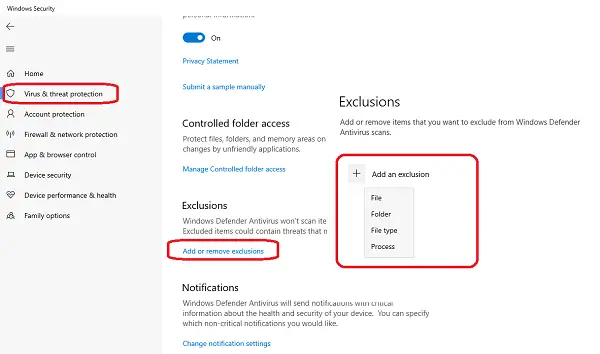 This feature also comes in handy when you trust a file type or folder or any process that you believe, but Windows Security thinks it is malicious.
While it does not happen to everyone, but this is very handy for those who indulge themselves in development.
Search for Windows Security in the Search box and click on it to launch it.
Click on Virus & threat protection > Manage settings > Add or remove exclusions.
In the next screen, click on Add an exclusion > Folder. The list will include File, Folder, File Type, and Process.
In the next window, click on "+Add and exclusion", select a folder, and click OK to include it in the Exclusions list.
To remove it, click on the 'down' arrow button, and then click on the Remove button.
Do note that if you are only want to ignore a few file types, it is best to configure the antivirus to ignore files with a specific extension. That way it will ignore all of them no matter their location.
When you select a folder, all the subfolders will be excluded as well. So be sure to understand what you are doing.
Read: How to add a File type or Process Exclusion to Windows Security.
Once you do that, I suggest protecting the folder using Controlled Folder Access. Since the file is not monitored for threats,  the controlled folder access will ensure an external program does not modify it.  That way, your folder will always be secure.
This post will help you if Windows Defender Exclusions is not working.
TIP: You can also include Add an exclusion in the context menu.