In this post, we will show you how to exclude programs, files, and folders from scanning in McAfee, Kaspersky, Norton Avast, AVG, Bitdefender, Malwarebytes, etc. antivirus scans in Windows 11/10. When you whitelist a program, the antivirus software will stop blocking it.
We have already seen how to exclude a Folder from Windows Defender; now let us see how to do it in some popular antivirus software for Windows computers.
How to exclude a File or Folder from Norton antivirus scan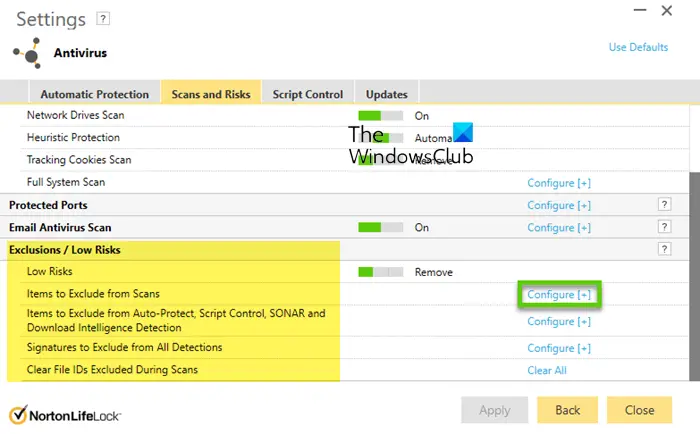 To exclude a File or Folder from the Norton antivirus scan, follow these steps:
Open the Norton security software
Select Settings > Antivirus.
Next, select the Scans and Risks tab.
Now scroll down to the Exclusions/Low Risks section
Select Configure [+] next to Items to Exclude from Scans.
Select Add Folders or Add Files and browse to the file/folder you want to exclude.
Click OK.
How to add Folder Exception in McAfee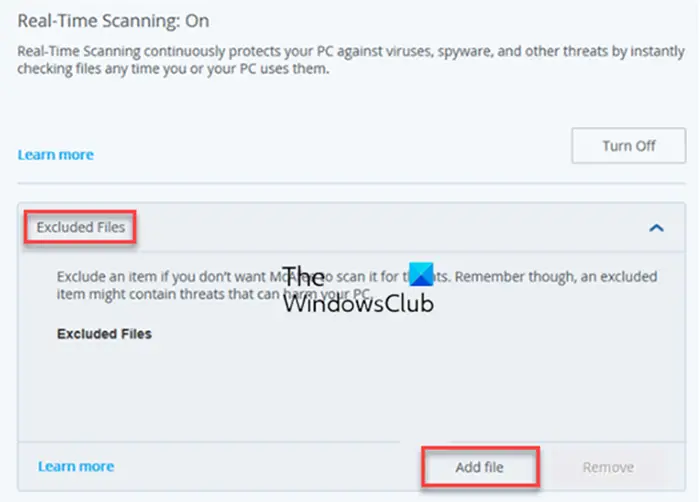 To exclude files and folders from virus scans in McAfee, take these steps:
Open your McAfee security software
On the left menu, click My Protection Widgets
Under Protect your PC, click Real-Time Scanning
Under Excluded Files, click Add file.
Browse to, and select the file or folder that you want to exclude from being scanned.
Click OK, save and exit.
When you do this, the files that you exclude under this menu will also be excluded from On-Demand, Scheduled, and command-line scanning.
How to add Folder Exception in Kaspersky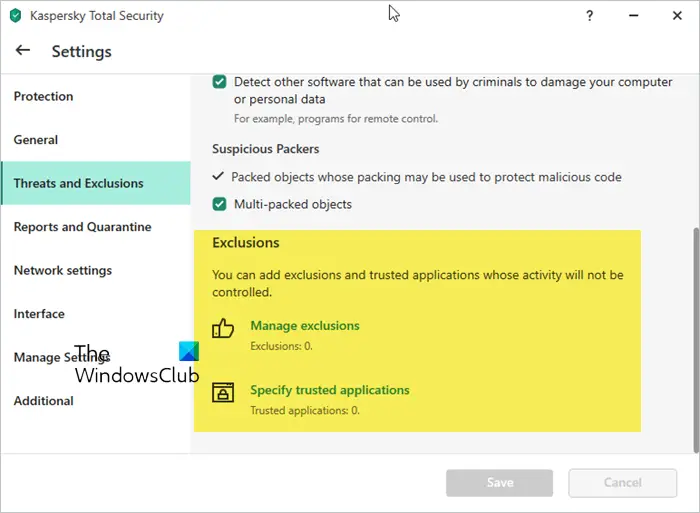 Open Kaspersky Settings
Select Threats and Exclusions
Click on Manage exclusions or Specify trusted applications
Click on Add > Browse
Browse to the folder or object you want to add to Exclusions and select it.
Select the other options and settings you are offered there.
Save and exit.
When you add folders, files, or executables, its activity will not be monitored.
How to add a folder to Avast Exclusion List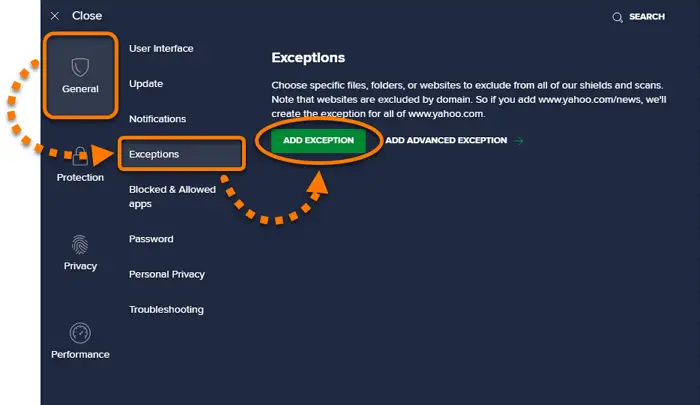 Open Avast Antivirus and go to Menu > Settings.
Select the General tab and then the Exceptions tab.
Click Add Exception and then add the path to the file or folder you want to exclude.
Save and exit.
How to add a folder to Exclusion List in AVG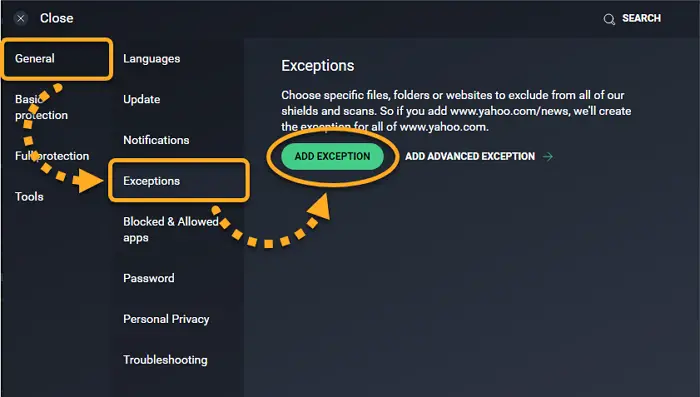 Open AVG and click on Menu > Settings.
In the General tab, find Exceptions and click on Add Exception.
Choose the file or folder you want to exclude and click OK.
Read: Windows files and folders you may exclude from Antivirus scans 
Add File or Folder to BitDefender Exception List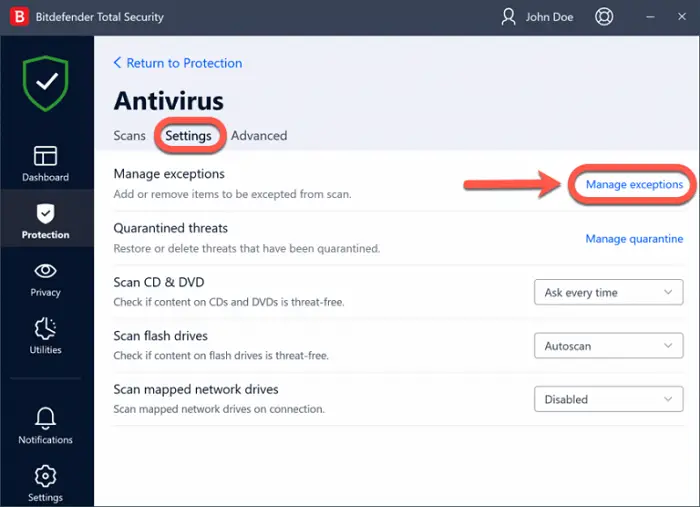 Open Bitdefender and click on the Protection section on the left panel.
Click on View Features > Settings cog in the Antivirus module.
Go to the Exclusions tab.
Click on Add under Exclusions for Files and add the path to the directory you want to exclude from scans.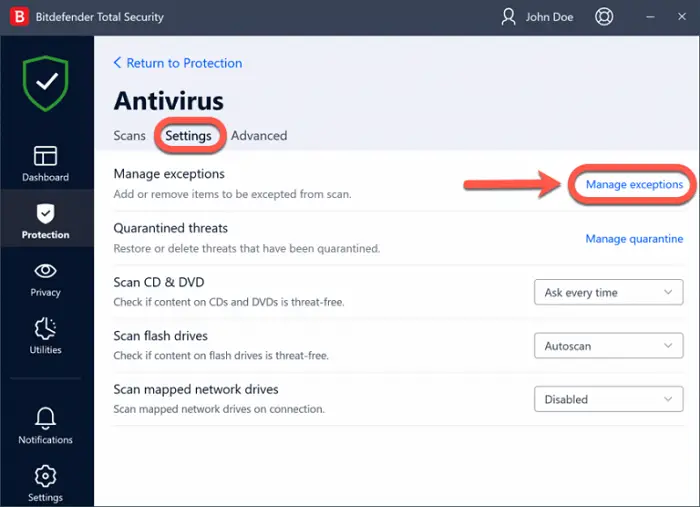 Read: How to allow or block a program in Windows Firewall
How to add Exclusions to Malwarebytes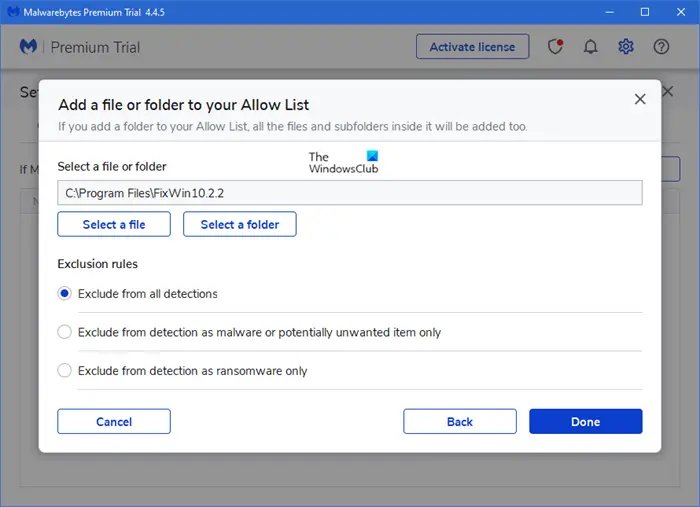 Malwarebytes is aggressive, and so is known to give out false positives as it prefers to classify many commonly used programs as Potentially Unwanted Programs. So if you wish, you can add such programs to its Exceptions or Exclusions list.
To add a Program, File, or Folder to Malwarebytes Exclusion List:
Launch Malwarebytes
Click on the Settings icon on the top right side
After that, click on the tab that says Allow List.
Once here, click on the Add button
Select Allow a File or Folder
Next, click on Select a file or folder button
Select your Exclusion rules
Click Done.
Remember to restart your computer after making these changes so they take effect.
Excluding specific files or folders from your antivirus scan is not recommended, as it may expose your PC to potential risks. But if you are facing conflicts between your antivirus and some safe software, you can consider excluding such programs, files, or folders from your antivirus scan.
Read: How to Add or Exclude an app in Exploit Protection of Windows?
How do I add exclusions to Windows Defender console?
To add exclusions or exceptions to the Windows Defender console, open the Group Policy Management Editor and navigate to Computer Configuration> Administrative Templates. Expand the Windows components > Microsoft Defender Antivirus > Exclusions tree. Edit the Path Exclusions setting and enable it. Finally, add your desired exclusions. Thus, you can add a File type or Process Exclusion to Windows Security.
How do I exclude a folder in Defender ASR?
To exclude a folder in Windows Defender ASR, go to Exclude files and paths from the Attack surface reduction rules setting and enable it. Next, click on Show and add the folder in the Value name column. Set the Value to 0 for the folder. This will ensure that the folder is excluded from Attack Surface Reduction rules.