If you are looking for a powerful yet free extension for browser security, Fortect Browsing Protection could be your savior. This extension is specially designed for all Chromium-based browsers like Chrome, Edge, Opera, etc.
If you want to secure your online activity, this extension can identify and eliminate any malicious websites, or terminate any potentially unsafe add-ons for you.
Why should you secure your browser?
You are mostly on a browser these days surfing for personal or professional reasons, thus, exposing your personal data to the web. However, all thanks to third-party tracking activities, your data is no more private. These cookies collect your private information, like your username, password, saved card details, the websites you've visited, and more.
You may then either end up being a victim of phishing websites or targeted pop-up ads, which are mostly malicious in nature. As soon as you click on them you make way for external threats like viruses, malware, etc. While your antivirus software may block the threat once it's identified, you may need an added layer of protection, especially for your browser.
Also, keeping the increased security threats in mind, browsers like Microsoft Edge offers better security and safety standards these days. At the same time, you should also know how to stay safe online & protect your personal information while browsing.
Fortect Browsing Protection browser extension
We will talk about the advantages of using the Fortect Browsing Protection extension that offers the next level of online security with advanced technology. We will also guide you through the process of how to use the browser extension on your Chromium-based browser.
1] What is the Fortect Browsing Extension?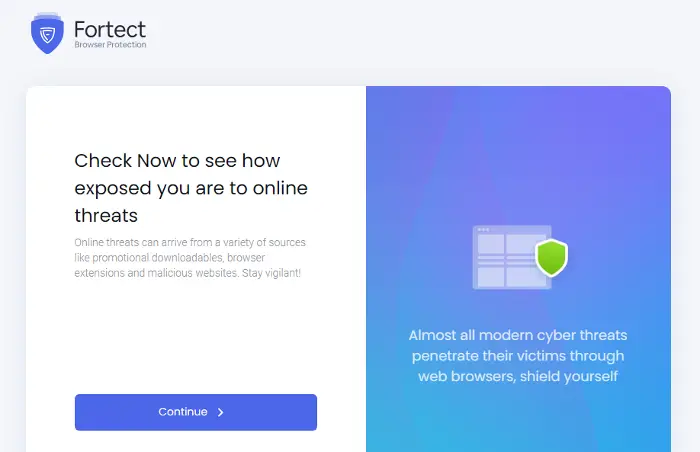 Although browsers like Chrome or Edge come with advanced security features like the Password Checkup tool, real-time phishing protection, Microsoft Defender SmartScreen built-in, and more, sometimes, that's not enough. And that's when extensions like Foretect Browsing Protection come to the fore.
This powerful extension blends in advanced detection technology, revolutionary machine learning techniques, and strong cloud protection, presenting a completely secure, easy-to-use browser. It provides all the capabilities of antivirus software right into your browser thus, offering a secure and peaceful browsing experience.
Some of the key features of Fortect Browing Extension include:
State-of-the-art web protection prevents you from accessing any harmful websites in real time.
Blocks unwanted push notifications offering a quiet browsing experience.
Runs an initial scan to ensure the removal of any active threats with Dynamic Threat Protection.
User-friendly extension with an intuitive dashboard that allows you to customize and manage your settings easily.
Allows you to stay informed and alert with detailed reports and logs of the threats.
This browser extension comes to you from the makers of the Fortect Windows Repair Tool. With a 4-star rating on the Chrome web store, Fortect Browsing Protection is a must-have if you are serious about your internet safety and security.
Read: How to make your browser more secure on Windows PC
2] How to use the Fortect Browser Extension?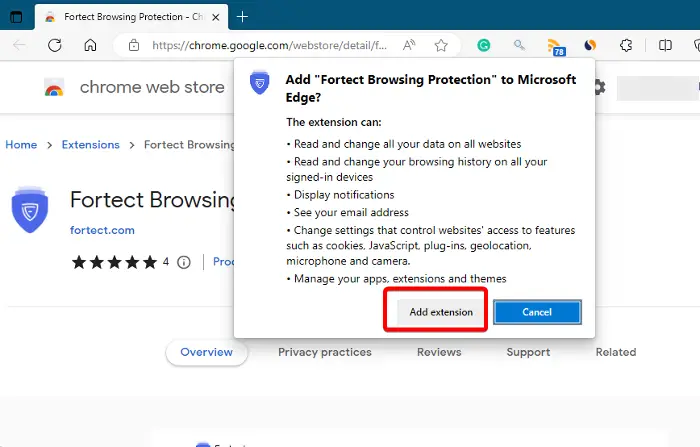 Safety begins when you realize that you need a browser security add-on for a safe browsing experience. At the same time, you must run the browser leak, privacy, IP, and security test to test your web browser at regular intervals for added safety.
To install the Fortect Browsing Extension, head over to the Chrome Web Store, search for the extension, and press Get.
The web store will start checking and show you a permission window asking if you want to add the extension to your browser. Click on Add extension to confirm.
Once added, make sure you make it visible on the browser toolbar. You can then click on Continue to check the status of your online security.
Now, set it up for Real-time protection and it will start scanning for threats. Wait for it to complete the scan and display the results.
Once removed, you can set up your password for the account and proceed to manage the Fortect Browing Extension settings. Here, you can make any changes if required.
Read: How to install extensions from Chrome Web Store on Edge
What is browser protection software?
Browser protection tools are designed to add that extra layer of security to your browsers. These tools analyze the safety of the website you visit, thus, making sure that you avoid any malicious websites. They block any threats and risks that may come with these websites and may attempt to attack the browser itself, such as malware, data theft, etc. Best of all, browser protection software may also show the safety ratings of websites based on search engine results. Additionally, you may also use the Security, Privacy, and Cleaning tools for Firefox, Edge, Chrome, and Opera.
TIP: Take these Browser Security Tests to check if your browser is secure.
Which of the following security features should a good Web browser have?
Chrome, Edge, Brave, and Firefox are some of the browsers known for their advanced security features. So, check if the browser highlights the domain name making it easier to double-check if it's a real, trusted site. Also, make sure the browser shows a warning before you are about to access a malicious website. Additionally, check if it asks for your permission before it saves your credentials or card details, or if it warns you about any password breach with features like password protection.
TIP: Using a URL Scanner add-ons for your browser might also be an option you may want to consider.