A secure web browser is something all users of the Internet should aspire to have. This must be taken seriously because attackers on the web can easily gain access to your computer via your web browser if it is not secure enough. Security Vulnerabilities in ActiveX, Java, JavaScript, Flash, Add-ons, and Extensions are typically exploited to get to your system.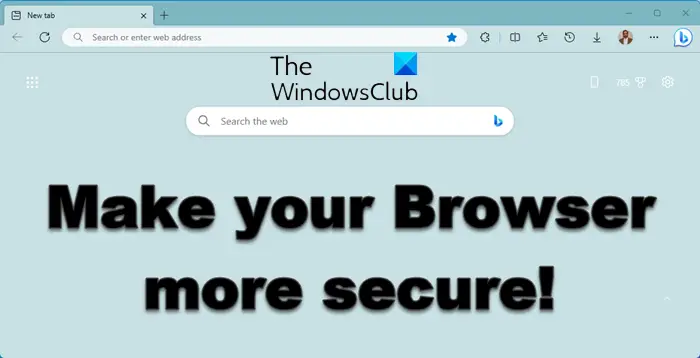 This post takes a look at some browser security settings that will help you best secure your Edge, Firefox, Chrome, Opera web browsers on Windows 11/10, to protect yourself against online security threads like Drive-by Downloads, Badware, Malvertising, Phishing, Browser Hijacking and offer you a safe online browsing experience, and prevent online identity theft.
How to make your browser more secure on Windows 11/10 PC
Every software company that creates web browsers will tell you that their own offering is the best when it comes down to security. But that is only true for folks who only tend to visit websites such as Facebook, YouTube, or Twitter on a regular basis. Folks who venture to illegal websites among other places on the web, need to tinker around with their browser to ensure a greater deal of security.
1] A browser must always be updated
Yes, users need to keep their web browsers updated to the latest version. Updates fix many safety issues, and web browsers can have a lot. Bear in mind that web browsers such as Chrome, Firefox, Edge, etc. rely on several technologies to bring you the best of the web, so there are bound to be a few issues here and there.
2] Download and use a 64-bit web browser
To do this, you must first have a 64-bit version of Windows installed on your computer. You see, 64-bit programs have greater protection against attacks. All browsers now have a 64-bit option, so if you have the correct operating system, you should go for it right now.
All-in-all, there are even more ways to secure your web browser. You can stop yourself from visiting certain websites or disabling Flash entirely, but you're not going to do that, are you? Well, just follow our suggestions above for better enjoyment of the web.
3] Uninstall plugins you no longer use
There are some plugins that are no longer needed by users on the web. One such plugin is Microsoft Silverlight; the company's once-touted competitor to Flash. It never took off, and the fact that users can stream Netflix videos without having to install Silverlight is a clear sign. Furthermore, we have to mention Java. It is used by fewer websites these days, so we recommend you consider uninstalling it.
4] Make sure to update your plugins and extensions
The few plugins you use should always be updated to the latest version. Yes, plugins can be an enormous security threat, so whenever there's an update available, be sure to get on top of it as soon as possible. These days, web browsers that support plugins make it possible to have these little tools update automatically. Here are 5 ways to check for & update Browser plug-ins, extensions, add-ons.
5] Harden browser settings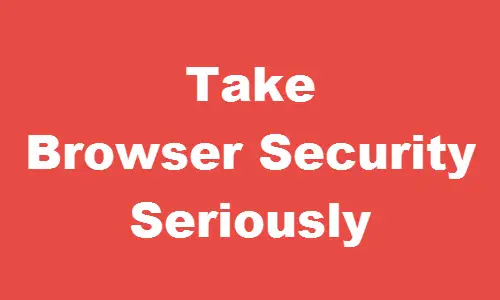 Firefox users may want to reconfirm that all the default settings are checked at Firefox > Settings Menu > Options > Security.
Opera users can check them in Menu > Settings > Privacy & Security.
Chrome users can open Menu > Settings and check their settings. Take a look at Sync settings as well as Privacy & Pop-up settings. If in doubt, use the Reset settings button to reset all settings to defaults which are the optimal ones for you.
Edge Chrmoimum users can open More actions > Settings > Privacy and settings. Take a look at some of the new security features in Edge.
Read: Stop unwanted websites opening automatically on startup
6] Enable Click to play
Click to play is a feature that restricts certain plugin use until you need them. For example, Flash content on a website won't load until the user clicks to allow them. This can block Flash content that is a security threat before they can access your computer. You might, therefore, want to activate Click To Play.
7] Other general tips to keep you safe and secure
Do not click on links indiscriminately. In fact, make it a practice to hover over the links and see in the bottom left corner of your browser where the link will be temporarily displayed. If it looks safe, go ahead.
Use a good antivirus as they help protect your browsers too.
Using a URL Scanner add-ons for your browser might also be an option you may want to consider.
Make sure your browser's pop blockers are turned on in order to avoid harmful pop-ups.
Do not use the same password for all your online accounts.
Be careful when using public Wi-Fi hotspots and remember to stay safe while using public computers.
Take these Browser Security Tests to check if your browser is secure.
What is the safest browser for Windows 11?
Safety could be justified based on how you use a browser and what you do with your browser, irrespective of the operating system or version of Windows you use it. However, if you need secrecy, you can opt for the TOR browser, Brave Browser, etc. In case you can set things up properly, Edge, Chrome and Firefox are also good.
Is Chrome or Edge better for Windows 11?
There is no certain answer since Edge is made of Chromium, which is the core of Google Chrome as well. Both look different, but feature-wise – they are the same with a few changes here and there. If you think Chrome is a Memory-eater and that is why you want to move to Edge, you should give Chrome another try with a different setting and observe things minutely. For regular browsing, a normal user cannot find many differences while using those browsers side by side.
Let us know if you have any other suggestions to make.