If you find that unwanted websites open automatically on startup when you start browsing, then this post will help you. This can happen on any browser and is mostly an adware issue that can be very annoying. If you also face this problem on your Windows computer, you are not the only one. Besides, there are a few ways you can employ to eliminate the issue completely on your PC, and we are going to cover it in this article. These fixes are for both users who encounter this issue whenever they boot their computer or open a browser on it.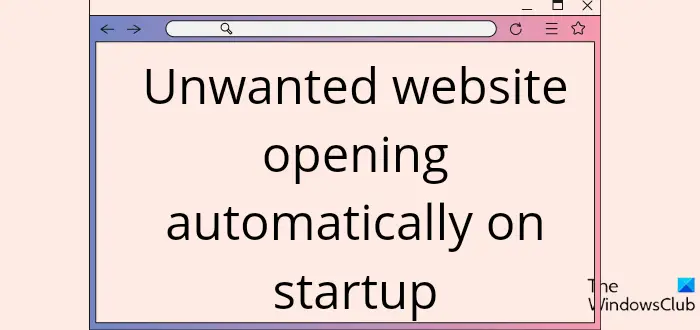 Stop unwanted websites opening automatically on startup
We already mentioned that this problem is most probably due to a malware or adware issue, and here are the best approaches to removing these browser hijackers from your computer:
Run AdwCleaner
Check your homepage
Run Malware Scan at Boot time or Safe Mode
Clear all browsing cache
Flush DNS cache and reset the Hosts file
Remove shady extensions
Reset browser
Uninstall and reinstall the browser.
1] Run AdwCleaner
The first thing you should do is disconnect your PC from the internet. close your browser and download and run the free AdwCleaner adware removal tool.
Read: Browser Hijacking and Free Browser Hijacker Removal Tools
2] Check your browser homepage
If you thing your browser homepage has been changed, then this behavior can occur. You then may need to change the homepage in Chrome, Firefox, Edge, Opera browsers.
3] Run Malware Scan at Boot time or Safe Mode
You should also run a boot time scan with your anti-virus software. Update your anti-virus and run a full in-depth system scan. A safe-mode or a boot-time scan is always the preferred method in a severe malware attack. So if your anti-virus has the option to run scans at boot time, best to do so else try to run the scans in safe mode. It's easier for the antivirus to catch and delete the virus in Safe Mode. Boot your Windows in Safe Mode and then run the scan.
Read: How to best secure web browsers for Windows.
4] Clear all browsing cache
You need to Clear all browsing cache including Cookies, History, Temporary Internet files etc. These posts will show you how to do it:
5] Remove shady extensions
The majority of browsers now enable extensions to help with extra functionality. This can be a problem, though, if you happen to have added an extension from an untrusted website to your browser. As a result, you should uninstall any dubious extensions from your browser and restart your computer. It should assist in resolving the difficulties with unwanted websites opening automatically on startup.
6] Flush DNS cache and reset the Hosts file
If your links are being redirected to other sites, being unable to open certain websites, etc., then maybe your Hosts file too could have been hijacked. You may need to reset your Hosts File.
Flushing your DNS Cache is also something we would like to recommend if you find that your browser has been hijacked.
7] Reset your browser
You could also reset your browser and see if it'll help out with the issue. These links will help you:
8] Uninstall and Reinstall the browser
Uninstalling the browser will clear any error related to the browser and can help resolve this issue if the issue is due to an error with your browser. Then you can reinstall the browser again and check if the problem has stopped or not. This solution has helped a lot of users and is actually worth a shot. Here is how to uninstall a browser:
Open the Control Panel and make sure the View by option is set to Small icons.
Then navigate to Programs and Features and click on it.
Right-click on the browser you wish to uninstall and select Uninstall.
Hit Yes to confirm the action.
Afterward, re-download the browser from its official website and install it.
Read: How to block a website on Windows 11/10
Why are some sites opening automatically?
The existence of malware on your computer is the cause of some websites opening up automatically in your browser. Unless you remove the malware by running a malware scan, it will continue to control your browser.
How can I remove malware from my computer using Chrome?
You can use Chrome browser's inbuilt Malware Scanner & Cleanup Tool to remove unwanted or suspicious programs from your computer. Here is how:
Open Chrome and click on the three-dot menu.
Select Settings and hit Advanced.
Click on Reset and clean up.
Tap Clean up computer.
Afterward, select Find and click on Remove if you are asked to remove unwanted software.
Also read: What is Session Hijacking and How To Prevent It?