Whether Microsoft or Google, every company likes to have their browser as the default browser for Windows. In fact, users are offered lucrative advantages on switching the browser. And it isn't enjoyable if someone takes over the browser settings. In this post, we will share how you can change the default browser in Windows 11.
How to Change the Default Browser in Windows 11
Windows 11, unlike its predecessor, offers a rather difficult way to change the default browser completely. While setting the default browser is easy, the rest of the part is difficult, like changing the default app to open PDF or when you click on the link of an application and so on. In this example, I am switching from Edge to Chrome.
Best to set the browser as default during its installation
The easiest way to change the default browser is first to install the new browser, and it will automatically ask you to set it as the default browser.
It will instantly open the Default apps settings.
That said, you should instantly see Chrome as the default browser if you search for it. But it doesn't end here.
Go to Windows Settings > Apps > Default apps to reveal the list of default apps for a file or link type.
In the search box, the name of the default browser, e.g., Microsoft Edge
Click to open detailed settings which offer all the extensions.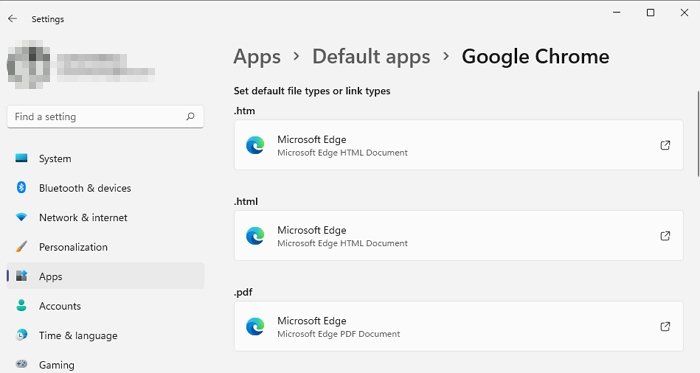 Here you can change all associated file extensions that you want to open with the new default browser.
The list includes  HTML, pdf, shtml, svg, webp, xht, FTP, HTML and HTTPS and HTTPS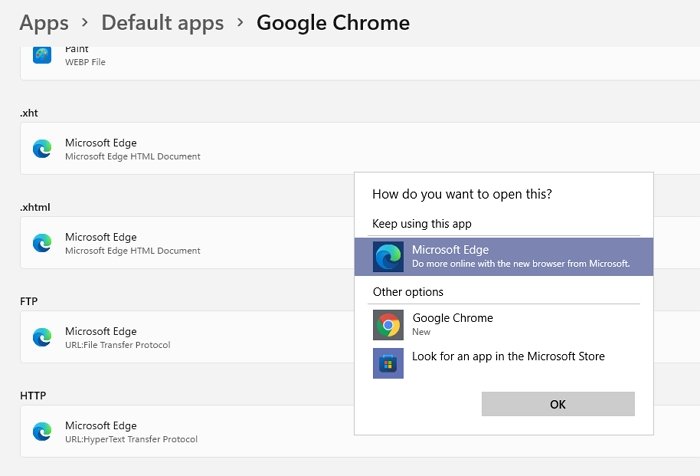 Microsoft has made it difficult to change the default browser in Windows 11. While you can do it, it takes more steps to cover every aspect related to the browsers.
However, if you want to keep it simple, then locate HTTPS link type in the list, and click on it. It will then display a list of browsers available on the PC. Most of the links are HTTPS these days, and no matter on which app or page you click the link, it will open in Chrome browser.
Why does Windows keep changing my default browser?
It usually happens when Windows or Any other browser prompts, and you click on it without much thinking. It can also be a software or extension that you have recently installed with a hidden option to change the default browser. You will need to uninstall those software or be careful about such suspicious activities.
I hope the post was helpful, and you were able to change the default browser in Windows 11. One of the biggest problems with the implementation is that when Microsoft Edge is set as the default browser easily, it is not the same with other browsers. While it is a one-click setup for Edge, Windows makes it difficult for every other browser.