Like its earlier versions, Windows 10 chooses its default players to run your music and video clips. But, what if you do not like the default media player and instead, want a different program to open your music and video files?  You can set your desired program as the default Media Player in Windows 10. Let us see how to do it.

Default Media Player in Windows 10
Windows has a set of programs that it will always use to open certain file types. For instance, when you attempt to play a supported file type, such as Windows Media Audio (.wma) or Windows Media Video (.wmv), the Windows Media Player opens up instantly and automatically begins playing the file. Most of the time this is fine, but you might want a different program to do the job, such as VLC Media Player. So here's a way how to do it.
Recent versions of WMP include the ability to synchronize digital media with a portable media player, like Microsoft's Zune or Creative's Zen and purchase or rent content from online media stores so, you may keep it as your default player. However, other media players like VLC Media Player has many of the most popular codecs already built into the program, so you can watch practically any video file without having to download a codec pack.
Open the Settings app and then click on 'System'. From the 'System Settings' section look for Default Apps option in the left side. Scroll down a bit if you do not find the option.
Here you can select the default app for Music files and Movies & TV. Click on Music Player and you will see a list of apps displayed, that can open these files. Select the one you want and click on it.
Read: How to change default programs in Windows 10.
Follow the same procedure for Video Player.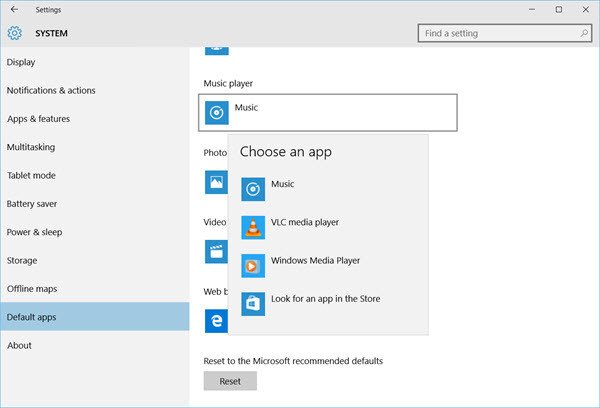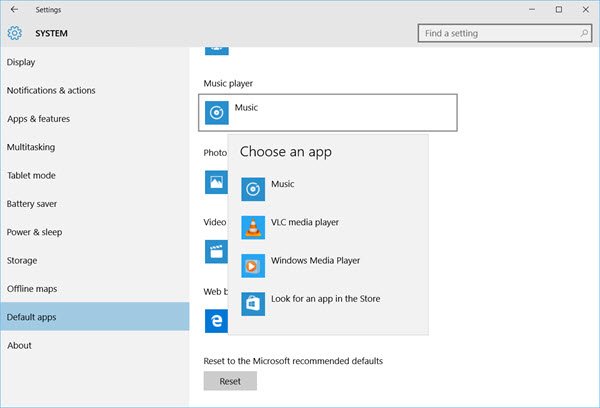 After you have done this, you will have successfully set the player of your choice as default media player in Windows 10.
If you wish to reset to the Microsoft recommended defaults, you can click on the Reset button towards the end.
Read: Windows Media Player Tips and Tricks.
Incidentally, Windows Media Center will not be included in Windows 10, you might be looking for some good alternatives. Take a look at this post Windows Media Center alternatives for Windows 10 – it might interest you.