In this tutorial, I will discuss how you can edit audio or video metadata tags in VLC media player. VLC media player needs no introduction. It is a widely used and versatile media payer with a great set of features. One of its many features also includes editing metadata of media files. Using it, you can easily add new tags to media files or edit the existing ones. It is very easy and hassle-free. Now, let's see how you can edit audio or video tags using VLC.
Edit Audio or Video Metadata Tags in VLC
Here are the basic steps to edit metadata of audio and video files in VLC:
Download and install VLC media player.
Launch VLC and open a media file.
Use the Media Information option to edit tags.
If you don't already have VLC installed on your computer, you can download it from videolan.org and then install it on your PC. After that, launch the VLC media player and import an audio or video file for which you want to modify tags; use the File > Open File option to do so.
Next, go to the Tools menu and click on the Media Information option. This will open up the current media information of your media file. You can also use CTRL+I hotkey to quickly open up the media information window. It basically displays general tags, statistics, codec information, and some extra metadata of the media file.
Now, you can manually edit the general metadata of the current media file. It lets you edit title, artist, album, genre, date, publisher, copyright, encoded by, language, comment, and a few other tags.
It also provides a handy Fingerprint (audio fingerprinting) feature. You can use it in case of a music file. This feature basically checks online database to identify tags for an audio file and then provides you the fetched results. You can click on any of the results and then press Apply this identity to the file option to automatically add metadata tags to the song.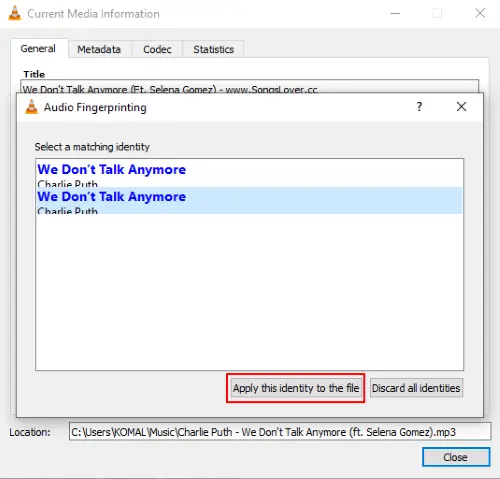 Additionally, you can also add an album cover image to an audio file.
Simply right-click on the cover art that is present below the Fingerprint button and choose Download cover art or Add cover art from file option. It supports JPG, PNG, and GIF image formats to add a cover image from a file.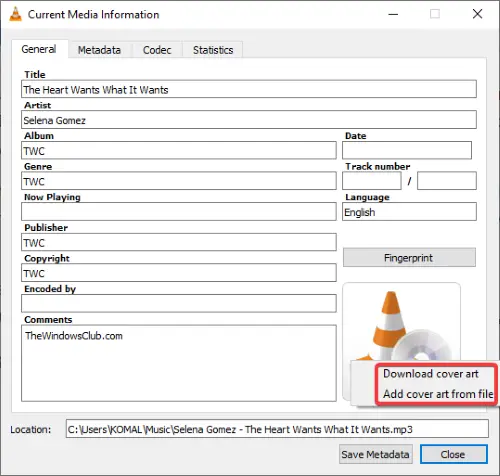 After editing audio/ video tags, click on the Save Metadata option. It will save all the edited tags in your media file.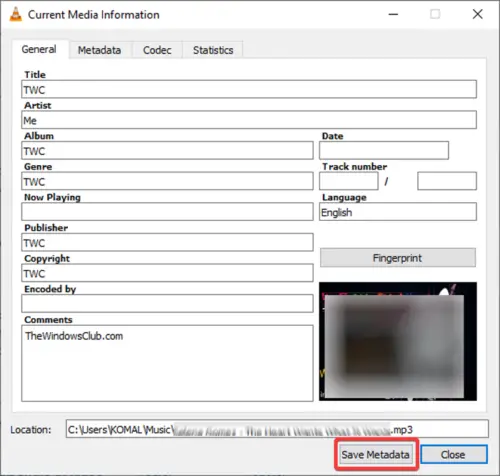 If you are an ardent user of VLC media player, you don't require separate software to edit audio and video metadata.
Simply follow the steps mentioned in this article and you will be able to edit audio and video tags in VLC.
Read next: How to record Desktop Screen using VLC Player.