Browser Hijacks appear to be increasing at an alarming rate globally, and it can be a real nuisance, and at times dangerous too. In this post, we will have a look at Browser Hijacking and how to prevent and remove Browser Hijacking in Edge, Firefox, Chrome, and Opera web browsers for Windows 10, natively or by using free Browser Hijacker Removal tools and software.
What is Browser Hijacking
Browser hijacking occurs when you find that your web browser's settings have been changed without your permission. This could happen when you are installing new software, and during installation, your settings get changed; or it could occur if some malicious software takes control of your computer including the browser, and changes its settings, without your knowledge. An example is the Chromium browser malware.
How do I know if my browser is hijacked?
Speaking specifically, when your browser is hijacked, the following could happen:
The home page is changed
The default search engine is changed
You can't navigate to certain web pages like home pages of security software
You get re-directed to pages you never intended to visit
You see ads or ad pops up on your screen. Not served by the website
You see new toolbars added
You see new Bookmarks or Favorites added.
Your web browser starts running sluggishly.
If you are facing any of these issues, your web browser may well have been hijacked!
Are browser hijackers dangerous?
Of course, browser hijackers are dangerous. Not only can they show you popup ads, but they can also redirect you to malicious websites, steal your passwords and confidential data or browsing behavior – and even hijack your PC!
Browser Hijacker
Before we see what is a Browser Hijacker, let's see what is a Browser Helper Object or BHO. These are basically small programs that are intended to enrich your browsing experience. BHO's are Component Object Model (COM) components that Internet Explorer loads whenever it starts. These objects run in the same memory context as the browser. This means that every time you start Internet Explorer, the installed BHOs get loaded and run along with the browser. BHOs are also supported by File Explorer and may be loaded every time you start File Explorer.
Now if any BHO, extension, add-on, toolbar, or plugin gets installed on your browser with malicious intent, you could well label that piece of software as a Browser Hijacker.
If you wish, you can enable or disable BHO and Extensions via Internet Options in Internet Explorer, as shown below.
Simply uncheck the option Enable third-party browser extensions.
How do I stop browser hijacking – Browser Hijack Prevention
Install good security software and turn on the option to detect Potentially Unwanted Programs if your antivirus software so permits.
Take care while installing any new software. Never click Next, Next, Next blindly.
Opt-out of any third-party software.
Never install plugins or extensions of doubtful credibility and uninstall the ones you do not need.
If you can, install software that can keep a watch on your system in real-time – something like WinPatrol. This and other tools have been covered a bit more, at the end of this post.
Harden your ActiveX settings. Open Internet Options > Security > Internet > Custom Level. In the ActiveX section, set Download signed ActiveX controls to Prompt, Download unsigned ActiveX controls to Disable and Initialize and Script ActiveX controls not marked as safe to Disable.
Read: How to best secure web browsers for Windows.
Browser Hijack Removal
1] You may open the Addons Manager of your browser and check all the installed add-ons, extensions, and plugins. If you find anything suspicious, you may uninstall it.
2] If you find that its simply a case of your default search or home page having been hijacked, you may revert these settings back, via the browsers settings. But if it is more serious, like your links being redirected to other sites, being unable to open certain websites, etc., then maybe your Hosts file too could have been hijacked. You may need to reset your Hosts File.
3] Flushing your DNS Cache is also something we would like to recommend if you find that your browser has been hijacked.
4] Check if any sites have already been added to your Trusted Sites Zone as shown below.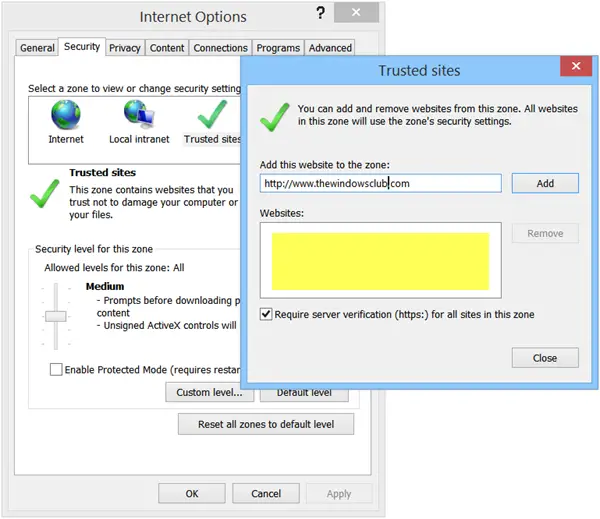 Read more on how to manage the Internet Explorer Security Zones.
5] You may also use the Reset browser settings tool of your web browser to reset all its settings to original defaults. This is a pretty powerful and useful tool to use, in the case of browser hijacks. Read these links for more details:
6] Once you have done this, you may want to run CCleaner and then full-scan your computer using your antivirus software.
Read: Stop unwanted websites opening automatically on startup
Browser Hijacker Remover Tools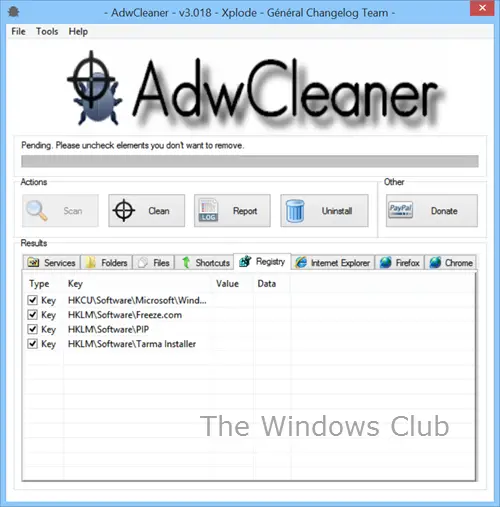 1] AdwCleaner is a good tool that scans your computer for PUPs and Browser Hijackers and helps remove them easily. Potentially Unwanted Programs or PUPs are often proposed during the installation of software. They may be present form of toolbars that could hijack your browser, especially if you have not downloaded them from safe software download sites. AdwCleaner is a portable tool, and via this tool, you can also install Hosts Anti-PUP/Adware by clicking Tools and then Hosts Anti-PUP/Adware. It is a program that reduces the risk of installing Potentially Unwanted Programs and Browser Hijackers by blocking access to some websites.
2] WinPatrol is one useful freeware that will alert you whenever any change is made to your system.
It will also help you remove any malicious Browser Helper Objects in Internet Explorer via its IE Helpers tab. You need to know however which ones are malicious before you uninstall or remove them.
3] HitmanPro.Alert is a good Browser intrusion detection tool. HitmanPro.Alert is a free browser integrity & intrusion detection tool that alerts users when online banking and financial transactions are no longer safe. It focuses on keeping your system safe from banking Trojans.
HitmanPro.Alert will instantly detect over 99% of all known and new banking Trojans & Man-in-the-Browser malware and automatically inform users when critical system functions are diverted to untrusted programs.
4] To avoid the installation of these programs make sure that you enable detection of Potentially Unwanted Programs in your antivirus. If you need help in uninstalling toolbars, these free toolbar removal tools are sure to help you.
How do I manually remove a browser hijacker?
If you want to manually remove a browser hijacker, check for suspicious programs in the Control Panel and remove them. Also, check for suspicious addons in your browser. You may want to also reset your browser settings to default. Finally, scan your PC with your antivirus software.
Additional reads:
We would love to hear about your experiences. Have you ever experienced a browser hijack? What did you do to remove it? Any suggestions, you may want to give our other readers?