The utility of any good browser is undermined by potentially unwanted software and browser hijackers that change your browser settings like the home page, search page as well as throws up popups or go on to install toolbars or more dangerous malware on your Windows computer. Such software can compromise privacy or weaken the computer's security. If you suspect that your system may have been infected, ZHPCleaner is a free portable software that promises to remove all browser hijackers, adware, toolbars and reset your Proxy settings too.
ZHPCleaner removes Browser Hijackers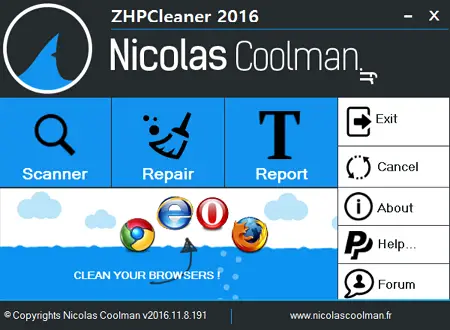 The program is very convenient to use. Just download it, and run the scan to check for unwanted elements and remove them in an instant. The main objective of the browser is to remove browser referrals and restore proxy settings. After you have downloaded the program, a shortcut for it is created on the desktop and its contents are stored in a sub-folder which can be found under "Roaming" folder in the "AppData" directory.
How ZHPCleaner works
The graphical user interface bears three main action buttons for performing application tasks.
Scanner
Repair
Report
The right-hand section displays options to close the software, undo changes made, participate in forum discussions and view basic information about the software.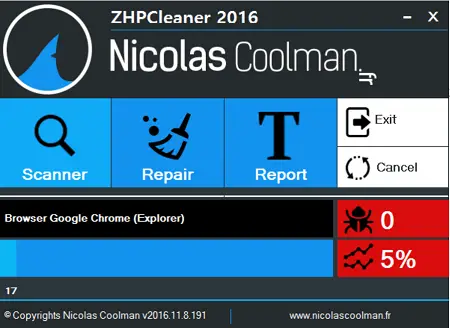 When you click "Scanner" button, the program will close your default web browser before initiating the scanning process. A progress bar on the lower part will indicate the extent to which the scanning process is completed.
On the right-hand side, you can view details. The software, by default, displays problems encountered and progress in percentage value.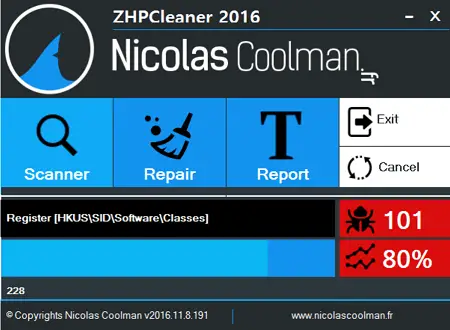 When ZHPCleaner finds a proxy server, it asks a user if he had installed it, before taking any action.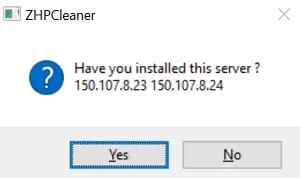 Once the process of scanning is complete, ZHPCleaner displays a pop-up window showing the number of items found.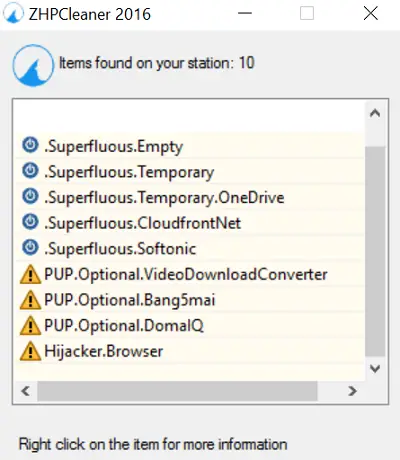 Thereafter, when you hit the "Repair" button, the program displays a window that lists all the problems found. Three buttons on the lower side give a user an option to uncheck, validate or repair the items.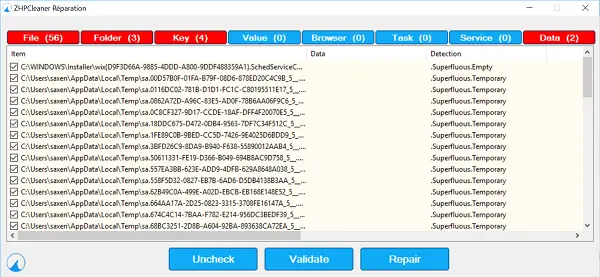 The last button "Report" generates the cleaning report using our default text file viewer.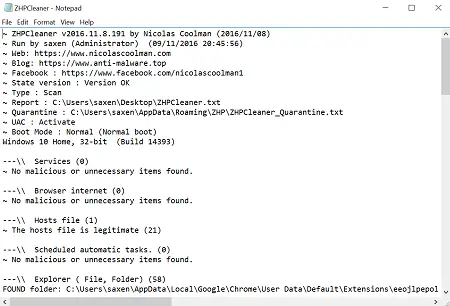 If you want to undo the changes made, you can use this tab to cancel it however, you'll be required to click the "I agree" button on the pop-up screen every time it appears for the program to undo the changes.
Since it is a portable software, to remove it from your computer, simply delete the downloaded executable file.
How do I get rid of a browser hijacker?
There are two different ways to get rid of browser hijackers on Windows 11 or Windows 10 computers. First, you need to use antimalware software. Second, you need to scan your PC for possible adware with an adware removal tool like AdwCleaner. However, if you want to do both but do not want to install more than one app, you can check out ZHPCleaner. It is freeware and works pretty well.
Does Malwarebytes get rid of browser hijackers?
Yes, Malwarebytes can help you get rid of browser hijackers from your computer. Whether you use Windows 11 or Windows 10, you can use this tool to remove browser hijackers within moments. You can start with the free version. However, if it doesn't work or fulfills your demands, you need to opt for the PRO version.
You can download it from here.
Caution: Before you decide to remove any entries, you must always go through the list and remove the entries only when you are sure that you want to. Select only the items you want to remove and deselect the rest.
Go here if you want to read about other free Browser Hijacker Removal Tools or Toolbar Remover Tools.