We have already seen how to manually uninstall some toolbars which may have got installed on your Internet Explorer, Chrome, Firefox, Edge, Opera, or other browsers. While in most cases it may be possible to uninstall them via the Control Panel or the respective browsers' Add-ons Manager, in some cases, it may not be possible, and you may have to use some tools to remove such persistent toolbars.
Some toolbars which are difficult to remove are Ask toolbar, Babylon toolbar, AVG SecureSearch, SiteSafety, MyFree toolbar, C duit toolbar, ZXY toolbar, Anonymization toolbar, GameNext toolbar, MPire toolbar, MyWebSearch toolbar, NetCraft toolbar, People Search toolbar, Public Record toolbar, Zango toolbar, Elite toolbar, etc. The list is endless, with many wanting to push toolbars for various reasons. It could be for making money with every install, for pushing pop-ups, or for tracking down your computer usage.
In this post, we will see some free Toolbar Removers that may help you with the job.
Toolbar Removers for browsers
As mentioned earlier, while most genuine toolbars like the Google, Bing, Yahoo, etc. toolbars can be uninstalled completely from the Control Panel, others like the Ask toolbar, Babylon toolbar, AVG SecureSearch, SiteSafety, etc. may not be so easy to uninstall via the Control Panel or by using the browsers Addons Manage – for such nasty toolbars, you could use any one of these free tools.
Make sure that you close all browsers before you run the toolbar removal tool.
1] AdwCleaner
AdwCleaner searches for and helps delete Toolbars, Browser Hijackers (BHO) and Potentially Unwanted Programs (PUP)  from your computer.
2] Toolbar Cleaner
Toolbar Cleaner for Windows can be used to remove toolbars from Internet Explorer, Mozilla Firefox or Google Chrome. It scans the browsers for installed toolbars, BHO's and extensions, and displays all of them in its interface.  During installation, it will ask you to install Anti-phishing Domain Advisor and set MyStart as the home page. You may want to uncheck these options.
3] Multi-Toolbar Remover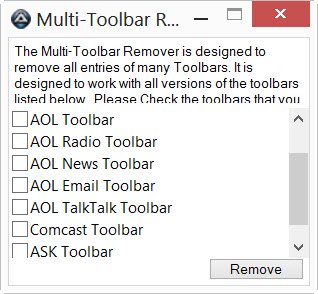 The Multi-Toolbar Remover offers limited support. It will only help removed selected toolbars like AOL, Comcast, and so on.
4] The Toolbar Uninstaller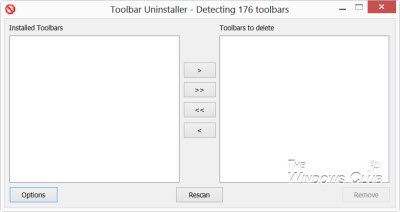 The Toolbar Uninstaller helps get rid of unwanted toolbars. Many programs come bundled with a toolbar that gets installed automatically if you don't pay attention during the installation.
5] Avast Browser Cleanup Tool
Avast Browser Cleanup Tool will scan all your browsers and list down add-ons, plugins, and toolbars which have a poor reputation. You don't need to have Avast Antivirus installed on your computer to be able to use it.
6] Smart Toolbar Remover
Smart Toolbar Remover will work on IE, Firefox, and Chrome and will identify and help remove toolbars.
7] Junkware Removal Tool
Junkware Removal Tool searches for and removes common toolbars and potentially unwanted programs from your computer. It removes Ask Toolbar, Babylon, Browser Manager, Claro / iSearch, Conduit, Coupon Printer for Windows, Crossrider, DealPly, Facemoods, Funmoods, iLivid, Imminent, IncrediBar, MyWebSearch, Searchqu and Web Assistant presently.
8] Ask Toolbar Remover
Use this Ask Toolbar Remover from Ask.com to remove the unpopular Ask Toolbar.
9] Toolbar Cleaner
Soft4Boost Toolbar Cleaner is a free toolbar uninstaller software, which removes all unwanted toolbars, addons, plugins from your Windows PC in real-time, for any browser.
Even after you uninstall most toolbars, it will not reset your home page and search engine back to your old defaults. You will have to do so manually.