Toolbars which are foisted on your computer as bundled software, usually affect the performance your PC. These toolbars, add-ons, and plug-ins which land silently on our PCs while installing the third party freeware, may even compromise the security of your computer,  clutter the screen space of your browser and make it load slowly. The may even make some changes in settings, which could be difficult to revert. They could show pop-ups and even leak your personal data. If you are fed up of such annoying and nasty toolbars and their intrusive pop-ups, Toolbar Cleaner is a free tool that can help you remove  all those unwanted toolbars, add-ons and plug-ins.
Soft4Boost Toolbar Cleaner
While you can manually uninstall toolbars using the Control Panel, toolbar cleaner and remover tools like this one makes things easier and ensures a complete uninstall.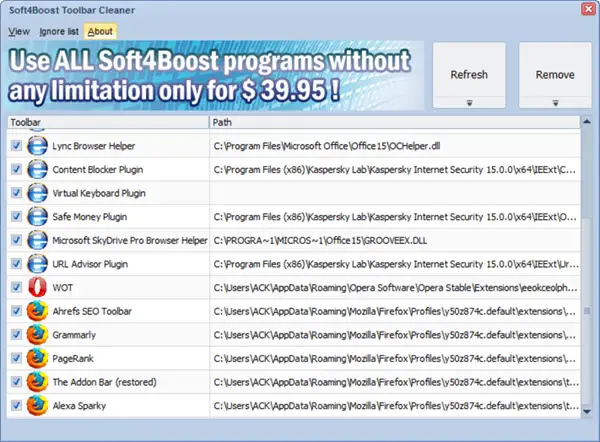 Soft4Boost Toolbar Cleaner is a free toolbar uninstaller software, which removes all unwanted toolbars, addons, plugins from your Windows PC in real time, for any browser.
It is a simple program which takes just a few minutes to download and install in your computer system. Even a layman can install and run it to remove the tenacious toolbars, add-ons and plug-ins from your PC.
Remove unwanted browser toolbars, addons, plugins
You need to close all your running browsers to make this program start working. Once you have closed them, and created a system restore point, run the tool. The main overview of the program says all.
Click on the Refresh button, and the toolbar cleaner then automatically identifies all the toolbars, addons, browser extensions and plugins along with their path and brings you the entire list in real time. You can then select and remove them manually from your PC. It allows you to remove one or more items at one go.
Toolbar Cleaner will display a list of all – with pre-checked boxes, so do not click on Remove blindly. Go through the list and uncheck those which you know are safe and useful to you. Keep only the one's you want to remove, checked. Once you have done this, you may click on the Remove button. This make the whole removal process quite easy as you can remove multiple browser extensions in a click.
The View tab allows you to change the skin of the program. There are 11 different skins available to switch upon – AMPix, iTunes, Android, Bionix, GPX, iPhone, Metal, MSOffice 2010, Ubuntu, VIPZone, and Xfactor.
If you don't want to remove any of the toolbars or plugins from your system, you can add them to the Ignore list and refresh the list. The Ignore list already includes My Toolbar, and Soft$Boost Toolbar. You may want to remove them from this list.
You can also send an email to the support team directly from the 'Email us' tab in the About section.
You can download Soft4Boost Toolbar Cleaner here and remove the disturbing toolbars and add-ons. WOT ranks the website poorly, but I did not face any issues while downloading and installing the tool. The program is ad-supported and it displays a static ad in the header.