How often has it happened that you have suddenly noticed new toolbars installed on your Windows computer? Or maybe you noticed that your browser's search engine or home page was suddenly changed. If you have noticed these things, it is quite possible that some software may have without your permission installed a 3rd-party browser toolbar on your system. In most cases, when you go on to install some software, you do not read the instructions during the installation and usually go on clicking Next – and you forget to uncheck the pre-checked box, where you may be asked whether you want a free toolbar on your computer – and you end up with an unwanted toolbar on your computer.
Why would companies want to install a 'free' toolbar on your system? Well, they may get money for every toolbar installed and so some of the free software you install may have toolbars bundled into it or they may want to change your searching habits or they may want to spy on your surfing habits. Often you will notice popups while surfing on the Internet. This could be due to these toolbars too.
In any case, whether you have installed a toolbar out of choice or got one bundled with some software, and you want to remove it, this is how you can go about it.
Uninstall Yahoo, Google, Bing toolbar
In most case, especially where the toolbar is from a company of repute like the Google toolbar, Yahoo toolbar or the Bing toolbar, you will be able to easily and completely install it via your Control Panel. Navigate to the Programs and Features applet, see if the toolbar is listed, and if listed, double-click on it to uninstall.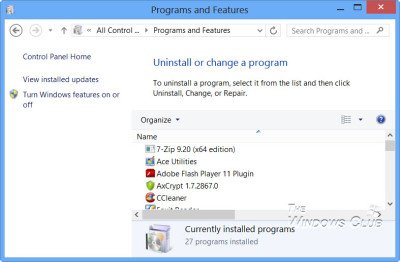 If it is not listed, you may want to check if you can do so via your browser's settings panel.
Internet Explorer
In Internet Explorer, you can manage, remove or disable add-ons, toolbars, extensions, etc via Manage Addons.
Chrome
In Google Chrome address bar and select Tools > Extensions. Or type chrome://extensions in the address bar and hit Enter.
Firefox
In Firefox click on Add-ons. Here you can remove or disable Extensions and Toolbars.
Opera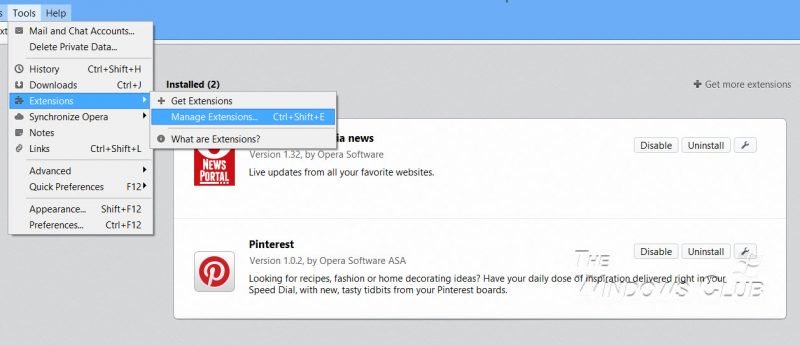 In Opera, click on Tools > Extensions > Manage Extensions. Select the ones that you want to Uninstall or Disable.
Do remember to restart your browser after you have removed the toolbar.
Remove Ask Toolbar, AVG Toolbar, Babylon Toolbar
While most genuine toolbars like the Google, Bing, Yahoo, Alexa, etc, toolbars can be uninstalled completely from the Control Panel or via the browsers Addon Manager, it may not be possible to easily uninstall some like Ask toolbar, Babylon toolbar, AVG SecureSearch, SiteSafety, etc – or some other nasty toolbars with malicious intentions.
For such persistent toolbars, you may have to use one of these free Toolbar Remover Tools.