This Chromium malware removal instruction will help you uninstall & remove Chromium virus & rogue Chromium-based browsers from your Windows computer. You will not only learn about it but also bring the browsing experience back to normal. You may need admin permission for some of the methods in the post. It is applicable for Windows 11 and Windows 10.
What Is Chromium?
Chromium is a legitimate open-source browser project, aka Chromium project, to build safer, faster, and more stable ways so users can experience a smooth browsing experience. It forms the basis for the Google Chrome browser. However, since Chromium and Chrome sound so similar, malware writers are using this name and using Chromium to push malicious code onto Windows computers.
What Is the Chromium Virus? What does it do?
Whether you use the Google Chrome browser or not, this virus can get into your computer. Several Chromium-based browsers of doubtful nature can sneak into your system and compromise it. They could track you, collect information, steal sensitive data, display advertisements, and popups, engage in Identity Theft, or cause browser redirects.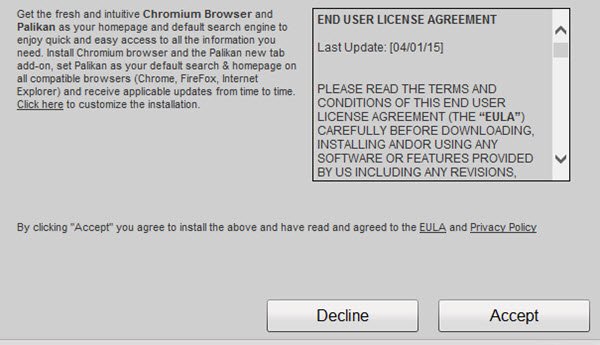 BeagleBrowser, BrowserAir, BoBrowser, Chedot, eFast, Fusion, MyBrowser, Olcinium, Palikan, Qword, Tortuga, Torch are some of the suspicious Chromium browsers that engage in such tactics. Interesting to note that all these viruses are made using the same Chromium software and may look like a legitimate browser.
Once the user installs it, it can redirect users to fake search results, similar-looking bank pages, and even websites using the Credit Card details. Everything is captured and saved to a server which is then utilized for fraud.
How Does Chromium Browser Infect the Computer?
The common entry methods for Chromium virus are freeware downloads as bundleware and spam e-mails. Since these PUPs sneak into your computer, you must be alert using the installation of any software and ensure that it or other third-party offers are not hidden under the Advanced or Custom Install option. Also, at times installed through a malicious extension.
Once installed, it will take over all file associations, hijack URL associations, and set itself as the default browser. It will also change your browser homepage and default search engine. The worst part is that they look similar to Chrome and may even use the Chrome logo. If you are not very careful, it will be easy to target.
Signs the Chromium Virus Is on Your Computer
Check if the default search engine of the browser has changed without your consent.
The search provider changes every time you open a new tab or click on the search bar in the browser.
Search results are not as relevant as before.
The number of advertisements and pop-ups seems unnatural.
Offer Premium version for free.
They are also called browser hijackers, which come in the form of an open-source web browser.
How to Remove Chromium Virus from Windows 11/10
If you find that you are infected with the Chromium malware, I suggest you do the following:
Kill Suspicious Programs
Uninstall Malicious Programs
Remove Chromium user data and settings
Check for Unknow Chrome Extensions
You will need admin permission for some of these.
1] Kill Suspicious Programs
Close all your browsers and open the Task Manager. You will see a Chromium process running. It has a logo similar to the Chrome browser logo but could be blue in color. Kill all the chrome.exe or chromium.exe processes that you see.
2] Uninstall Malicious Programs
Next open Control Panel > Programs and features to see the list of programs. Check if you see a blue color Chromium icon or any other suspicious programs. If you do, uninstall the program.
Look for known malicious programs such as Power+, APP+, Smash APP+, PDFPoof, BatBitRst, MessengerNow, SearchAd, MyPrintableCoupons, Reading Cursors, ProMediaConverter, PDFOnline-express, See Scenic Elf, Clickware, Easy Speedtest, or WebDiscover.
3] Remove Chromium user data and settings
As a matter of abundant precaution, you could also open C:\Users\username\AppData\Local hidden folder and delete the Chromium folder. Using the Google Chrome browser, this folder will re-populate itself automatically with the genuine data.

Next, open your installed browsers and go through all the installed browser add-ons and extensions. If you find anything suspicious or malicious files or of doubtful nature, uninstall or remove it.
I also recommend that you run a full scan of your antivirus software along with AdwCleaner, as this tool is good for uninstalling Browser Hijackers & Potentially Unwanted Programs.
Once all is done, go ahead and set your desired web page as the browser home page, and in your Browser Settings, change the preferred search engine as the default search on your browser.
Having done this, you may want to run CCleaner to clear up residual PC junk files and registry entries.
4] Check for Unknow Chrome Extensions
While most of the Chromium Browsers mimic themselves as browsers, some are known to play by rules and instead come in extensions. When trying to uninstall the virus, it is equally important that you check on any unwanted or malicious extension that might be taking over your experience.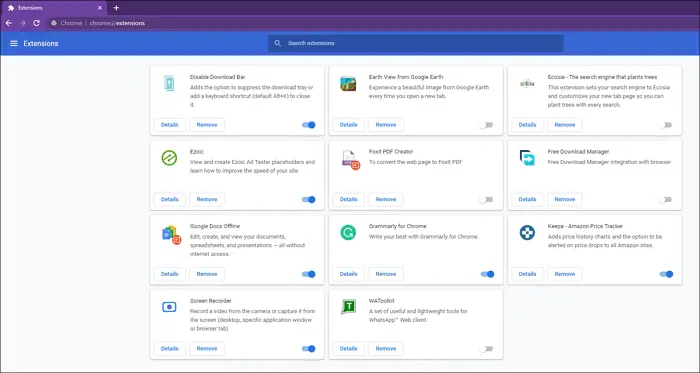 These extensions might have resulted from accidental install or cam via a bundled software, or you may have installed it from the Chrome Store.
Open Chrome and then click on the address bar.
Type—chrome://extensions/ and press the Enter keyt
In the Extensions list, locate if there is one that you have not installed.
Remove it and restart the browser.
The same applies to others browsers such as Microsoft Edge, Mozilla Firefox. Follow the steps to remove the extension. Once done, you can then choose to reset the browser to its default settings.
Chromium Virus is a known culprit that has been taking over browser settings, stealing user data, changing the default search engine, and so on. While these steps make sure you remove the virus from your computer, it is important that you need to more vigilant about the browsing experience. Installing anything from the internet should be avoided unless you are sure about the program. I hope the post was educational enough and helped you uninstall or remove the Chromium virus from Windows 11/10.
Why is Chromium popping up on my PC?
If the Chrome browser keeps launching itself even when removed from the Startup and closed from the Task Manager, it's best to remove it because that is not normal. Go to Control Panel > Program Features, remove the suspicious app, which sounds like Chromium, and uninstall it.
Chrome vs. Chromium: What's the Difference?
Chrome is a browser from Google and Chromium is an open-source browser. Chrome uses Chromium with some added features and functionality. While Chrome is much more refined and used by consumers worldwide, Chromium is oriented towards developers.
Why can't I remove Chromium from my computer?
If you cannot find anything like Chromium, but keep getting the pop-up, then it might be part of another software package. You will have to uninstall that.
Open Task manager when Chromium is running, and then right-click on the task and locate the file location. Check the folder to understand which program it is, and then uninstall it.
All the best!