Installing an anti-virus or security software, after installing Windows is a must.  This helps protect our Windows computer from viruses and other security threats. It is also important to keep your security software up to date at all times! While the built-in Windows Defender in Windows 10 does a great job, some of you may want to opt for a third-party free antivirus software instead. Here are some very nice best free antivirus software available for Windows 10, Windows 8, Windows 7 & Windows Vista you might want to check out.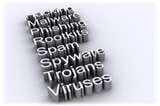 Free AntiVirus software for Windows 10
I have included only those antivirus programs which offer full real-time protection, and are not just stand-alone scanners:
Windows Defender
Bitdefender Free Antivirus Edition
Kaspersky Free Antivirus
Avira AntiVir Personal
Avast Antivirus Free
Comodo Antivirus Free
ZoneAlarm Free Antivirus + Firewall
Panda Free Antivirus
AVG Anti-Virus
Sophos Home Free Antivirus.
Windows Defender is Microsoft's free antivirus offering to users of genuine Windows 10/8/7. It is specifically designed for individual consumer PC use using the smallest resource footprint possible to provide complete anti-malware protection and will include a new protection technology, as part of the Microsoft anti-malware engine, called Dynamic Signature Service (DSS).
2. Bitdefender Free Antivirus Edition
The free edition of its antivirus tool uses one of the world's most effective antivirus engines, ICSA Labs certified scanning engines found in other BitDefender products for free. Thereby allowing you to enjoy basic virus protection for no cost at all. It includes a Real-time Shield.
Kaspersky Free Antivirus offers powerful anti-malware protection for Windows users like file, email and web antivirus, automatic updates, self-defense, quarantine, etc.; and will not include advanced security features. It includes a Real-time Shield.
Avira AntiVir offers you basic protection & protects your computer against dangerous viruses, worms, Trojans, and costly dialers.
Avast! Free Antivirus is perfect for people who send e-mails and surf popular websites. Its Antivirus and anti-spyware engine provides reliable protection against viruses, spyware, rootkits, trojans, and other forms of malicious software.
Comodo Antivirus Free offers an Antivirus scanner, a quarantine, Sandbox operating environment and a Task Manager. Its fast cloud-based scanning gives you a list of infected files in real-time.
Other free antivirus software:
These Free Cloud-based Antivirus may also interest you.
Apart from these freeware if you'd like to suggest any more freeware antivirus software, do share below.
Go here if you are looking for free Internet Security Suites or free firewall software for your Windows 10/8/7 computer.