A cloud-based antivirus software does not store the virus definitions on your Windows computer. Rather than using your computer's processing power, this cloud-based antivirus sends data about potentially malicious files to the company's servers for analysis. This approach is intended to take advantage of the latest signatures without needing signature database updates.
Free Cloud Antivirus for Windows 11/10
A Cloud Antivirus is an antivirus software that stores its definitions on the cloud – i.e., on the company's own servers. As a result of this, they do not occupy much disk space. They are also fast and do not consume many resources.
One question that could arise in a user's mind is that, he or she be still protected when not connected to the Internet.
"Yes, you do not need to be connected to the Internet all the time in order to be protected. Cloud Antivirus stores a "local cache copy" of Collective Intelligence for offline operation. As soon as you disconnect, Cloud Antivirus still works in the background, checking every file against its local cache of detections. This local cache includes, amongst other things, detection for all malware files which are currently in circulation and affecting users."
Here are some of the best free Cloud-based Antivirus available for Windows 11/10:
Panda Free Cloud Antivirus
Kaspersky Security Cloud Free
Comodo Cloud Antivirus
Crystal Security.
1] Panda Free Cloud Antivirus
Features of Panda:
Behavioral blocking. Proactive, signature-less, protection against malicious actions typically used by malware. Generic blocking of malicious PDF/DOC/XLS/PPT/WMV/etc Droppers. Compatible with both 32 and 64-bit Windows Operating Systems.
Behavioral analysis (PRO only). Runtime analysis and blocking of running processes. Compatible with 32-bit Operating Systems as well as for 32-bit processes under 64-bit systems.
Advanced configuration. Ability to turn on/off and tweak the behavior of the different engines, cloud responses, advanced logging, recycle bin settings, exclusions, etc.
Self-protection of the AV processes and configurations.
Re-do detections that were previously undone so that they are detected again.
And more
Cloud Antivirus from Panda is now called Panda Free Antivirus.  This Cloud Antivirus is compatible with other antivirus software and is available in two flavors: Free Edition and Pro.
2] Kaspersky Security Cloud Free
Kaspersky Security Cloud (basic version) is a free Antivirus solution for Windows computers, which also offers secure connection(VPN) when browsing the internet and comes with adaptive security features. While it comes with two paid offerings, in this review, we are talking about the free version, which is worth for what it has to offer.
Kaspersky Security Cloud Free gives you remote control and management options that Kaspersky Free Antivirus does not support. That is the main difference between the two.
3] Comodo Cloud Antivirus
Comodo Cloud Antivirus offers real-time antivirus monitoring and uses a powerful combination of virus monitoring, auto-sandbox, and behavior analysis technologies to immediately protect your computer from all known and unknown malware.
4] Crystal Security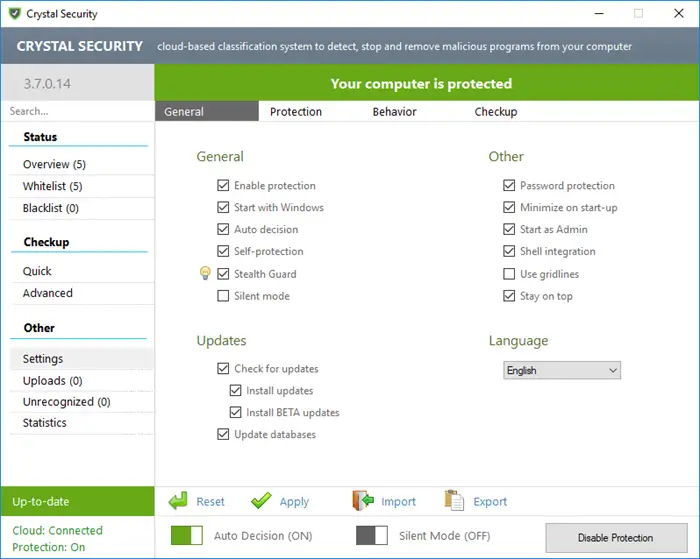 Crystal Security is a cloud-based system specially designed using VirusTotal and Comodo File Intelligence, to detect, stop and remove malicious programs from your computer system. It is a Windows application that runs directly from its .exe file without any installation.
Have any of you tried any cloud-based antivirus? If so, please do share – I would love to hear your experience!