Kaspersky Security Cloud (basic version) is a free Antivirus solution for Windows computers which also offers a secure connection (VPN) when browsing the internet and comes with adaptive security features. While it comes with two paid offerings, in this review we are talking about the free version which is worth for what it has to offer.
Kaspersky Security Cloud Free Antivirus Review
When you install it for the first time, it will prompt you with the following options. We recommend you enable this-
Turn on protection against ads to install only the desired software and block additional installations.
Delete malicious tools, adware, auto-dialers,  and suspicious packages.
Detect other software that can be used by criminals, to damage your computer or personal data.
All of these are very important. I am sure most of the download and install software from the internet. This software sometimes packages in software that we did not ask about. This software can be spyware that can track and even steal personal data from your computer.
Remote Management
When setting up for the first time, you will have to signup with your email ID. When you do so, your computer will be registered with Kaspersky Online. The web version allows you to remotely initiate a scan, update database,  toggle features, and even manage licenses.
Features of Kaspersky Security Cloud Free
Now that you are all set with its basic protection settings, let's take a look at how useful it is on daily usage.
Performance
Kaspersky Security Cloud is very lightweight. You can almost work on anything even with it performing background scans. It works along with Windows Security that's a plus i.e. other features of WSD works.
It makes sure not to run any scan when you are playing a game (gaming mode), low on battery, improves performance by releasing resources to the Windows OS when the computer starts, and so on.
Adaptive Security
Kaspersky claims to have implemented patented adaptive technology. It monitors the environment around you, stores data about new threats, and so on. It can alert you about small features that you can tweak on your computer to make it even more secure.
For example, it warned me about the disabled file extension. Enabling this makes sure that no file can disguise on your computer. Apart from this, it can also-
Block network attacks.
Watch your system for a ransomware attack
Email and Messenger scans.
Privacy, builtin VPN and Password Manager
It can automatically figure out if you are on a public wifi network. It then notifies you about it and offers you to enable a VPN connection. You can choose to remember this choice, and it will be automatically applied next time.
It lets you browse privately in public using this inbuilt VPN, and can also store 15 passwords in its secure online vault – plus lots more. A dedicated secure connection button on the dashboard, and also on the system tray to instantly switch to VPN.
Configure Backup & Restore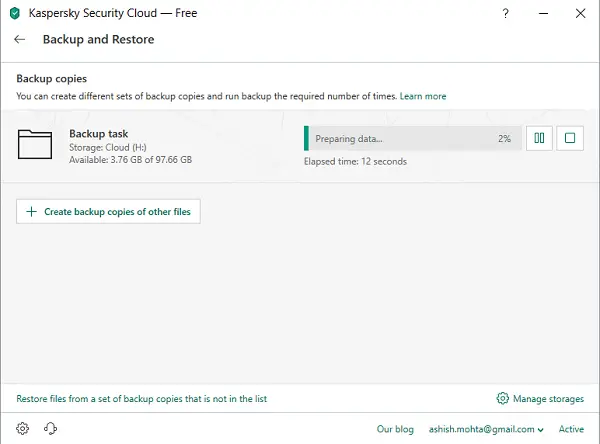 For those who always wanted a backup/restore files feature in their Anti Virus solution, this has got you covered. You can choose to backup files. You can choose to store a backup in a local drive or connect with Dropbox and store it online. Additionally, it supports removable drive, network drive, FTP server, and online storage.
Once you are sure where the backup is saved, you can back it up automatically, secure it with a password, and enable file version.
Additional Features
Kaspersky Security Cloud also includes some small, yet nifty features which are hidden in its settings. Click on the gear icon at the bottom left, and go to Additional section. Here you have options for
Secure data input with a virtual keyboard.
Self-defense method which makes sure to block any changes made to Kaspersky Security Cloud itself.
Network settings for traffic processing, monitor ports, encrypted connection scanning.
Password security check and more.
I have tried a couple of antivirus solutions, and its one of the best free antivirus you can try up which even though it is limited offers enough features for any user who does not want to invest in a paid solution. You can download it here from the Kaspersky website.
UPDATE: Kaspersky Free antivirus has been discontinued and you get Kaspersky Security Cloud Free now instead. This cloud antivirus one gives you remote control and management options that Kaspersky Free Antivirus does not support. That is the main difference between the two.