We have already had a look at the individual AntiVirus Removal Tools for the leading antivirus and security software for Windows. Today, we will have a look at ESET AV Remover. It works on Windows 10 and Windows 11 too.
If you thought that the ESET AV Remover tool removed only ESET antivirus and security software, then you are mistaken. This tool will uninstall almost any will remove almost any antivirus or security software previously installed on your Windows system.
ESET AV Remover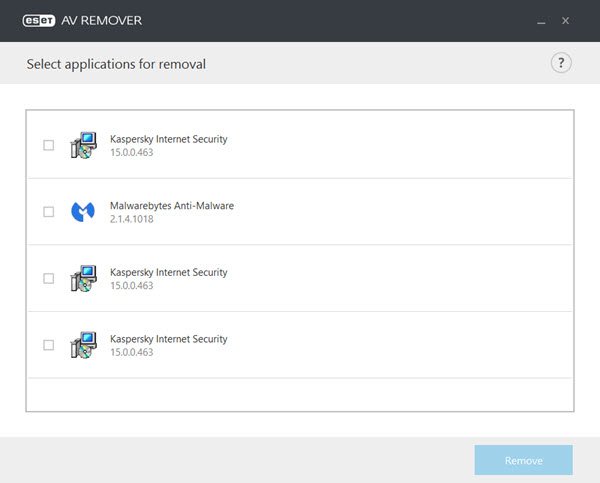 You may have experienced difficulty in completely uninstalling antivirus software or Internet Security Suites using the Windows Control Panel. In most cases, the uninstall is incomplete and leaves unwanted remnants on your PC. This often causes problems if you want to install another security program.
ESET will do a clean and complete removal of your installed security software. You do not need to install the ESET AV Remover as it as a portable tool. Simply download it and run it. You will be asked to accept a EULA. Once you have read it, click your acceptance to proceed. ESET AV Remover will then start searching your computer for installed antivirus, security suite, and other security software.
Once the installed software is detected and the list displayed, select one or more of the listed antivirus software and click Remove. Once the removal process is completed, you will be asked to restart your computer to apply the changes.
If the uninstallation of any security product is unsuccessful for some reason, you will be prompted to restart your computer and scan again.
The ESET AV Remover tool will help you to remove almost any antivirus software previously installed on your system. Here is the list:
360Safe, Agnitum, ALLIT, ALWIL/Avast, ArcaVir, Ashampoo, AVG, Avira, UnThreat, SmartCOP, BitDefender, Bkav, BullGuard, Comodo, eEyeDigital, Grigade, Emsisoft, ESET, AlYac, F-Secure, G-Data, Gen-X, Vipre, PJMagic, Advanced SystemCare, Iolo, Jiangmin, K7, Kaspersky, AdAware, Malwarebytes, Max, McAfee, Microsoft, Norman, Panda, Prevention, Quick Heal, Tech Tune-Up, Spybot, STOPZilla, SecureI, Sophos, VirusFighter, Norton, Vivo, Total Defense, Trend Micro, TrustPort and Vba32.
You can download ESET AV Remover from its home page.
AppRemover and AntiVirus Uninstaller Tools Pack are similar tools that you may want to have a look at, too.