Many times, the Windows Control Panel, Uninstall Programs applet proves insufficient for un-installing AntiVirus or Security Suite installations, as a result of which they leave unwanted remnants on your PC. This often then causes problems esp when you go on to install another security program. It's thus always advisable to use the AntiVirus Removal Tools or AntiVirus Uninstallers for completely removing anti-virus software.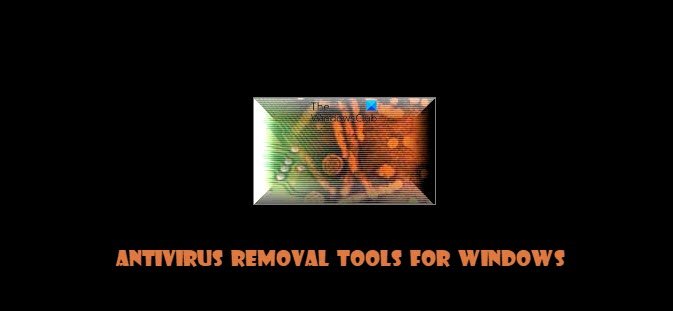 AntiVirus Removal Tools for Windows 11/10
Here is a list of uninstallers or removal tools for leading antivirus and security software for Windows computers:
Avast: Use their uninstallation utility AvastClear.
AVG: AVG Uninstaller or AVG Clear.
Avira: Avira AntiVir Registry Cleaner Tool will help you clean up all the registry entries left by this anti-virus software after the uninstallation.
BitDefender : Uninstall BitDefender | 32-bit | 64-bit.
BullGuard: Uninstall BG.
Dr. Web: Removal Tool.
Eset NOD32: To remove NOD32 Antivirus from your Windows, simply click on the Eset Removal Tool, click Yes, & wait for the removal confirmation. ESET AV Remover tool will completely uninstall ANY security software. Also, see ESET AV Remover tool.
eScan: eScan Removal Tool.
F-Secure: Un-installation support and tool.
F-Prot: FPavex Tool.
G DATA: Download and use the G Data removal tool AVKCleaner. See under the Tools tab here.
Kaspersky: Kaspersky Products Remover will fully uninstall any Kaspersky software from your Windows computer. It will even delete all activation data from your system. Once you have downloaded the tool, reboot your computer in Safe Mode and run the tool. Select the Kaspersky product you wish to uninstall. It will safely and completely remove the Kaspersky Lab security software from your Windows PC.
K7 Security: K7 Removal Tool.
McAfee: The McAfee Consumer Product Removal tool (MCPR.exe) removes all versions of McAfee products. Use it to completely uninstall McAfee Internet Security. This option should be used, only after you remove your McAfee product through Uninstall Programs.
Malwarebytes: MBAM Cleaner, Malwarebytes Support Tool.
Malwarebytes Support Tool: It is designed to help you troubleshoot issues with Malwarebytes for Windows. The Malwarebytes Support Tool combines multiple utilities, such as the Malwarebytes Cleanup Utility and Farbar Recovery Scan Tool.
Microsoft Security Essentials: This Fix It helps you uninstall Microsoft Security Essentials
Panda: Panda Generic Uninstaller.
Quick Heal: Uninstaller.
Symantec (Norton): Use Norton Remove and Reinstall Tool.
Super AntiSpyware: 32-Bit | 64-Bit.
Trend Micro PC-cillin Internet Suite: 32-bit | 64-bit.
ThreatFrire PC Tools: Remove ThreatFire.
Vipre AntiVirus: VP Cleaner.
Webroot: CleanWDF Tool.
ZoneAlarm: ZoneAlarm Uninstallers.
AppRemover will also definitely interest you. It can uninstall any security software completely.
If I am missing something, please add a comment below.