We cannot install anti-virus software if we already have one. So, if you have Norton on your Windows PC and want to install any other anti-virus program, you first have to remove the Norton products from your PC. While Norton is a popular antivirus software to avoid any viruses and Trojan attacks, many users still want to remove it from their PC. Such an issue is mainly reported by users who have used the trial version of Norton and now and now want to use some other program.
Though you can simply remove the files and folders simply via Add/Remove Programs in your Control Panel, you sometime might need a special tool to remove some specific files. Using such antivirus removal tools can ensure that the security software is completely uninstalled from your computer.
Norton Remove and Reinstall Tool will help you completely uninstall all Norton antivirus and security products & software. It can also help you reinstall them easily. It replaces the Norton Removal Tool. It can remove Norton Password Manager, Norton Internet Security Add-on Pack, Norton AntiSpam, Norton AntiVirus and Norton Confidential Online.
Norton Remove and Reinstall Tool
Before you begin, make sure you have an internet connection on your PC. Then download the tool here, save, and Run it on your PC.
Click on Remove & Reinstall if you want to install the latest version of Norton or else Click on AdvancedOption.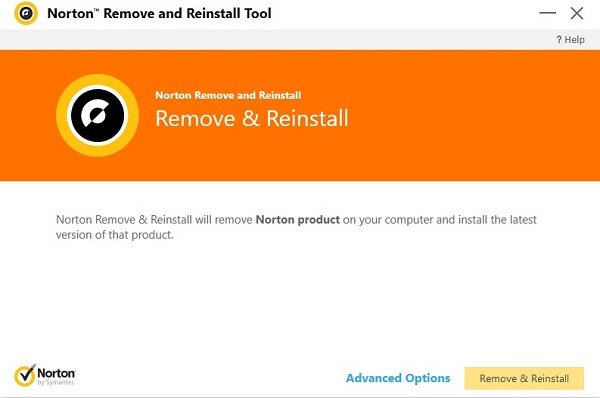 Click on Remove Only if you just want to remove the Norton products from your PC.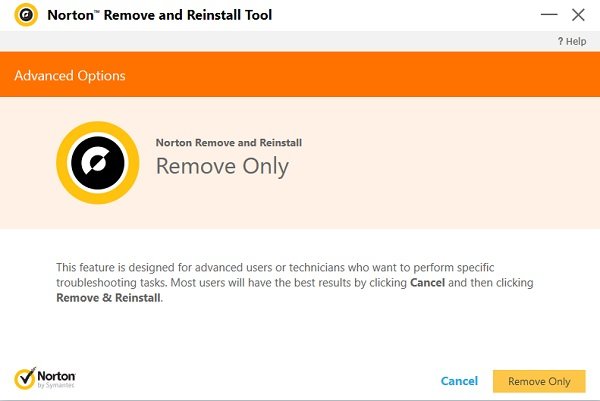 It is a very simple tool and requires no technical knowledge to run and use it. Just download the tool and follow the given instructions. The removing process, however, takes some time but it will remove all the Norton products stored on your PC. The changes take effect after you Restart your PC.
You can download it from norton.com.
Overall, it is a simple and useful tool which lets you remove the stubborn Norton products hidden in your PC. Please note that this tool does not remove Norton Utilities or Norton Family and Norton Identity Safe local vault.
PS: More AntiVirus Removal Tools & Uninstallers for popular AntiVirus programs here.